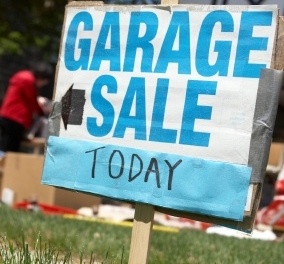 It's that time of year again — time to clear out all the useless junk in your house, spread it out in your driveway and make LOTS of money!
Just because you have no use for that crocheted fly swatter cover and set of Mickey Mouse cheese knives doesn't mean they don't hold great value for someone else. Right?
But the most confounding part of hosting a yard sale is the pricing. Price items too high and they won't sell. Price them too low, and why go to all the trouble?
Experts in the yard sale experience tend to agree on basic prices for common items. Stick with the prices most people use, and your toddler's shoes, paperback books and kitchen gadgets should go home with happy new owners.
The crocheted fly swatter cover might be a tougher sell. More on the "Free" pile later…