Often, the need to rent a dumpster will strike you violently as you wade through years of old kids' toys and construction debris from that bathroom remodel of '98 to get to that one forgotten item you need in the basement.
Other times, it's a little more subtle. It's a small amount of junk, which you contemplate would only be a few trips to the local landfill with a pickup truck.
That said, we've highlighted a number of instances where the best solution is to rent a dumpster.
You've Had Enough Of All That Clutter In The House
A dumpster may be needed for Spring Cleaning season or you're prepping to clear out the house for the winter season, but whenever you're removing unwanted items from the house, our 10, 15 or 20 yard dumpsters pair well with that project.

You're Starting Or Finishing That Home Remodeling You've Longed For
Whether you're renovating a bathroom or kitchen, starting demolotion or removing the leftover debris, a Bin There Dump That 9 yard or 15 yard dumpster is ideal for your remodeling project.

The Unthinkable Has Occurred And You're Recovering From A Home Fire Or Flood
One of our residential friendly 20 yard dumpsters are trusted by fire and water disaster recovery contractors across North America. We understand how vital it is for you to move on from this home tragedy and that's why we work with disaster relief contractors to have a dumpster on and off your driveway as quickly as possible.


You Have Yard Debris From Your Landscaping Project To Warrant a Dumpster
Our 4 yard bin will be the appropriate size to fill with your yard debris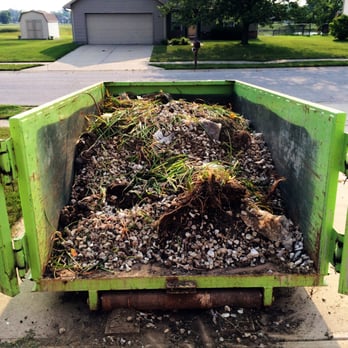 Moving: Getting your house ready for saleable condition often requires the removal of clutter from your home. Rent one of our dumpsters and save excessive trips to the local landfill. For realtors, adding a complimentary dumpster rental is an exceptional add-on to your services to provide to your clients.

Foreclosures or Estate Sales
Our dumpster rental services is a convenient way to remove the clutter left by previous homeowners.
Feel free to give us a call, our expert Dumpster Consultants are knowledgeable and talk to homeowners and contractors every day about dumpster solutions. Bin There Dump That offers affordable pricing with a unique, residential-friendly customer service experience.
Do you have more questions about your dumpster rental experience? Check out our FREE e-book!
image credit: Bin There Dump That Indianapolis