Unless you were marking the pages off on a calendar you might not have noticed that we moved from winter into spring. It's clear, in many parts of the country, no one told Mother Nature.
It won't be long, however, before the mercury starts rising and we venture outside to see what's been hiding under the snow for the past several months. It's not always a pretty sight. During the first warm weekends of spring we see the trees budding, the grass greening, and the first shoots of perennials push up through the earth. As the yard awakens, so does our desire to get our properties in shape, to begin or finish those improvement projects, and to clear the damage from winter storms.
Spring is ripe with opportunities to get your hands on a rental dumpster bin and get cleaning! Here are just a few.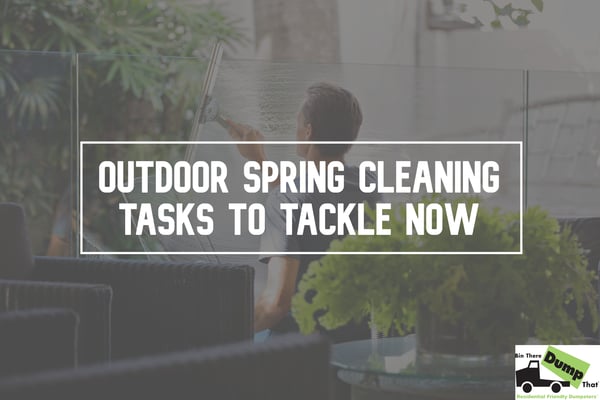 Spring Cleaning Task #1: Trees, Shrubs And Perennials
Snow and ice often damage tree limbs and shrubs around a home and in the yard. Pruning various flora is not only an aesthetic issue. In many cases, the work must be done to maintain proper plant health. Perennial grasses often need to be cut back as well. All these materials need to go somewhere.
Spring Cleaning Task #2: Flowerbeds And Borders
The perennials need trimming and remnants from last fall's flowerbeds need to be removed. Their skeletal remains only hamper future growth. Old mulch, stalks and stems, and vegetables that never made it out of the garden need to be cleared out of the plot and flowerbeds.
That chicken wire that you used (unsuccessfully) to keep the rabbits and deer out of the garden is now a mangled mess. The material used to keep the weeds away is now torn and tattered. Maybe it's time to redo the borders around those flowerbeds, too. Whether they're made of rubber, wood, plastic, or stone, they fit nicely into dumpsters.
Spring Cleaning Task #3: Yard Waste
The snow might get tiresome, but at least it hides all the messes we neglected to take care of before the white stuff covered them up. Leaves, garbage, doggy landmines all reveal themselves once the frozen tundra finally melts away. Even if you're in one of those places where snow never falls your yard might need dethatching and aeration. Yard waste of all sorts is great fodder for a BTDT dumpster. Clean, well-maintained yards contribute to safer and healthier places for our children to play.
Spring Cleaning Task #4: Patio Pavers And Wooden Deck Materials
The seemingly endless cycle of freezing, thawing, and refreezing takes a toll on roads. Potholes wreak their havoc on tires until the holes can be filled. That process can affect your patio and deck as well. Patio pavers might crack or crumble under the stress. A visit to the local big box hardware store is an easy fix, but that material being replaced needs to be carted off as well!
Spring Cleaning Task #5: Fences And Landscape Structures
A well-made fence shouldn't need to be replaced every year, but the occasional wooden slat or support might need some work. Even if the fence structure is solid, maybe it needs repainting or a few new nails. Work begets waste. And waste needs a place to go…perhaps a rental dumpster bin?
Spring Cleaning Task #6: Patio Furniture And Grills
There are few better ways to relax around the home than with food cooked on the grill and enjoyed sitting under a giant umbrella on new patio furniture. Maybe it's time for the old tattered and rotted furniture to give way to the new stylish set.
Or, if you got a six-burner, 75,000-BTU grill for Christmas — complete with rotisserie and side burners — your current grill may just seem pathetic. Time to put it out of its misery! (But remember to return the empty propane tanks to the store instead of disposing of them yourself.)
Spring Cleaning Task #7: Gutters And Roof Tiles
Your yard and patio weren't the only parts of your property to suffer during the repeated freeze and thaw cycles. Roof tiles and gutters probably took a beating, too. Or maybe you're tired of cleaning out the muck that collects in the gutters, and you've decided to replace them with the leaf-free kind.
Both roof tiles and old gutters are fine to put into a Bin There Dump That dumpster along with the rest of your spring-cleaning clutter.
Spring Cleaning Starts Now!
This is just the beginning of the spring cleaning steps you can take as the weather warms up. What project will you be tackling first — and will you be renting a Bin There Dump That rental dumpster to get the job done?
Find your local franchise operator on Bin There Dump That's website. And for more tips on clearing the clutter from you home, subscribe to the Bin There Dump That blog.