Mistakes. We all make them.
Don't worry, we won't go into great detail about that perm you got in the 80s or the time you thought for sure the garage door was all the way up before you drove in.
We like looking out for you. So take a look at these seven common mistakes homeowners make when renting a dumpster.
Then, don't make them. You'll thank us later.
Tossing Hazardous Materials In The Dumpster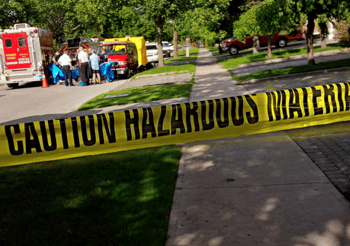 You can toss almost anything in a Bin There Dump That dumpster, but there are a few exceptions. And hazardous materials is a big one.
No motor oil, please, or gasoline, household cleaning chemicals or pesticides.
No propane tanks, batteries, old paint, fluorescent light bulbs, tires or aerosol cans.
Check with your local Bin There Done That franchise operator for the restrictions in your area, then dispose of those items properly.
Blocking Doors, Views And Maybe Yourself
The great thing about residential friendly Bin There Dump That dumpsters is how they snug right up conveniently in your driveway. They're about the size of a minivan.
But there are a few things to keep in mind about placement before your bin arrives, so everything goes smoothly.
Is there enough room in the driveway to come and go with your car? (No, your franchise operator will not write you a note explaining to your boss how a dumpster kept you from showing up for work.)
Can you avoid placing it at the end of your driveway where it may block the view of drivers and pedestrians?
Are you blocking any doors?
Is there enough room at the walk-in end of the dumpster for easy entry? This is especially important if you have heavy, bulky items you can't toss in over the top.
Ponder all this before the bin arrives.
Property Damage
Again, think ahead. During your clean-out project, what will be the most traveled route to and from your dumpster? Be sure that route isn't right over your prized petunia bed or your newly planted lawn.
If crossing your lawn is unavoidable, place sheets of plywood down along the path to cut down on damage.
No need to worry about the bin itself causing damage — when a Bin There Dump That driver arrives at your home, they'll place protective boards beneath the bin to disperse its weight and keep your driveway scratch-free.
Improper Placement
A nice flat driveway is the ideal place for your dumpster.
Here are four not-so-ideal spots. Put your dumpster here, and you'll be making a big mistake.
Sloped Surfaces
You don't have to be a physics genius to figure this one out. Start loading up a dumpster with heavy stuff on a steep slope and you can easily have a runaway bin.
This is especially true in winter, early spring or late fall, when frost or ice makes surfaces slick.
If you have a sloped driveway, talk to your local Bin There Dump That franchise operator to see how a driver can work with you to position your bin safely. Our operators usually have a few tricks up their sleeves.
Someone Else's Property
Make sure your dumpster rental is well within your property lines. It's the neighborly thing to do.
City Streets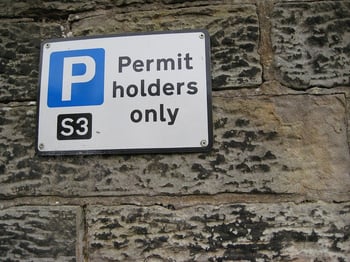 Rules vary, depending on where you live, but in many municipalities across the United States and Canada, you can have a bin placed on a city street for no more than 24 hours.
Typically, anything longer than that and you'll need to go to your city hall to get a permit to display on the outside of the bin.
Plan ahead. These permits aren't expensive, but city halls aren't usually open on the weekends, when your project might take place.
Here's a tip: Tell your neighbors about your plans to put a bin on the street and make sure it's OK with them. Then they won't call the police to complain.
Soft Ground
Underground can be a big mystery. Do you know for sure what lies under your landscape?
Underground septic tanks, irrigation system plumbing and sprinkler heads — you don't want any of that damaged.
Play it safe and keep your dumpster on a hard, stable surface.
Renting The Bagster First
We know you have choices when it's time to rent a dumpster. If you're trying to decide between Waste Management's Bagster vs. dumpster rental from Bin There Dump That, there are some differences to consider.
Bin There Dump That dumpsters come in a variety of sizes, from 4-yard bins to 20-yard bins. Not sure what size you need? Your franchise operator is happy to talk you through it.
The Bagster is available in one size, with a 3 cubic yard capacity. It's designed for smaller jobs like garage, attic or yard clean-outs.
The Bagster is a tarp-like material with handles. To help the bag keep its rectangular shape, you have to lay items down flat and not pile debris above the edges.
A dumpster is heavy-duty metal, allowing you to throw or carry items into the bin. Pile away.
A Bin There Dump That operator will leave the rental in a convenient location on your property.
Since the Bagster is picked up by a crane on the Waste Management truck, there are some placement restrictions. The bag must be 5 feet away from structures or vehicles, have at least 18 feet of vertical clearance and be clear of overhead wires, trees or structures.
Misjudging Timing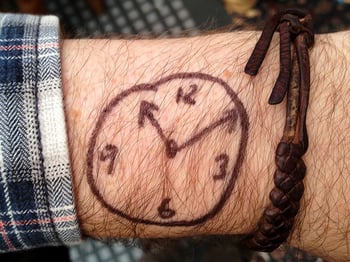 A dumpster should be in your driveway for as long as you need it — but not much longer. While Bin There Dump That dumpsters are clean, well-maintained and pretty dapper, for dumpsters, we wouldn't call them decor. When you're done, you want it gone.
While most reputable rental dumpster bin companies will allow you to keep the bin for around 5 to 7 days, the typical homeowner needs about three and a half days.
When you call to book your rental dumpster delivery, discuss your project with the franchise operator, who can help you figure out how long you need.
If you realize you need the dumpster longer than expected, be sure to let the company know right away — chances are, that dumpster has someplace else to go.
Not Preparing The Site
If you're renting a dumpster, you probably have a pretty big job ahead of you. You want the quality time you'll spend with your dumpster bin to be productive. Don't forget to do some prep work.
First, consolidate your junk. We promise we haven't been watching you, but we're pretty sure it's all over your house, from the attic to the basement to that spare bedroom in between.
Before your dumpster arrives, corral all that stuff into one convenient spot, close to where your dumpster will sit.
Think about what you'll need access to while the dumpster is there. Lawnmower? Toolbox? Margarita maker? Then plan accordingly.
Make No Mistake — Rent A Bin There Dump That Dumpster
Now you know what NOT to do when it's time to rent a dumpster. Breathe easy, knowing your experience will be mistake-free.
Now, the easy part. Bin There Dump That operators make the whole rental experience worry free, from careful placement of the bin to carefree pickup when you're done.
We place protective boards on your driveway so the bin never actually touches the ground. We even sweep up any mess before we leave.
When it's time to tackle that project and pitch your debris, call the Bin There Dump That franchise operator nearest you.
Images: Hazmat team, Permit, Marker wristwatch