So you've decided to clean house. Get rid of everything. Maybe you're flipping a property or just decided it's time to downsize. Either way, "rent a dumpster" is next on your to-do list before the big purge. Great idea!
Have you considered a roll off dumpster from Bin There Dump That? They're safe and residential-friendly. Of course, I realize that once we drop off one of our dumpsters, how it's used is completely up to you.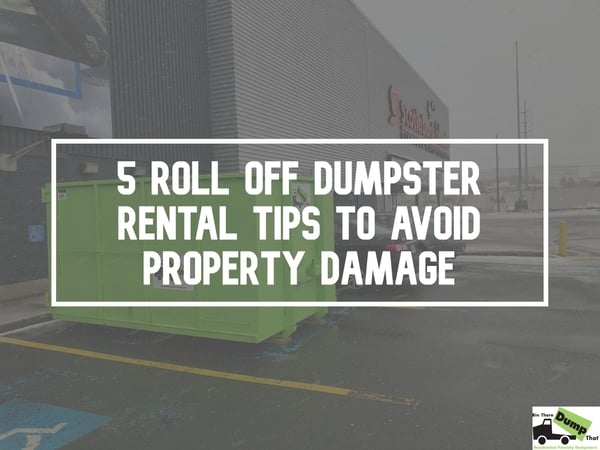 Don't let a few (preventable) oversights stand in the way of getting your security deposit back or a glowing inspection report. Here are five tips for maximizing your dumpster rental experience — and avoiding property damage altogether.
Find The Perfect Parking Spot (For Your Dumpster Rental)
Pick a spot, any spot … well, not so fast. Deciding where your dumpster is placed plays a huge role in how efficiently it's used. Roll off dumpsters are heavy and will only get heavier as you fill them, so it's best to place them on a solid, flat surface – most driveways will fit the bill – and steer clear of soft ground like lawns that increase the likelihood of sinking or damaging impressions.
When using your driveway, keep a few things in mind when deciding the dumpster's placement:
When a Bin There Dump That driver arrives at your residence, they always place protective boards beneath your dumpster rental to disperse its weight and keep your driveway scratch-free.
Create A Path Of Least Resistance
During your clean-out project, what will be the most traveled route to and from your dumpster? That's another very important question worth asking yourself. With a little foresight, trampled flower beds or footpaths on your beautiful lawn can be avoidable. If crossing your lawn is unavoidable, place sheets of plywood down along the path to cut down on damage.
Keep Out Hazardous Liquids
When you rent a dumpster, its designed to take almost anything you throw at it (or in it), except for hazardous materials. From motor oil and gasoline to household cleaning chemicals and pesticides, it's best to check with your city for its hazardous waste collections procedures. Imagine the dangerous potential if these liquids mixed in your dumpster rental – fumes, flames and leaks right in your driveway.
Loading: Don't Top Off Your Tank
Bin There Dump That roll off dumpsters allow for walk-in loading, but once things start to fill up it's important to make sure the dumpster's door is securely closed. As you continue loading, a good stopping point will be when your discarded materials are flush with the top of the container.
A tarp will need to cover the top of the dumpster before it gets hauled away. If you push the limit and your materials are well above or close to the rim, you run the risk of spillage during pickup in your driveway and as the dumpster leaves your property.
Sweep Up Afterwards
Once the hard work is done and your dumpster full of trash is on the road and out of your life, grab a broom and give your driveway a good sweep (Bin There Dump That will do this part for you). The last thing you want to do is run over a nail when you pull into the driveway once the dumpster's gone. Sweeping will round up any rogue nails, scraps of wood, pieces of glass and chips of paint.
For an added precaution, it's a good idea to start by placing tarps around the base of your dumpster to catch debris.
Ready To Rent A Dumpster?
With some proper planning and a safety-first mentality, using a roll off dumpster is an easy and effective way to remove trash from your space.
Learn more about how you can order a bin for your next project and find your nearest franchise operator.