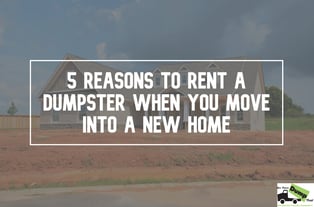 There are a lot of planning and logistics that go into a move, from packing to closing dates. But what about after you're in your new house?
You'll have to start sorting through boxes, fixing up things and cleaning out any unwanted items. And there's one thing that can help with all of that: a dumpster rental.
Here are five reasons to rent a dumpster when you move, plus some green tips along the way.
Boxes, Boxes & More Boxes
When you're packing to move, it can seem like you'll never find enough boxes to pack all of your stuff.
But after you move and start unpacking, you'll soon feel like you're drowning in boxes — maybe even creating a "box" room. You'll also accumulate packaging from housewarming gifts.
A dumpster rental is the perfect place to put all of that extra cardboard. To maximize bin space, break down the boxes before throwing them in.
Green Tip: Use containers you already have, instead of only buying new boxes. You can also search for boxes behind retail and grocery stores.
Leftover Items
Depending on how thorough the past owner was when they moved out, it might look like Christmas morning when you open the garage, a cabinet or a closet.
You may find a variety of their old items including clothes, toys, cups, linens, toiletries or just-plain junk. If you don't want what they left behind, you can throw the items in your dumpster.
Green Tip: Donate items left by the previous owner to a local charity if they are in good condition. You can even parlay theses donations into tax deductions.
Renovation Materials
Remember all of the things you wanted to change about the house when you first viewed it?
Maybe it was just a bush out front you wanted to pull — or maybe you wanted to remove a few walls and all of the home's carpeting. No matter what you want to trash, get rid of it before you move all of your furniture and items into the house.
Your dumpster rental can hold items like shingles, topsoil, leaves, gravel, bricks, concrete and landscaping materials. Items you'll want to leave out of the bin include hazardous materials, old tires, leftover paint, chemicals, flammable liquids and propane. If in doubt, ask your Bin There Dump That operator.
Green Tip: If you do remove plants from your landscaping, replace them with native plants, which will be hardier, less susceptible to pests and require less maintenance.
Part of the Package
Some realtors even offer a dumpster rental as part of the deal when a client buys a home. That can be a selling point, especially if the house is going to need some work before move-in day. Realtors can also rent dumpsters to get homes ready for showings.
Green Tip: You can offer to share the bin with your new neighbors, if they have anything to throw out. You'll make new friends and get the most from the dumpster.
Simplify Things — Rent A Dumpster
Having a dumpster rental will keep you from dragging bag after bag of trash to the street. And most municipalities have limits on how much trash can actually be collected in a single visit, which means what doesn't go then takes up precious space in your new home until next trash day.
Moving isn't easy, so why not limit your stress when possible? You can also use the bin to clear the clutter from your new home and actually enjoy it.
Before you move, make sure to read our other blogs on home relocation tips, how to downsize and how to prep your house for a rental dumpster.
Then talk with Bin There Dump That to see which bin size will work best, and find a franchise operator near you.