It's time to build that dream home. A beautiful half-acre paradise is located on the perfect spot on the cul-de-sac, on the perfect street, in the perfect community. You're just not satisfied with the split-level colonial that currently occupies that space. It's time to knock down that eyesore and build your own mini Versailles.
Home construction is an involved and varied process, but there is one constant companion you can have through the entire process: a Bin There Done That dumpster.
Your new home will require contact with a number of professionals, who will do everything from demolishing the old structure to putting the final touches on your home decor.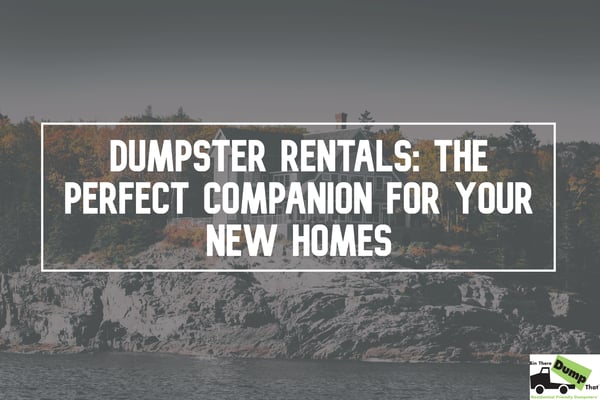 Along the way, you will encounter carpenters, electricians, plumbers, designers, and a host of others. Each one can take advantage of a Bin There Dump That dumpster.
The Process: Demolition
At this point we're going to assume you've already filled a bin or two with stuff from your home that you no longer want or need. Why pay to store material that will just clutter your new home?
Once the old structure is empty, it's time for the fun. Whether you've hired a professional or are planning to do it yourself, even without the option for a Las Vegas-style casino implosion, running roughshod with a bulldozer or the bucket of a backhoe can certainly help you work out some aggression.
For years it's been a home — and in a few days, it will be a pile of wood, plaster and glass. That material needs to go somewhere.
The Process: Concrete
The foundation of every good home is, well, a foundation. Whether your new home will have a basement or sit on a slab, there will likely be some concrete poured somewhere during the process. And, no doubt there will be an old foundation (and maybe an old driveway) to dispose of.
Have your concrete guy use a dumpster bin to carry away the crud. A 4- or 10- yard dumpster is ideal for this job.
The Process: Construction
Wood, plaster, steel, glass — and new versions all the other material that came down when the demo team leveled the old structure needs to go back into the new home. Not everything you buy for your home will fit perfectly; things will break; waste will be created.
Along with the structure of the home itself, your home will have new doors, cabinets, fixtures, ceilings, floors, walls, carpeting, tile, windows, furniture, appliances, window dressings, wallpaper, ducts, vents, and plenty of other parts.
Many of those items will come in boxes, which take up more room than you realize until you're trying to dispose of it all.
The Process: Landscaping
Construction vehicles may destroy your lawn. Once the home is up, the last project you will have is to restore the yard and gardens around it.
Plants, soil, sod, shrubs, trees, decorative rocks, stones and pebbles, garden gnomes, pavers, edging, lighting, borders are among the many finishing touches you'll want to think about for your new home.
A Bin There Dump That rental dumpster bin is the perfect place for your waste materials.
The Professional: Roofer
Slate, tin, metal, panels, flashing, underlays, coatings, venting, gutters, skylights, downspouts, plywood. Roofs come in quite a variety and with a variety of parts.
There will like be broken, torn, spare, and extra pieces in the roofing process. The bin is already sitting there; throw the waste in.
The Professional: Electrician
Wiring, electrical outlets, circuit breakers, switches, dimmers, Internet wires, phone wires. Homes have more screens, gadgets, appliances and other items that consumer electricity than ever before — which means wiring the home will generate more waste than ever before.
The Professional: Plumber
Copper, PVC piping, joints, phalanges, toilets, sinks, faucets. The plumber, like the other contracts you hire, will generate his own fair share of waste (pun intended). During the construction process having a bin nearby will help make the process run more smoothly.
Getting Started
Whether your project is a smaller home remodel or a complete rebuild, a Bin There Dump That bin can serve as a constant companion.
Many of our franchise operators work directly with contractors and other home building professionals — find out who yours is, and what relationships they have, on our website.