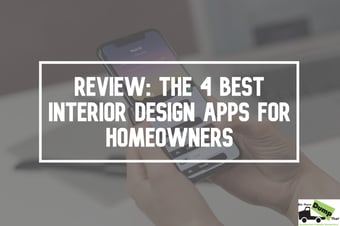 Designing a room can make a huge difference in your home — if you're able to visualize what the new space could look like.
To figure out what you do and don't like without needing to move or return things, turn to your mobile device.
Interior design apps can help you turn your ideas into reality, whether you're starting from scratch or hoping to change up a room already full of items.
The next time you redesign a space, check out our picks for the best interior design apps for homeowners.
Homestyler Interior Design
Probably my favorite because it's free and easy to use, Autodesk's Homestyler Interior Design app allows you to redesign rooms by adding 3D furniture, light fixtures, wall art, focal features, rugs, mirrors and more to your photos. If you're having trouble coming up with designs, you can scroll through professional photos to see what they pros have created.
You can use photos from your device or one of the app's photos of an empty room. Once you choose a photo, you'll define the floor, ceiling and walls and input their dimensions. These sizes will make sure the design elements you add are to scale.
Platform compatibility: The app is free and available on both iOS and Android devices. The main issue users seem to have is the app crashing when used on an iPhone, as opposed to an iPad. But using it on a larger device will make designing with it easier, anyway.
Home Design 3D
There are three options with Home Design 3D: Home Design 3D Gold Edition ($9.99), Home Design 3D ($6.99) and Home Design 3D Freemium (free).
I suggest testing out the free version to see if you like the app's features, which allow you to drag and drop furniture, use items from the app's library and create floor plans. But you can't save your projects in the free one.
To save, you'll need one of the paid versions. The main difference between those two (other than the price) is that the Gold Edition has more available objects in the app's library.
Platform compatibility: All of the versions work with iOS and Android.
Mark On Call
With a more professional-looking display and features, Mark On Call allows you to create design blueprints of your space.
You can take pictures of finishes, fabrics, rugs, flooring and other materials and "skin" them into the different items in your room. Other features include sizing, placing, locking, replacing and auto-layering elements.
Platform compatibility: The app saves your projects and allows you to share them with others. It's only available for iOS devices and costs $4.99.
Houzz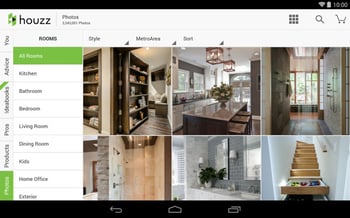 When you're not even sure where to begin and need some design ideas, there's no better app than Houzz Interior Design Ideas.
The free app has more than 6 million high-resolution photos, and you can search by style, room and location. When you find something you like, you can save the photo to a virtual ideabook. Then you can either re-create the project ideas in your space or share them with a professional to help them understand your wish list.
All of the photos on the app are professional. Houzz will actually remove images that aren't professional quality. There's also a wide range of styles and designs to scroll through. It will definitely get the creative juices flowing.
Platform compatibility: The app is available for both iOS and Android devices.
Clean Up After Design — Rent A Dumpster
Once you've created the design — indoor or outdoor — with an app, it's time to make the image a reality in your home.
To give the room a polished touch, clean out all of the leftover materials and furniture, and throw them in a dumpster rental.
When you're ready to start your next project, find a local dumpster franchise operator near you.
Images: Interior design draft, Houzz shot