Renovating your bathroom is an investment that returns three-fold. First, it increases the overall resale value of the place. Second, it improves the quality of life within the household. Finally, it may help you lower the monthly utility bill by quite the margin. Still, executing these works is far from simple. A major home remodel is one of the most expensive home improvement projects. It may also leave a crucial part of your home with limited functionality for quite a while. In order to ensure that all things run smoothly, you need to learn how to prepare for a bathroom renovation. Here are four tips to help you out.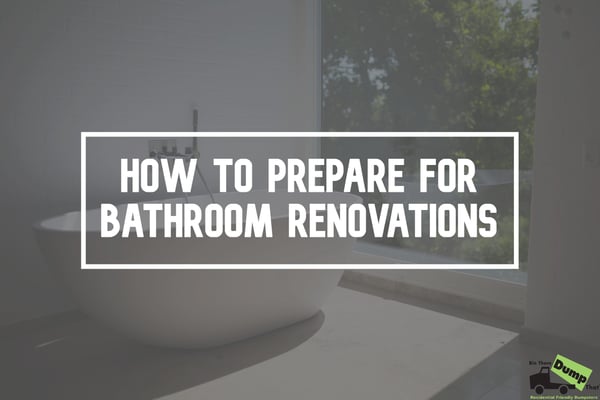 The first thing you need is a detailed plan. For starters, you should develop a remodeling budget for your bathroom. This way, you'll know exactly what kind of funds you're working with. Second, you need to take the right measures. Think about it, the bathroom is definitely the smallest area of the house. This is why every inch matters and why, no matter what your plans are, you need to find a way to fit everything within your bathroom. This brings us to the question of the layout, which is subjective both to your needs and the space available in the bathroom.
Get in Touch with Relevant Parties
The next thing you need to do is get in touch with all the parties that are relevant to the renovation. First, you need to check if you need some permits in order to start with the works. Second, you need to check with plumbing repair specialists and remodeling experts that you intend to hire for these works. Most importantly, you need to inform your family. Sure, this is something that's been discussed for a while now but when you know the date of the commencement of works and the expected duration of works, you need to let them know.
Make a List of Products you want
Next, you need a detailed shopping list. For starters, you need to make a list of products that you need to buy. Here, you need to compile the list of all the materials (if you're the one buying them) and all the fixtures. This should fit your budget, provided that you've planned out everything in advance. When buying materials, keep in mind that getting a bit more than you need might be smarter, seeing as how mishandled materials might leave you short otherwise. This is also the time for you to invest in low-flow fixtures and LED lighting.
Prepare for Work
While the works are taking place, you will be one bathroom short (or even completely bathroom-less). This is a major disturbance for every household, which is why you need a contingency plan. Some people install mobile toilets on their property and take showers at the gym. Others just move out to temporary lodging. If you do have more than one bathroom in the household, you just need to exercise some tolerance and schedule bathroom use a lot better with your family.
In Conclusion
At the end of the day, you need to look at all the aspects of this bathroom renovation. The cost, the options, the works themselves and the effect that this project will have on your family until its complete. The bathroom renovations process is a stressful thing but it's a necessary one. Only by taking all of this into account can you make the transition itself as calm as possible. Keeping everything in hands will help you and your family gets through it stress-free.
Author Bio:
Ayla Anderson is an avid reader and an enthusiastic blogger who writes articles on home improvement, business, Family and beauty. She is also an MBA student who spends much of her time giving advice to newly small businesses on how to grow their businesses. You can follow me on Twitter