Because sinks, toilets, tubs, and showers are all fixed in place and connected to plumbing, making significant changes to a bathroom is often difficult without professional help. Luckily, there are several simple fixes and tricks that can help homeowners liven up a bathroom and give it more space and functionality. Here are five DIY bathroom remodel ideas.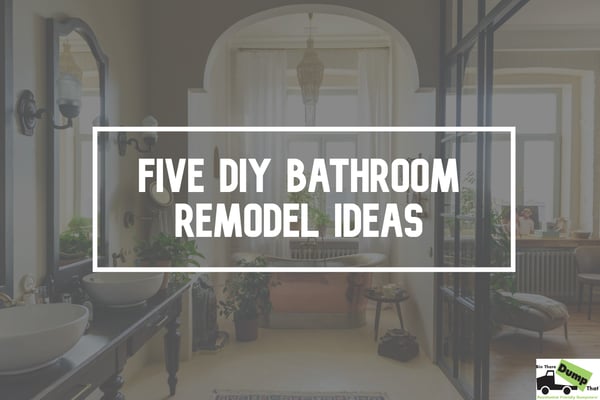 Organize Storage
Bathrooms sometimes suffer from a lack of space and storage options, which can quickly lead to a messy buildup of toiletries on sinks, counter tops, and cabinet shelves. After discarding unused, unwanted, or expired products, simply organize what's left into related groups and store them in small separate containers. Stackable plastic containers with drawers work well for storing toiletries, as do more creative options like baskets and mason jars.
Get Creative With Decor
Putting a little creativity into a bathroom's decor can make the whole room more unique and inviting. If the bathroom has a medicine cabinet or built-in shelving, consider lining the inside with wallpaper or even leftover gift wrap. Plain white shower curtains and decorative towels can also be brightened up with fabric paint, sponges, and a DIY spirit.
Install Unique Shelving
Organizing and storing toiletries and towels is a hassle in bathrooms with inadequate shelving, or no shelving at all. Fortunately, there are several DIY shelving options that don't require complicated construction work and days of effort. Wicker or wire baskets, old wine crates, and even small wooden ladders can all be installed quickly to create functional, unique shelving.
Change Up the Walls and Floors
More substantial DIY bathroom remodel projects often include new walls and floors. While it requires a little extra effort, painting and re-flooring can dramatically improve the overall character of a bathroom and make it more comfortable to be in. It's important to take this step first, however, as the bathroom's other design elements will need to be coordinated with the style of its new walls and floor.
Experiment With Lighting and Scents
If there's not enough time or room in the budget for repainting and changing the flooring, simply experimenting with lighting and scents can significantly change a bathroom's character. Lighting can be adjusted by adding lamps, replacing existing light fixtures, or, if the bathroom has a window, changing the blinds and curtains to let in more natural light. And instead of relying on the usual candles and air fresheners, potpourri sachets or essential oil diffusers can be placed subtly in the room to keep it smelling fresh all day.
Get to Your DIY Bathroom Remodel
Tackling a DIY bathroom remodel or other home improvement project can leave homeowners with a pile of unwanted belongings, trash, and rubble. Bin There Dump That offers several solutions, including dumpster rentals available in multiple sizes, delivery and removal, and cleanup services. Find the right bin size and rent a dumpster for your next project's construction debris.