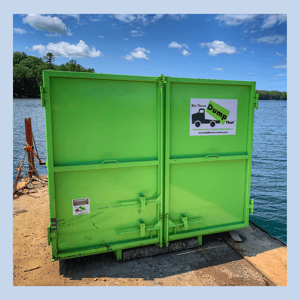 There are many different jobs and reasons to rent a dumpster or waste disposal bin at your home. Maybe you're in the midst of a home renovation project, like a bathroom or kitchen. You might be cleaning out your garage, storage area or basement. You could be replacing or fixing your roof.
Homeowners often get a bin rental when they are decluttering before moving out of a home or even renting one when moving into a new home (my sister was left with this predicament)
Maybe you just love how that big metal box in your driveway accents those pine trees on either side of the front door! (Just kidding.)
Whatever the reason, the dumpster should be there in your driveway for as long as you need it – but not longer than you want it! Let's face it: Once the job is complete, don't you really just want that thing gone?
How Long Can You Keep It?
Most reputable rental dumpster bin companies will allow you to keep the bin for around 5 to 14 days, giving you plenty of time to fill it. The truth of the matter is that the average stay of a dumpster in a driveway is about three and a half days. When you call to book your bin rental delivery, discuss this with your local Dumpster Consultant.
As long as you're honest and upfront, it's not likely that a good company will give you too hard of a time if you need a day or two over the allotted 5 to 7 days. Majority of Bin There Dump That franchisees usually charge on a 7-day basis and then on a per-day basis if you need the bin longer.
Here's a tip*** Rent the dumpster on a Friday or Saturday and most Bin There Dump That franchise locations will allow you to keep the dumpster for the additional weekend, if necessary.
Anyone can understand that the first time you rent a bin, the experience can be intimidating. (After all, few homeowners make a habit of disposing of a huge amount of trash!) But you can rest assured that most dumpster rental companies will work to make the process as painless as possible. While there might be some minor differences about how our franchisees run their operations, there are some universal truths.
What To Expect When You Call
When you call to book your bin, there are a few things you should expect from a reputable dumpster rental company:
They should answer the phone promptly, listen respectfully and professionally suggest solutions
Your dumpster rental should arrive when promised and should take no longer than 24 hours within ordering the container
The vehicles, bins and drivers should be clean
The bin should fit neatly in your driveway, saving labor and time (and allowing you to keep parking your vehicle inside your garage)
They should promptly retrieve bins when they're full
They should sweep your driveway area before they drive away, leaving your property as clean as it was before.
There might be differences in how each Bin There Dump That franchisee bills, but the service you receive will be top notch at any of our locations. Some franchisees have "all-in" pricing, while others charge a fee for rental and then charge for dumping, usually per tonne (or ton, if you're in the United States). There is no cost for pick-up or drop-off.
Keep Your Bin As Long As You Need It
Remember that these companies make money by moving dumpsters from one job to the next, and they will have a finite number of bins in their inventory. If it turns out that you have the dumpster longer than expected it is important to communicate that to the company as soon as you can so they can make the arrangements needed.
So remember, the bin is yours as long as you need it. But don't keep it longer than necessary, because then you're preventing other homeowners from keeping their homes clean and beautiful.
Think Bin There Dump That is the right fit for your residential trash removal needs? Check out our website to find your nearest franchise location.