It's very easy for basements to get cluttered. Everyone often stores unnecessary things in the basement and it comes back to haunt us years later. In this article, we will give you some basement cleanout tips and hopefully help you de-stress. We will go through important steps like the three-pile method, the mental game and how to be safe. Who knows, maybe you will.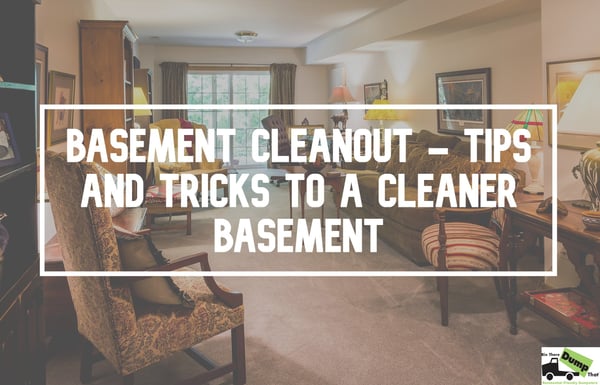 Plan it Out
Decide what you want your end goal to be and how you want your basement to look after you are done your basement cleanout. If needed, write down your goals to remind yourself later. Take pictures of before and after you are finished decluttering so you can see your progress and pat yourself on the back.
Schedule enough time to clean out your basement. The amount of time needed varies for situations, but for a regular suburban basements, the job should be done in a day. We suggest getting the job done in one go. It is horrible practice to finish half of the job and leave the rest for later. You won't find the motivation to start up again and you will end up in a worse position.
Rent a Bin
Rent a bin to throw out your unwanted belongings. You don't want them lingering in your house any longer! Find a local Bin There Dump That near you. We have varying bin rental sizes for your different home projects and waste disposal needs. Our dumpster can hold just about anything you have in your basement, from old toys to heavy outdated furniture.
Keep Safety In Mind
There are a few things that you will have to keep in mind when it comes to your safety when reorganizing and cleaning out the basement:
Don't leave brittle items such as glass uncovered on high shelves.
Keep heavier bins/items on the bottom and lighter ones on the top.
Dispose of old/rotting material as quickly as possible.
Drink some water.
Wear safety gear when needed.
Be wary of heating systems when deciding where to place items.
Be aware of your surroundings and use common sense.
Clear Out The Basement
To start off, clear out your basement. There are three main piles that you have to keep in mind: Trash, Donate, Keep. As you go, toss everything you don't need in the trash, keep everything you want to donate in a separate pile, anything that you're going to keep in the house can stay in one pile and later separated into staying or relocating. Throw anything that needs to be relocated in one pile and keep anything that needs to stay in another.
It is a challenge deciding what needs to go and what needs to stay. One popular method, made known by Marie Kondo, a popular Japanese organizing consultant, is to decide if an object "sparks joy" to your life, and if it does not, you should get rid of it.
For the items that are to stay in the basement, there are many ways to group and organize them, and many people have different preferences. One method we suggest is to group them according to their purpose. For example, some groups could include fishing gear, tools, holiday gifting, office supplies. That way if you are going fishing, you know where all of the fishing gear is, if you are wrapping a gift for the holidays, you know where the materials are and so on.
Though it may be tedious, it is an excellent practice to label and color code bins, boxes, and items. If you are already cleaning out the basement, you might as well take the extra step. Your return on investment will be worth it.
Put the Clean in Cleanout
It is very important to clean your basement while you are clearing it out. Disinfect all surfaces, scrub the floors, vacuum everywhere, and dust every surface. It is also important to clean or wash any containers that need to be cleaned and to dispose of items that can be rotting or decomposing. When doing so, be sure to wear the right gear and to use the right chemicals and tools for the job. Doing this will help you have a safe and clean home for your family.
Mindset
Decluttering your basement is not an easy task, and it doesn't have to be a negative experience either. One of our most valuable tips is to keep in mind the end result. Why are you decluttering your basement? Keep that image of a neat and organized home in your head throughout the entire process and you will stay motivated when times get tough.
A problem that many people face when decluttering is distractions. People come across old photos, artifacts and they sit there for hours reminiscing about the past. THIS IS A HUGE MISTAKE!!! To avoid this, Marie Kondo famously suggests organizing by category rather than area. For example, you could organize your clothes and then your office supplies rather than organizing your closet then your office. This is because items of the same category are often spread out around the house, and so you will find yourself reorganizing the same items.
Remember to take breaks. Decluttering can get mentally straining, but with a quick water break or a quick walk, motivation will be restored. Just make sure not to start a new Netflix series on your break!
The last, and most valuable tip we can give you is to... HAVE FUN!! Decluttering should be a relaxing, enjoyable task. If you do it with family members, use it as a bonding experience. Teach your kids the value of a clean & organized home! Reap the benefits of a more organized home!