When your home is of a certain age, it's natural to want to do some remodeling to make things look fresh. The desire to remodel may also come because your family got bigger, and you need more room. Then again, some homeowners remodel their homes simply because they feel like it.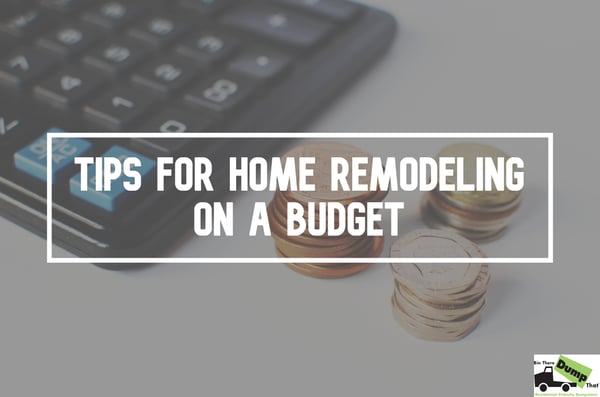 Whatever the reason, remodeling is something that a homeowner will likely want to get done at some point with the help of home remodeling contractors. After all, there's always room for home improvement, even when your house already seems perfect for you.
A remodel, of course, is going to cost you a lot of money, especially when the price of labor and materials seems to increase with each passing year ceaselessly. However, you can push through with your remodeling on the cheap, and still add value to your home. Here are some tips that can help you remodel your home on a budget.
Take it Easy on the Remodel
If you've decided to do major remodeling work on your home, know that it's going to require a small fortune. If you have the money for it, then go ahead and get it done. Get your project off the ground, and don't forget to properly dispose of the debris your remodeling project is going to produce.
However, if you don't have the budget for that level of remodeling work, then scale it back and do only what the funds you have available would allow.
Instead of tearing down walls, give them a fresh paint job and transform the place just the same. You can also paint your old bathroom tiles if retiling is not an option. As for the bathroom, you can replace the old showerheads and faucets with fancy-looking stainless steel ones to give your bathroom look an upgrade.
For your kitchen cupboards, new door handles can do the trick. Do you think your dining room is starting to look dreary? Transform the said area by adding new light fixtures. Install a few light pendants directly above your dining table, and you'll see how much classier that whole area is going to get with these relatively inexpensive additions.
If you're thinking about replacing the windows, but your budget doesn't allow it, you can always resort to new window treatments like shades, drapes, or curtains that improve the aesthetics of your old window and make any room look instantly better.
Do A Little DIY
Let's say you're going for a full-on kitchen renovation, and you want to keep things within the budget you have prepared for it. If you want to save some money on the project, you might want to take on some aspects of the remodel that don't require expert construction skills and experience.
A full kitchen remodel may require the removal of old cabinets and cupboards as well as tiles. It doesn't take much skill and experience to do these jobs. As long as you have the time, the stamina, and of course, the patience, you can forgo hiring laborers for the job and do everything yourself. You get to shave a few hundred dollars of your remodeling bill, and you get a lot of exercise too!
Repaint The Front Door
It may sound like a minor thing to do, but repainting your front door can do wonders for your home's curb appeal. Paint your front door in a bold color that blends perfectly with the exterior of your home, and your house will get a whole new look and feel that anyone who stands in front of it will surely appreciate it.
Hunt for Bargains
Some of the materials you want for your remodeling may be too pricey, but with a little due diligence and patience on your part, you just might stumble onto a bargain. By doing some comparison-shopping, you should be able to find the best deals.
You might also want to look at materials that may come at a lower price, but are just as good as the high-priced ones you want. For example, you've always wanted a marble kitchen countertop, but it costs about $250 per square foot. If you take a closer look at countertop alternatives, you will see that a granite countertop is just as good (maybe even better) as a marble one, and at $200 per square foot, it's a whole lot cheaper.
Upgrading your home can be expensive, but it doesn't have to be that expensive. While there are many other things you can do when remodeling your house on a budget, the tips above should give you a good place to start.