The new year is here, so we've put together five items to upgrade your kitchen in 2020.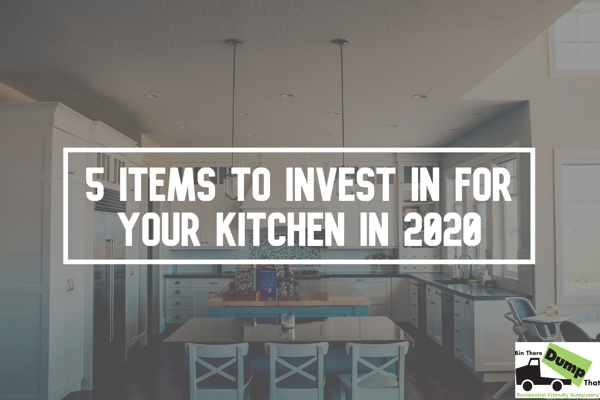 Interior designers, kitchen professionals, and homeowners around the world are continuously coming up with creative ideas to impress your guests and make your kitchen stand out. To stay up to date on the latest kitchen design trends, check out our fun ideas to modernize your kitchen below.
As 2020 is now here, all of the big retailers including Amazon, Walmart, Wayfair, and others are prioritizing user experience and convenience. So why can't your kitchen offer the same thing?
Here are some of the latest popular kitchen appliances and accessories for 2020.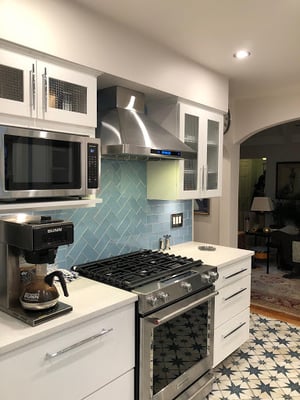 Creative Kitchen Backsplash
Add some color to your kitchen with a creative backsplash. Color is not the only way to spice up your kitchen; the possibilities are endless. You can change the direction of your tile as in the above photo or change the texture of your backsplash so that it differs from your kitchen walls. You can even add a custom-made design or pattern behind your range.
Invest in a unique backsplash to make your kitchen pop.
Prominent Kitchen Island
Kitchen islands are both functional and beautiful - a practical addition to any kitchen for 2020. Enjoy a convenient cooking experience with easy access to your cookware and additional space to prepare your delicious food. A beautiful kitchen island will make your kitchen more inviting and add excitement to your cooking experience.
You can do big to make a powerful statement or take a more subtle approach with a small kitchen island.
Elegant Range Hood
A range hood is a beautiful addition to any kitchen and it will clean your kitchen air efficiently. Your kitchen will stay fresh with the push of a button. You can choose from several styles, including wall mounted hoods, island hoods, under cabinet hoods, professional hoods, or custom hoods. Range hoods accommodate any cooking style, with residential hoods available anywhere from a couple hundred to a couple thousand CFM.
Google Home
A Google Home is one of the best pieces of technology to invest in for 2020. It has several practical uses, allowing you to control appliances in your kitchen with just your voice. Along with your Google Home, consider purchasing smart appliances that suit your needs which can connect to your Google Home.
Smart kitchen appliances include smart refrigerators, coffee makers, microwaves, instant pots, soap dispensers and many more. You'll save loads of time in your kitchen with these attractive options.
Beyond your kitchen, your Google Home allows you to control music, alarms, web browsing, and much more all over your house.
Beautiful Quartz Countertops
Quartz is becoming more popular in the everyday kitchen and will likely gain popularity throughout next year. In the past few years, granite has been the countertop of choice. But quartz is a more durable material that is both stain and scratch resistant.
Some quarts countertops are reflective too, adding a bright shine to your kitchen.
If you're planning a renovation, these five items are the perfect fit. Thanks for reading and good luck updating your kitchen!