8 Quick and Easy Bathroom Organization Ideas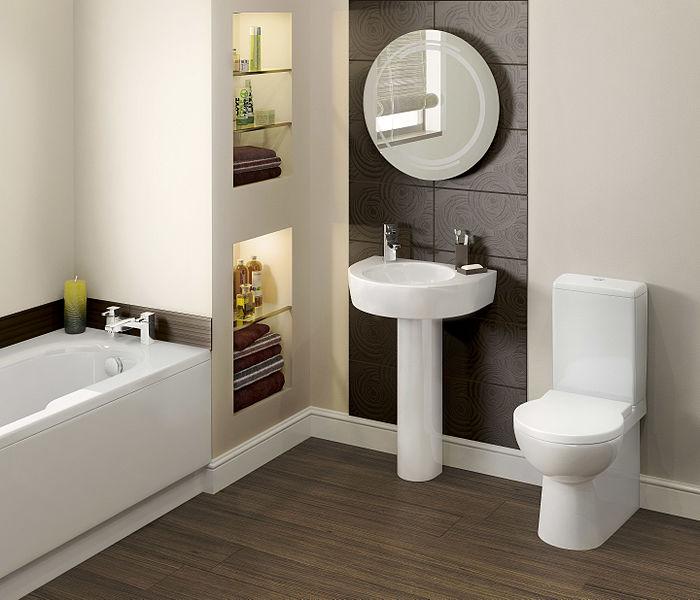 Image source:
commons.wikimedia.org
We'll all agree that clutter can collect in your washrooms at a staggering rate. In no time, you'll stumble across Tylenol tablets that expired in 2010 and try to sift through 8 different bottles of hand cream
Here's the deal:
How to organize your bathroom isn't usually at the forefront of a modern house dwellers mind, but you'll be surprised by how much having a clean bathroom can improve your state of mind.
The truth is:
It's not like it's a part of the house you can just avoid, so take back your bathrooms with these organizational and decluttering tips:
1: Get your hair and skin products in order.
If you're living with family or housemates, there's no doubt you'll have an abundance of hair gels, lotions, conditioners, moisturizers, and other clutter lying around your bathroom. Odds are you probably don't use half of them, or even know who they belong to. If you don't use them, throw them out. If you don't know who they belong to, ask your housemates. If no one claims them, chuck them. There are enough products out there cluttering our lives, so chuck the ones you don't need to help organize your bathroom counter space.
2: Take control of your surfaces.
Use your cabinets! Use your shelves! Don't just leave your products and towels and spare soaps around your basin or on the window sill. If you don't have the cabinet space, or you're out of bathroom cabinet organization ideas, you can get storage bins, a cheap set of drawers, or a bathroom caddy. This will make dusting and cleaning surfaces far less daunting, and if you can find a permanent tucked-away-home for your bathroom contents, you will be less inclined to leave them out and create a mess.
3: Clean your bathroom, just a little bit, every day or two.
If you do a little bit of cleaning at a time, you won't have a mammoth task to procrastinate until it becomes unbearable. This way, your bathroom will look consistently tidy! You'll also feel a small sense of achievement every time you clean, which is a great way to start each day.
This one you better adhere to!
4: Your Medicine Cabinet. Clean it out. Often.
Check the expiry dates on your medicine and throw it out if it's past due. It's a dreadful feeling when you're sifting through a tonne of unused and expired medicine to find something simple like paracetamol. If there's a medicine bin in your area, take your unused pills there. If you're unsure, call up your local pharmacy. You don't want those chemicals going down the drain or seeping into our waterways from the landfill.
Like this tip? Click here to tweet it
5: Labels help.
It's a fact that organizing things into categories is how the human brain works - it's not exclusive to bathroom organizers. Having designated, labelled drawers and shelves for various items will make life easier for you, your guests, and your pesky housemates and family members that always put things on the wrong shelf.
6: Sort your makeup out.
A good bathroom organization hack is to use old jars for your brushes and pencils. You can also use spice racks for your foundation, and stack hairspray bottles on a wine rack. There are plenty of creative and fun ways to make sure your makeup is tidy and not spilling all over the sink.
7: Use your wall space.
Hooks for towels, magnets for scissors and utensils, shelves that hang on your walls. All of these things are easy to find, and will help you use your space efficiently. If you're not into buying shelves, there are plenty of storage DIY solutions you can use to build your own. Discover other bathroom renovation trends like maximizing wall space
8: Keep your toilet paper visible.
I know you've been there. You're in someone else's bathroom, and you can't find the toilet paper anywhere. Save your guests the embarrassment of having to ask, or worse, and find a nice basket to store your toilet paper in.
These 8 manageable tips will help you reclaim your washrooms from clutter and disorganization. Now it's your turn. What are some of your tried and true bathroom organization tips? Please share in the comments below
Of course, when you're tackling your bathroom and other decluttering projects, use assistance from decluttering's best friend, a Bin There Dump That dumpster rental