Generally speaking, the relationship we have with our bathrooms can be a bit rushed and, at times, inconvenient. When we're home, it's the kitchen, bedroom and family room that tend to get most of our attention. And that's totally normal, but maybe not for much longer.
As many post-recession homeowners continue to invest in their homes rather than pack them up and look elsewhere, the bathroom is one room in the house getting some spa-like attention after all and topping remodel lists for 2015.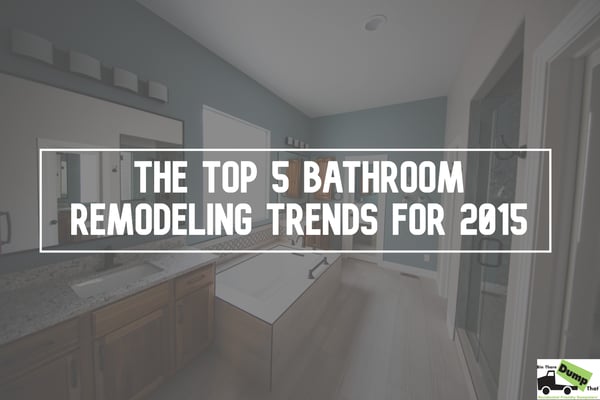 Through our residential dumpster rental services, Bin There Dump That has helped homeowners across the country as they take on bathroom remodels. Is your own bathroom a makeover waiting to happen? Then this year's top bathroom remodeling trends – from paint colors to shower preferences – are something you'll want to pay attention to.
New Year, New Bathroom Remodeling Trends
Privacy. Sanctuary. Peace. Quiet. When done right, a remodeled bathroom can give those four words new meaning in your home. Here are five remodeling trends to help turn your pit stop into a spa visit:
Heated And Tiled: A New Focus On The Floor
In 2015, warmth is one of two reasons focus has shifted from the walls to the bathroom floor. In the past, radiant floor heating was only found in high-end homes. Not anymore. Thanks to more affordable materials, a warm tile floor in the dead of winter is within reach. Add in a heated towel rack for good measure and you might start enjoying that morning walk into the bathroom. And with today's technology, options to control these amenities through smartphone and tablet apps are already available.
The other reason? Through custom tile work, bathroom floors can present homeowners a blank canvas and a chance to really rack up the style points. Sometimes bathroom walls can present a bit of a design challenge, especially when there is no dominant wall, making the floor a perfect design opportunity without being obtrusive and cluttering your small space.
Open Floor Plans, Fewer Walls
"What about privacy?" That might be your initial reaction to the idea of removing the dividing wall between your bathroom and master bedroom. And while this might not sound like a project for everybody, homeowners are continuing to show an interest in larger bathroom spaces and this is one dramatic way to achieve it.
This strategic renovation removes the need for any expensive bathroom expansions or additions. It also turns two private rooms into a single, larger and more connected private space.
Find Timelessness In Shades Of Gray
So is gray the new black? Or the new beige? Either way, earthy tones of gray are proving to be timeless, making it the go-to palette for bathroom walls in 2015.
And if you decide to add in any bold accents – including white – the neutral backdrop will definitely complement any pop of color you're looking for.
Relax … In A Freestanding Bathtub
As bathrooms continue to grow in size, freestanding bathtubs are also growing in popularity. Synonymous with luxury, freestanding or stand-alone bathtubs are something of a relaxation focal point in larger bathroom spaces.
But don't let the word luxury fool you. Thanks to more affordable materials like acrylic, if you have space for a stand-alone tub, there's a good chance your budget will too. Take a relaxing soak without feeling guilty about it. Freestanding tubs are available in a variety of styles and shapes, and also offer features like built-in ledges and spa jets.
Goodbye, Bathtub; Hello, Spacious Shower
I know, baths aren't for everyone. And if they aren't for you, have you consider getting rid of your bathtub altogether? Just think of all the extra space that would open up.
And that brings us to our last trend: Huge showers.
Whether you call them walk-in, doorless or curbless, these oversized showers are great for flaunting custom tile work and their universal design works well in smaller spaces.
Large, walk-in showers also prove to be a wiser option for older homeowners struggling with mobility by removing the need to step over anything to get into the shower.
Ready To Renovate?
Which bathroom remodeling trend caught your attention? Anything you were already considering? For even more bathroom remodeling inspiration, check out last week's blog post on our favorite remodeling and renovation websites.
Once you have a plan in place – and way before you start knocking down walls and tearing out old flooring – visit the Bin There Dump That website to find the franchise operator nearest you and set up your residential dumpster rental.
Images: Crazy tile floor, Freestanding bathtub