Canada and the United States share the longest border of any two countries anywhere on the globe: 8,891 kilometers (5,522 mi), including 2,477 kilometers (1,539 mi) shared with Alaska. The two countries actually share far more than a border, including our unofficial starts to summer. In Canada, that's Victoria Day, the celebration of Queen Victoria — and south of the border, the holiday is Memorial Day, a time to honor soldiers who made the ultimate sacrifice for their country.
Victoria Day is now enjoyed on the Monday before May 25, and Memorial Day is celebrated on the final Monday in May. Both countries celebrate with parades, barbecues and fireworks. In the United States, some also visit the graves of fallen soldiers.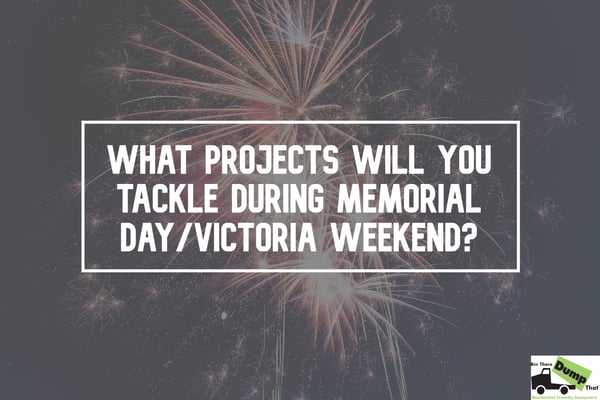 And because both holidays create long weekends (and the weather is finally warm), many people also take the opportunity to complete a number of outdoor projects.
The Unofficial Start of Summer
A wave of recent chilly weather across the Midwest might give some pause, but the end of May usually marks the date when gardeners can be reasonably sure there won't be any more plant-killing frosts. Enthusiasts don their gloves and knee guards and start digging into the soil preparing it for the season's new crop of tomatoes, peppers, peas, beans and zucchini.
Whether it's pulling up weeds that weren't blocked out by the weed-blocking cloth you placed last fall, the weed blocking cloth you placed last fall, empty bags from the new soil you spread, or old chicken wire fencing, which failed to protect your harvest from the vicious gang of neighborhood bunnies, the waste that gardening produces is ripe for a Bin There Dump That dumpster.
Recreational/Vacation Home
Those lucky enough to have a vacation home — on the Great Lakes, in northern Canada or anywhere away from the hustle and bustle of daily life — often spend the long weekend waking that space up from its long winter slumber. Schedule a Bin There Dump That dumpster to arrive the same day you do.
Did you wrap the pipes? Take that material and throw it in your dumpster. If any of your appliances don't revive from their long, cold unplugged sleep, they'll fit nicely into a dumpster.
Basically, anything that didn't survive the season belongs in a bin. Make your life easier — dump it and forget it. And get on with the summer!
Fishing Season
It's time to break out the rod and reel, tie some flies and drop the boat in the water. Just about everything (except engine fluids, batteries, fuel or any other hazardous materials) can be put into a dumpster bin.
Maybe it's new cushions for those chairs in which you'll be sitting for hours waiting for a bite. Check the hoses, ropes, and other equipment for damage. Make sure to replace anything that didn't make it through the winter season unscathed. Get rid of the rotten.
To Wear White Or Not To Wear White
There was once a hard and fast fashion rule: no white until after Memorial Day. While rebels and fashionistas might ignore that rule these days, the focus on clothing serves as a reminder that maybe it's time to clean out the closet of styles that have gone from retro to wretched. If it hasn't been worn in awhile, and it can't be donated, dump it.
To learn more about how a Bin There Dump That dumpster can help you celebrate the start of summer and clear the clutter from your home, keep an eye on our blog for more summer decluttering tips.
You can also visit our website to find the franchise operator nearest you.
Image credits: Fireworks, vacation home, closet