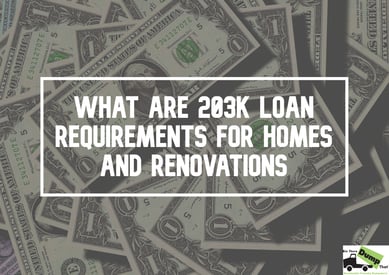 It's fall but there's still time to get started on your home renovation project. Whether you are moving into a fixer-upper or just in need of renovations to your existing house, you might be wondering how you can finance all of these renovations.
Fortunately, if you reside in the United States, the Federal House Administration (FHA) has created the 203K loan program to help. See how you can meet the 203k loan requirements below.
What is a 203K loan?
A 203K loan can be used in two situations. You can either use it when you are buying a home in need of major renovations or when you would like to renovate your current home. In any case, the program is designed to simplify the financing process, assuming you meet the 203k loan requirements.
In the past, homebuyers would have had to get loans from private lenders, which often carry higher interest rates, to finance renovations on a fixer-upper. This provided a strong disincentive to purchase and renovate older homes. Now, you can access financing through an approved FHA lender, which saves you time and money.
What are 203K loan requirements?
203k loan requirements involve the following:
The property being renovated needs to be the primary residence of the borrower. A primary residence is defined broadly as a home someone resides most of the time. You can only be the primary resident of one property.
Like all loans, your credit score factors in. Fortunately, it's easy for homeowners and homebuyers to get approved. If you can pay 3.5% down and have at least a 640 FICO score, you may be eligible. If your credit score is below this number, there are additional requirements.
Being a first-time homeowner (meaning you haven't owned a home in the last 3 years) also helps you qualify for a loan, even though it is not exclusively for new homebuyers.
In addition, there are two kinds of loans and each 203k loan has different requirements:
The standard 203k program is used to finance properties in need of extensive repairs. In order to qualify, you need a 203k consultant to do a home inspection and determine the value of the improvement through an appraisal. A minimum of $5,000 must be borrowed.
The streamline 203k program loan finances repairs that cost less than $35,000. Because less money is involved, the approval process is easy. This program is designed for cosmetic repairs and smaller renovations.
Do landlords meet 203k loan requirements?
At this time, landlords do not qualify for 203k loans. This is because they are not primary residents of the building they wish to renovate. Therefore, they need to find alternative means of financing.
Now that you know how easy it is to get financing for your renovation, you are going to need a dumpster to properly dispose of everything. Bin There Dump That can help! If you are ready to get started, contact a Franchise Owner in your area today.