2015 is a big year for you and your home. It's the year you turn that nursery back into a guest room or finally finish the basement – think of all that rec room potential. No matter the size of the project, it always helps to get a little free help and inspiration to get the ball rolling.
Enter the Internet.
Interested in knocking down the dining room wall to open up the kitchen? There's a website for that. Ready to turn that third floor attic into a home office? There's a blog for that. From before-and-after photos to how-to videos, home renovation websites are abundant, but where do you start?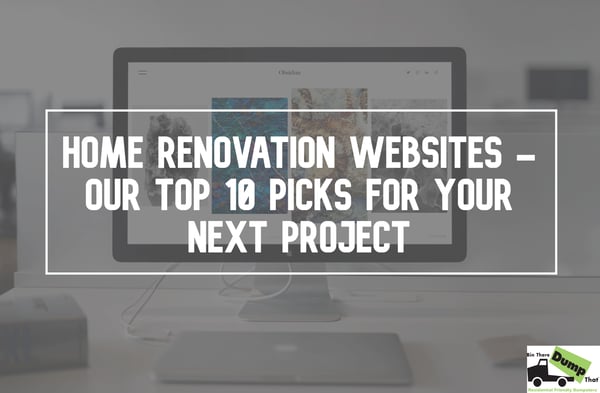 Find Help And Inspiration Through These Home Renovation Websites
Let us help. We compiled a list of our 10 favorite, most useful home renovation websites to help see you through each and every household project in 2015 – from start to finish. Here they are in no particular order.
Beginner tips, realistic projects and detailed plans abound on this site, making it perfect for the do-it-yourselfer at any level. It offers step-by-step instructions for thousands of home renovation projects. Also check out DIY Network's blog Made + Remade, which focuses on quick and clever craft ideas.
If you want to be at the crosshairs of beautiful home design photos (by the millions), design and construction professionals, and homeowners like you, then Houzz is the place. It also features product recommendations and a very interactive user forum.
Do you have an old house? Well, you've come to the right place. A name synonymous with home renovation since it first aired as a television show on PBS in 1979, This Old House's website maintains its reputation as a trusted source for all things home improvement.
Remodeling on a budget? This DIY couple sets their budget at $5,000 – for an entire house! Their motto: "Reduce, reuse, recycle, repurpose, remodel." You can follow Justin and Cassity as they begin work on their third house.
From Melbourne to Barcelona to Brooklyn, this polished, high-end site covers the globe spotlighting modern and rustic to minimalist design ideas for every room in the house.
Don't let the name fool you. Apartment Therapy has something for everyone: small space tips, before and after transformations, eclectic home tours, wallet-friendly kitchen renovations and so much more.
When this blog began, Liz was a newly married lawyer who just wrapped up the renovation of her first single family home. Nine flips and two rentals later, this "serial home improver" is showing no signs of slowing down. The last time I checked, kitchen cabinets were just installed and a family room addition was getting bricked in.
Ikea Hackers is about modifying and repurposing products from this ready-to-assemble furniture brand. Some hacks require a simple embellishment, while others need some imagination and a few power tools. Unlike IKEA's assembly instructions, this site is a lot of fun.
If you are interested in buying and renovating foreclosures, then Newly Woodwards is worth a visit. After completely overhauling their first two homes – both foreclosures – this young Illinois family purchased 17 acres of land out in the country and are currently renovating a barn on the property that also serves as their home.
It would be a complete oversight if I didn't mention Pinterest. Pinterest is a web application that's all about sharing and collecting visual bookmarks. It's a digital version of your bulletin board, but it's covered in all of your favorite things. Pinterest is also a great resource for home renovation tips and ideas. You can also use it to organize and plan your projects. Disclaimer: It's addicting.
Getting Started
Have you considered dumpster rental? Every home renovation project requires a dumpster bin. Start your New Year's off with a clean slate by having a Bin There Dump That bin delivered by one of our courteous drivers; visit our website to find the franchise operator nearest you.
Images: Floor sander, Yellow paint