You know that moving day can be one of the most stressful events in anyone's life. It's on the top tier along with planning a wedding or giving birth for the first time.
This relocation guide and free moving checklist is going to make the process that much easier!
We've created a full relocation guide and a downloadable and simple moving checklist for you to use for when you're ready to relocate or still organizing for a move.
IIt will cover all the elements of relocation, including:
Hiring a moving company
Who needs to be notified, what needs to be done with your change of address
Moving apps to make your relocation easier
How to properly pack your belongings to ensure their protection
Moving day FAQ
On top of that, the guide will include things that you'll need to do weeks before your move, during and after your relocation. Continue reading to discover everything you need to know about moving... Or just skip to the moving planner.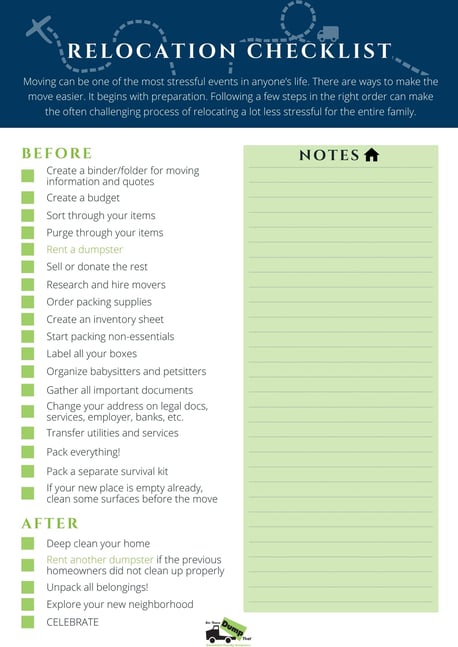 Your Relocation Budget
While there are some variables that will fluctuate the cost of moving from year to year, there are other factors that are much more predictable. Understand how the distance, time of year and size of your household will impact your budget on moving day.
Travelling Distance
No matter how you move, you'll need to get yourself, your family, and your belongings from point A to point B. While it may seem obvious that the cost of moving increases the more miles you travel. some buyers don't consider this factor until the move is in progress.
Understand that the distance you're travelling is directly proportionate to the amount of money you'll spend and do your best to estimate these costs ahead of time with movers or moving truck rental companies.
With the full service of a 2 bedroom home (the moving service loads the truck and drives the truck to its destination) on October 1st 2020, here are some quotes:

Time of Year
Your real estate agent probably told you that the time of the year can affect the price your home sells for. You probably didn't know that the time of the year can also impact the amount of money you'll spend on moving day. While it might seem like it would be more expensive to move in the wintertime, this is actually the most affordable time to move.
Keep this in mind when budgeting moving costs, so you don't request a quote in the winter and get blindsided by a higher quote when you're ready to relocate in July.
Household Size
The more people you're moving (or the more items you own), the more expensive it will be to move. While this certainly includes moving furniture, belongings, people, and even pets, it also applies to vehicles and larger belongings, like boats.
In some cases, especially when moving long distances, it may be more profitable to sell heavy furniture, items you no longer want, or those that don't fit your home's new layout. This will put extra money in your pocket for buying new furnishings, if needed, and decrease your moving costs.
Moving Services
Deciding whether you need professional help with your move is an important budgeting decision you should make early in the process. While it can be difficult to figure out which route is more affordable for you, there are several questions you can ask yourself to help make the decision.
Do I want to drive to my new home?
Do I have to make more than one trip?
Do I have the time to manage the moving process?
Here are some moving companies that can help you:
Money-Saving Tips
Moving and packing companies have a variety of fancy boxes that are specific to moving dishes, glasses, clothing and other breakables.
Rather than spend money on fancy packing materials, wrap cups and breakables in newspaper, towels, and clothing that you're going to be moving anyway.
Instead of paying for bulky clothing boxes, wrap trash bags around large bundles of hanging garments for the same effect.
Packing Smart
While there's no getting around spending money on a new move, there are many ways you can move affordably and save money during the process.
Try using items around your house to pack smartly and save money.
Try to Downsize
If you've been considering downsizing, don't wait until after you move to see what furniture fits. Instead, save on moving costs by selling anything you're unsure you want to bring with you. Have a garage sale, list items on Craigslist or Facebook Marketplace, or throw out anything that's no longer usable.
Read on for more tricks on cleaning and organizing your home before a relocation journey.
Tip From an Expert - Devon Hicks from
TH Realty Inc.

If you're renting, always have a reserve fund set up! You should have at least 3 months worth of rental income put away in an account to help absorb major expenses that will inevitably happen! Having a reserve will make your life much less stressful. It's never a good idea to rely on January pay to pay your January rent.
Cleaning, Organizing and Packing Up Your Old Home
A couple months before the big MOVING day, begin the process of deciding what will be making the move. Moving a home is not a sale at a closeout store. In fact, it's really the opposite. Everything does not have to go (with you).
This is the point in the relocation process where you will want to incorporate a moving checklist. The more you can get rid of, the less you'll have to pack and the easier it will be to unpack on the other end. Take time to go through each room, and get rid of the things that haven't been used in a while. Anything that doesn't make the cut should get the boot long before you get to your new place - and preferably placed into a Bin There Dump That roll-off dumpster rental.
The devil is all in the details, and with a move of any kind has a seemingly endless stream of details. You only have one opportunity to keep things organized and we know this is an immense amount of pressure on you. So you'll need to find a method that works for you - a spreadsheet, a whiteboard, a series of Post-It notes anything to keep track of all the details. You'll need to know all the dates, materials and important contacts.
It's time to start weeding down the materials. Yes, you've already gone through the house once and cleared out the obvious junk - but now it's time for a closer look. Walk through once again and ask yourself if you really need the item. If you haven't touched it in the last couple of months, it might be better for it to be in a dumpster.
IIf you have trouble cleaning, you might want to try this free clutter training by Diana Rene that will help you outclean your clutter.
No matter how far you're moving, the more you have to take with you, the more expensive and time consuming it will be.
Anyone who has ever had an airline lose a bag knows to put the most vital items in your carry-on luggage. With a move, the same rules apply. Any medicines, important papers, heirlooms, jewelry and anything irreplaceable shouldn't be left to the moving company. No matter how reputable the company is, mistakes happen. Accidents happen.
The key to packing is labeling. The goal is to make the unpacking as simple as possible. As you go from room to room, make sure each box indicates the room in which its contents will eventually reside. This is a good time to make final decisions on all those things you debated getting rid of but decided to wait on. If it's not vital or valuable, get rid of it.
A Few Tips To Staying Organized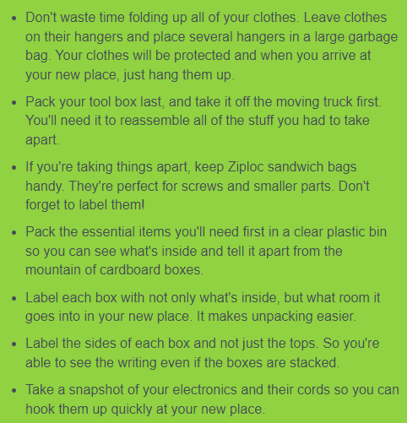 If you're looking for an all around service that will help with decluttering, organizing, moving services and more, visit Janes Addiction. They will give you tips and tricks and, if needed, provide the service themselves.
Tips to Protect Your Things
Instead of wrapping plates in newspaper, place disposable foam plates between each one. Then pack plates vertically, they're less likely to break.
Put your drinking glasses in clean socks for extra padding. You have to pack the socks anyway, put them to work.
Use towels to wrap and cushion fragile items. Don't just pack them in a box.
To prevent your containers with liquid from spilling during your move, remove the cap and place plastic wrap on the lip of the bottle, then place the cap back on.
Keep your mattress safe and clean by putting fitted sheets on

both sides

before it's loaded into the moving truck.
I know this sounds crazy, but I live to use clothes as packing for dishes, plates, and delicate items. So you're packing your kitchen, right? Well, stuff those cups with some socks, wrap them with sweaters, shirts, etc. You have to make sure your box is small or medium sized so it's not too heavy for the end result). I usually try to pick items I know I will need or want... So THEN, when you arrive at your new house and unpack your kitchen essentials, you ALSO have some clothing essentials. I feel like this works best for a local move, but if you strategize, you could make this work for a long distance move too.
Researching and Ordering Supplies For Your Relocation
There are a number of variables that lead you to figure out whether this is a move you can make on your own or if you should hire professionals to help you out. It might be helpful to have a MOVING FOLDER or MOVING PLANNER that will include a simple moving checklist and information to keep track of the various stages of your move.
If you do choose to hire professionals, then you should know what you're getting from your moving company.
Will they be packing for you?
Do they charge by the amount you're carrying?
Do they charge by the distance?
Do they charge both?
A couple of weeks before your move, order or find your supplies. You'll need the basics:
Boxes
Packing Tape
Cushioning Materials
Bubble wrap
IInstead of purchasing boxes, you can visit your local grocery stores after delivery day and pick up old produce boxes. However, used boxes often don't have the structural integrity to protect your valuables. Spending a few extra dollars on quality packing materials is better than the alternative.
Do the most with your research. One of the most difficult things about your new surroundings is knowing where to eat, shop, which doctors to visit and more. If you're moving for job purposes then an HR professional can point you in the right direction but it's always good to get second or third opinions.
On top of doing research on your new neighborhood, it may be worth to research some tips on how to organize and pack your items efficiently! Using the space like a great game of Tetris and maybe saving money on supplies because you didn't need as many boxes as you thought.
One more thing you might need is a portable storage container. Maybe your new home isn't ready yet and the temporary place doesn't have enough room. Besides, why would you put everything in a temporary spot only to move it again. Keep your non-essentials secure until it's final resting place is ready.
Here are some portable storage services that you could try:
Yes, we recommend both a dumpster and a storage pod. When you move, you'll have stacks of items you'll want to bring with you, hence the storage pod. At the same time, you'll also have plenty of things you want to throw out, hence the dumpster rental. Here are two reasons why you should use both together:
You can

save time and energy.

Your home can look like a war zone of boxes, tape and loose items. With both a storage container and dumpster rental on your driveway or yard, you can carry all of your items out at once:

both

trash

and

keepers. You'll also be more likely to throw out items you don't really need by having the dumpster right there, limiting what you have to move into your home.
Leave your home spotless. After you've loaded all your keepers into the storage container, you're bound to find trash and other unwanted things around your home. You want the house to be clutter free before the buyers have one last look at it during the final walk-through. Parking a storage container and a dumpster rental will help you do just that and reassure them that this is

the

house for them.
Tip From an Expert - Vanessa Tong from The Packer Group
Relocating and moving is exciting and can be stressful so make sure to break up your tasks into smaller doable lists and tackle it one day at a time. Reach out to experts in the field and follow them for tips, motivation and advice to ensure a successful move.
What Else Will You Need? Download Apps to Assist with Moving
The world has evolved so much and now when you do have to do something, people will download smartphone applications to help them better stay organized. Here are five apps that can act as your moving planner:
Move Checklist Pro

- Moving Checklist Pro allows you to create checklists for all of your moving to dos so nothing gets left off. The app gives you more than 100 pre-populated to-dos, helping you remember even the things you forgot to put on the list to begin with. You can also add your own tasks and sort them all by subject or date.
Moving Van

- Locate and see what's inside of each box without ever unpacking. The app doesn't have x-ray vision, but it will help you find specific items you've packed and identify the boxes they are in. When you are packing, use the app to list contents, take photos of them and assign a box with a

name or number. It might require a little more time in the beginning but we all know the frustration we face when you're trying to find something in a pile of unopened boxes.
Sortly

- Similar to Moving Van, Sortly allows users to locate items by searching info and photos. It also gives you the option to take a 15-second video of the items. It also has an in-app moving checklist and QR labels you can print and put on boxes.
Move Estimator

- Moving can be expensive. To help you budget, Move Estimator allows you to get quotes from moving companies, choose self-storage units based on the volume of items you want to store and get an accurate inventory of your home. This will help you keep track of where everything needs to go in your new home and also show you how much it will weigh (and consequently cost) to get you there.
YNAB

or

Mint

- These apps offer free solutions to manage expenses. This will help you with budgeting for your relocation or any other projects that may need you to budget.
Cleaning
Again

.

But This Time, Your New Home
Moving already is a huge job and we know it. As you can see there is so much more than just moving your belongings from one place to another. On top of moving, you'll have to make sure that the previous tenants of your new home clean and sanitize so that you're ready to move in... But are you sure they did a good job?
Not everyone takes the time and care to clean a place up the way they are supposed to. This is why it is crucial for you to do a deep clean. The benefits to cleaning yourself before moving in are that it will be clean, sanitary, and free of any contaminants that the previous tenants may have left behind.
When you clean, we suggest starting with your refrigerator so that you're able to put away your perishables. Here are some steps to follow:
Make sure there is no food or anything left in the fridge.
Take out all of the shelves and drawers.
Clean shelves and drawers with

warm

soap and water.
Make a cleaning solution of one part water to one part vinegar.
Use the cleaning solution and a clean rag to clean the inside of the fridge.
Dry the cleaning solution inside the fridge.
Place the shelves and drawers back.
Once you have tackled the fridge, it is time to work on the rest of the kitchen. It is always best to start up high and work your way down.
Wipe out all cabinets and drawers with a sanitizing cleaner of your choice. Pay special attention to handles that could have lots of germs and bacteria on them.
While all areas of the kitchen should be cleaned and sanitized, you should spend extra time on the counters. This is where you will be putting your food, plates, and utensils while cooking. It should be extra clean and free of dirt, grime, dust and bacteria.
The next important room is the room that everybody hates cleaning, the bathroom. A lot of things happen in bathrooms that make it necessary to clean. Mold and mildew can easily grow in a shower/bathtub when not cleaned properly. At least touch upon these points when cleaning your bathroom:
Use a bleach cleaner to scrub the toilet both inside and out.
Clean the tub and shower while making sure to get in all the nooks and crannies.
Use Windex or a vinegar solution to clean the mirrors and counters around the sink.
Now it's time to clean the rest of the space. The kitchens and bathrooms are the hardest to clean and the most important areas to ensure are sanitized. Once those are tackled, you can dust, vacuum and mop the rest of the home before moving your stuff inside. Don't forget to give a good shining to the inside of windows and a good dusting of any ceiling fans that you might have.
To keep your family safe, a good cleaning is essential to complete before you bring your stuff into your new home. You will be glad you did and feel great about starting with a clean slate.
Extra Services For A Relocation That You Might Need
There are a few things that you'll need during your relocation and these are things that you'll have to book and organize before the move. These are extra services that you may need other than the moving company or service. Here are some other necessities that you may need if it applies to you:
Pet Boarding Services

- Most people treat their pets like members of the family but packing, moving, and unpacking can be quite stressful and traumatic and they could be in the way. A new home is going to be a challenge for a pet with the new space. Consider a boarding service for your animal until your new space is ready and really feels like a home to you and your pets.
A Good Babysitter

- We're definitely not suggesting you ship your children off during the move, although it may be a great time to visit Grandma and Grandpa. It may be worth it to consider hiring someone to mind young children and keep them occupied during the packing and loading phase of the move. It will keep them safe and allow you to focus on the move.
A Protection Plan

- If you're hiring a moving company to handle your relocation, you should consider some sort of protection plan. Even the most reputable company has accidents and makes mistakes... So you'll need to investigate. Find out what your moving company's protection plan covers and, perhaps more importantly, what it doesn't. Then supplement it with your own insurance or independent protection plan.
A Referral Service

- Unless your move is local and you don't want to do the research, you might need to find a list of service providers like: doctors, schools, veterinarians, landscapers, snow removal services, mechanics...and the list goes on.
A Cleaning Service

- We suggest that you make sure the place you're leaving is left clean after your stuff is packed up. You may also need a cleaning service for your new place as well or you're very welcome to tackle it by yourself.
Special Request: Housewarming Gift Idea
Not sure what you want for your new humble abode? We can make it easy and simple, and what was it? Well, what would you expect from America's leading dumpster rental company, a dumpster rental, of course. We have 5 reasons why you would need a dumpster rental for your new home and would be a great housewarming gift from friends and family.
1. Our Stuff Won't Fit!
We advise you to pack up and move what is really, really necessary. Lugging heavy boxes around can be a big pain. Sometimes, even though you packed all that was "necessary", you may be faced with more stuff than you can fit in your new home.
All other housewarming gifts will pale in comparison to a dumpster rental, as it can lead you to a clean, happy, minimalist home.
2. The House Still Needs Work
When your new home is pretty old, you'll probably need to work on it before it can fully be your own home. Whether it be remodeling the kitchen, the bathroom, a room here and there or the house is a complete fixer upper, a dumpster will make all of it so much easier!
A great example of a complete fixer upper is from Saw Dust Girl's Maryville House. See all that you could accomplish with your fixer upper in a few years.
The carpets could be hideous and your first order of business could be to get rid of them! Old carpet is heavy and you'll definitely need a bin with tall full length double doors so you don't have to wrestle it up over the sides.
The basement needs a little more love than the rest of the house. You could have plans to make it into any room you'd like but you'd definitely need a way to get rid of any waste and debris - a dumpster rental is your solution.
Another great example of a before and after of a lower level is from The Inspired Room - the journey from the beginning to end is so different and definitely something that's doable in a larger basement.
Maybe it was just a bush out front that you wanted to pull - or maybe you wanted to remove a few walls. No matter what you want to trash, our dumpster rentals can hold items like shingles, topsoil, leaves, gravel, concrete, landscaping materials, etc.
3. Boxes, Boxes, and More Boxes
You've just moved into your new house with a ton of boxes and packing material to go around. You'll be accumulating and drowning in boxes by the time you're done unpacking. On top of that, you'll have some packaging from housewarming gifts!
Rent a dumpster to put all the extra cardboard and organize your new home while you're at it! Maximize bin space by breaking the boxes down before throwing them in.
4. Part of the Package
Some realtors offer a dumpster rental as part of the deal when a client buys a home. That can be a huge selling point, especially if the house is going to need some work to be done before move-in day. Realtors also rent dumpsters to get homes ready to stage, if it's good for the realtors, it's good for you too!
5. The Former Homeowners Left a Bunch of Junk
You can't wait to move into your home and the first thing you see is unwanted junk by the previous homeowners. Obviously, this junk was not expected and not wanted, so a dumpster rental is the way to go.
A nice empty dumpster rental waiting to be filled by the junk that's occupying the house!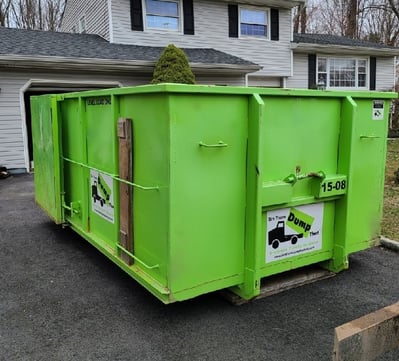 Relocating FAQ
Is There a Universal Checklist For Moving?
You can find plenty of moving checklists for first-timers online, but our guide will offer a step-by-step set of instructions to add structure to your moving plan. The best way to coordinate a big move is to develop a detailed timeline that documents each phase of tasks you'll need to complete week by week. Trust our ultimate relocation checklist to help you account for every detail you'll need to address before departing for your new home.
What's the Best Moving Timeline to Follow?
While you may be used to winging it and still coming out on top, if you have kids, pets, or a lifetime's worth of information to update, you should take your time to ensure that not a single detail is overlooked. For your first big move as a homeowner, it's recommended that you follow an eight-week (two-month) timeline to keep you organized and calm leading up to and beyond the big day. Though everyone's timeline may vary slightly, here are some highlights to keep in mind to prepare for your move:
During your final visit to your new place before it's officially home, write down anything you'll need to share with the movers to help them get there and deliver your belongings safely inside. Make note of any narrow entryways that may impact bringing furniture in, parking considerations, and if you'll need to provide specific directions to access your new house.
Help minimize packing stress by decluttering and

donating unused items

about

seven weeks

before your moving date .
Set your moving budget

two months

before the big day to determine how many DIY tasks you'll need to get done versus what kind of professional help you can afford.
Research moving companies and compare quotes for moving services at least

two months

in advance - If you're renting, give notice to your landlord at least

one month

before the move
Two weeks

before, make sure to

safely dispose of paint

and other materials you can't move.
The

day before, check that you have all important moving documents ready, and don't forget to clear out any leftover food in your refrigerator and pantry!
What Should Be Packed First?
Before you even think about beginning the first leg of packing, you should first categorize the items you want to get out of the way immediately and take inventory to the best of your ability. By sorting items by room, functionality, or other categories, you'll have a system that helps prevent anything from slipping through the cracks.
Here's a list of times that are typically safe to pack immediately if you have eight weeks or more to prepare:
Extra linens and towels
Books, magazines, and records
Artwork and wall decor
Junk drawer contents
What to Keep With You During the Move
Certain items should be kept close in case of an emergency. There's nothing more agonizing than realizing something you desperately need is packed away in a mystery box among a sea of other boxes, which is why you should keep an unsealed box of essentials nearby on the day of the move. Keep a clean change of clothes, deodorant and other toiletries, scissors, phone chargers, and a first aid kit in this box to keep you prepared for any unforeseen circumstances that have their way of unfolding at the worst possible moments.
Moving Mistakes to Avoid
So much needs to be done when you're managing a move, and it's tempting to cut corners in an attempt to save you a few headaches. Here's a list of mistakes to avoid that can lead to major consequences that could throw off your moving timeline:
Not fully discussing your moving company's full range of services. Don't assume your movers will mount your TV for you without asking if you'll receive additional charges
Forgetting to forward your mail via the USPS ahead of your moving date
Not labeling moving boxes
Waiting too long to transfer your utilities
Moving Checklist - The End To Our Relocation Guide
The moment you've been waiting for, or the moment you've skipped to. The free moving checklist that you can use for your own relocation. We've created this in-depth downloadable moving planner with space for notes that you may need to jot down during your move!
Feel free to download the moving checklist to help you organize your move!