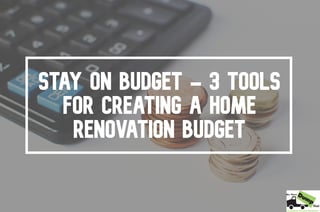 When you lay awake at night contemplating your upcoming home renovation project, what's your biggest fear?
Choosing the perfect paint color? Trying to hang wallpaper with your spouse? Discovering termites?
Nope. It's probably spending too much money. Let's face it, it's easy to do. Remodeling is full of mind-boggling decisions, piles of receipts and a ton of expenses. Home renovation costs can balloon easily!
Keep your financial cool by budgeting for renovations and creating a home renovation budget. There are tools like the home renovation cost estimator spreadsheet to help. Take a look at this tool and two other handy options. Add one to your tool belt. Then we'll share some pro tips for sticking to that budget.
Budget My Reno Renovation
Get an instant visual snapshot to see your home renovation spending. This home remodel app is a simple-to-use budget and expense tracking app that is designed from homeowners.
So, if you're renovating your garage for additional storage or your remodeling the kitchen, installing a roof or redoing the bathroom, you need a budget and a way to plan and track the expenses to not over-extend your budget.
Some of the app features include:
Instant snapshot for how you're tracking against the budget
Full access, no matter where you are to see where your money is being spent, enter and review expenses & invoices, anytime, anywhere
Share and collaborate with your spouse or project manager who are involved with the budgeting of your home improvement project -- export your budget to Excel
Saved contacts allow you to store all your suppliers and contractors that are executing your home renovation project.
This app costs $1.99USD/$2.79CDN on iTunes.
Home Renovation Budget Template
This home renovation budget template from Microsoft Office keeps you on budget when you're doing home construction.
Keep track of the cost of both labor and materials and compare them with your original budget. You can keep a close eye on how much money you have left. All your expenses are categorized on a second worksheet of this home renovation cost estimator spreadsheet
Download for free.
Home Improvement Planner
This app helps you build a budget and keep track of costs, but offers plenty of other features, too.
Collaborate with multiple users and multiple devices to share your information and avoid miscommunication.
Use the "Augmented Reality" view to visualize your changes directly on the photo of a room, or on a sample floor plan.
Track the status of each room of your renovation to quickly learn what still needs to be done, who should do it and when it should be completed so you can meet your deadlines.
Questions or problems? Communicate with your painter, contractor or designer directly with a call, text or Facetime directly from the app.
This app costs $4.99.
Tips For Creating A Home Renovation Budget — And Sticking To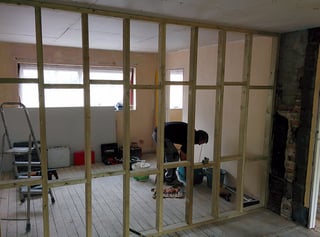 It takes some planning and perseverance, but you can create a budget and stick to it. Here are some tips:
Stick To Your Plan
All it takes is the phrase, "Well, as long as we're doing the floor..."
Suddenly, a new kitchen floor veers off into an all-out kitchen remodel. If you budgeted for laminate or composite counters, don't suddenly switch to granite or marble.
Decide on your upgrades, what has the best ROI, and then create and stick to the plan.
But Plan To Spend More Than You Think
Experts advise adding 15 to 20 percent to your budget for the inevitable unexpected snafus. If you've ever watched a home remodeling show on TV, you know what we're talking about.
Plumbing issues. Foundation problems. Asbestos. Ugh.
You don't want to run out of money halfway through your project and live with a half-finished kitchen. Older homes and larger jobs are more likely to have hidden expenses, as are projects involving plumbing, electrical or other work that's hidden behind walls and ceilings.
If everything goes perfectly, and you have money to spare (ha!) then you can put it toward the next project.
Differentiate Between Wants And Needs
Sure, we'd all love that high-end refrigerator with 22 different temperature zones, a built-in margarita maker and custom smoothie station. But do we really need it?
Don't blow your budget by insisting on all your dream items. Write down the items you absolutely need and figure out those costs.
If you have some splurge money left, go for that high-end bling. If not, you can always add it later.
Don't Forget (or Ignore) The Little Costs
Refrigerator, check. Drywall, check. Electrical work, check. Flooring, check.
But don't forget to budget for cabinet hardware, nails and screws, the new rugs and window treatments you'll want for your spruced-up space. This is a common misstep when it comes to financing a home renovation. Every little thing adds up.
Can You Do Some Work Yourself?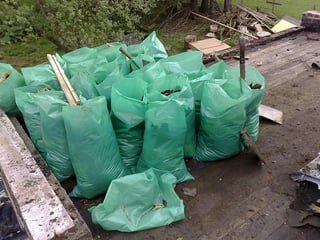 More and more homeowners are sticking to their home renovation budgets by doing some of the work themselves.
Can you paint or hang wallpaper? Install new plumbing fixtures? Lay hardwood or laminate floors?
But know your limits. It's best to hire out major plumbing and electrical, structural changes, replacing windows, installing cabinets, and replacing siding or the roof.
From Budget To Dump It
Once you've mastered the budget and the project begins, you'll soon be surrounded by piles of old cabinetry, worn-out tile and outdated carpet.
Bring on the dumpster rental. If you did your research, you know that budgeting for a Bin There Dump That bin will make getting rid of your debris the easiest part of your whole remodeling project.
Carry those bulky, heavy items directly into the dumpster bin through the convenient rear doors, instead of hoisting them up over the sides.
When the tear-out begins, find a dumpster rental operator near you.