Your smaller, outdated electronics may be stashed away in a junk drawer, but how do you get rid of the old TV that just broke? Disposing of your broken or outdated electronics isn't as simple as putting them in the trash or throwing them out on the curb. Many electronics contain materials such as mercury, lead, and cadmium that are harmful to the environment if they end up in a landfill. Learn how to dispose of both your small and large electronics safely and efficiently.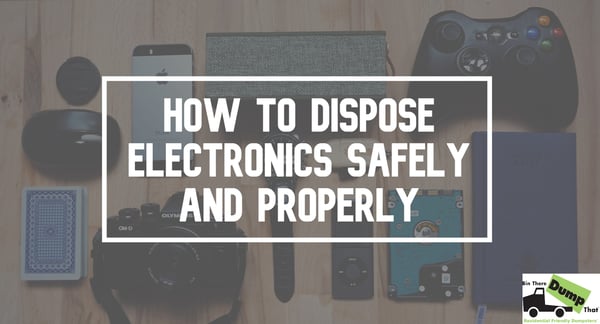 Curbside Collection Services
While most garbage collection services don't accept electronics due to the danger they pose to the environment, you can contact your service provider to get an overview of what electronic items may or may not be acceptable. If all electronics are banned from your curbside garbage collection, you will likely be directed to a local household hazardous waste facility.
Household Hazardous Waste Facility
Common household products containing strong chemicals or toxic materials like oil-based paint, insecticides, batteries, and chemical cleaners can be safely disposed of by household hazardous waste facilities. This includes your old electronics, too. Dropping off broken, outdated electronics at a designated facility will help ensure that these materials are handled carefully and thrown out in a safe manner. The more dangerous items that can be kept out of landfills, the better it is for the environment and for public health and safety.
Recycling and Reuse Options
You may not realize it, but the old electronics that you're ready to throw out while decluttering can often be recycled or reused—even if it's just a few parts that are saved!
Most household hazardous waste facilities already have electronic recycling programs in place. So, even if you're dropping off your broken electronics to be disposed of, these facilities often have the resources or an outside provider to disassemble electronics and recycle a majority of the pieces.
If you have outdated electronics that are still in working condition, consider other reuse options:
- Trade-in: Some retailers allow you to trade-in outdated products for a discount or direct trade for a newer model. It never hurts to contact them and ask.
- Donate: Many organizations will take your old electronics if they don't require repair and are less than five years old. Research local charities in your area specifically looking for electronic donations. National charity organizations in need of e-donations include Goodwill and The Salvation Army.
- Sell: Looking to make a little extra money? Try selling your electronics online using eBay, Craigslist, or simply reaching out to friends and family who may be interested.
Local E-Waste Recycling
Whether you choose to donate, drop off, recycle, or sell your electronics, the important thing to remember is you're helping to keep them out of a landfill. For those in the Thunder Bay Ontario area, Pat Fenlon's Bin There Dump That franchise offers safe, easy e-waste recycling options for unwanted or broken electronics. Residents can simply drop off their electronics in one of the designated Bin There Dump That e-waste bins throughout the city. To learn more about properly disposing of your electronics, contact your local Dumpster Consultant today.