Many inexperienced home sellers like to make last-minute renovations to spruce up their houses for a fast sale. Unfortunately, many are unable to succeed with their redecoration goals. They fall short due to inexperience and commit many redecoration blunders. Here are some errors that you must avoid when you are thinking of renovating your home.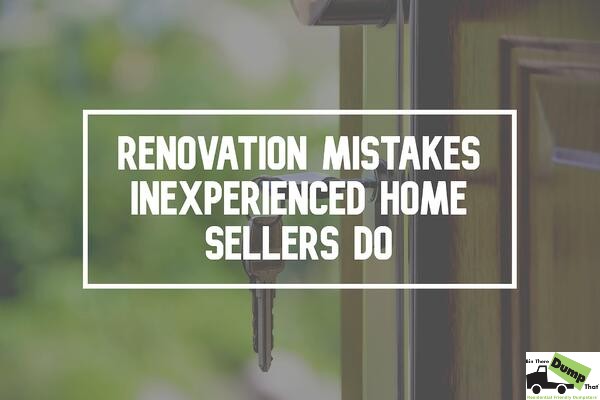 The Pitfall of Underestimating Costs
Most homeowners start their projects without a plan. They just have the enthusiasm to get things done, thinking that their decorating dreams are easy to achieve. Most start their DIY projects without knowing what tools they need or what procedures they must do. As a result, they meet pitfalls along the way, which delay the project.
It is normal for plans to go awry. However, major renovation mistakes are hard to recover from. Sadly, these errors, such as faulty plumbing or wrong tile installation, will cost you a lot of time and money. You will also end up frustrated because you've wasted your energy without visible results.
If you want to succeed, you must hire an interior designer right from the start. This person will help you plan your space effectively. These professionals have the knowledge and experience to get things done for you in a short span of time while minimizing costs because of their supply network.
When you're picking the right team, do your due diligence by asking for references. If you can't get a referral from a friend, go online. Read testimonials and reviews. Check out their official company website to see their credentials. Remember not to accept the lowest bid because your goal is quality. It is vital to shop around for the right professionals to get the best results for your house project.
The Failure of Considering the Interior VS Exterior
When you are renovating, you're concerned about the interior and exterior of your house. For the exterior, you must be sure to get weather-proof materials that can withstand the harsh environmental elements. For both areas, you must ensure that you invest in quality materials that will last for decades. That last thing you want is to fix issues that crop up shortly after your renovation is complete because of substandard items.
In this regard, it is necessary to note that a high price is not necessarily associated with good quality. They are not mutually exclusive! There are many affordable but durable products in the market. Why go for something that's ultra-expensive when you can save your money?
For instance, when you are spending on your home's tech needs, you don't have to go with a super expensive CCTV camera. A YI security camera won't break the bank. It is only one hundred dollars compared to its pricier counterparts that cost quadruple the amount. This camera gets the job done by helping you monitor your interior and exterior premises.
The Short Sightedness of Not Consulting A Contractor
Most homeowners who attempt a DIY end up throwing in the towel. They realize that everything is too much to handle. It is a major mistake not to consult a general contractor early into your project. This professional has an extensive network of subcontractors to help you get the job done.
Your contractor will offer you invaluable advice, like where to get paint discounts if you buy in bulk. They also have the equipment to get the job done quickly. They will help you set a timeline for your renovation goals so you can quickly flip your house back into the market if you are bent on selling it fast.
A contractor knows that you must not do every room at the same time because this will overwhelm you. They have systems in place to make sure that you can live comfortably in your home despite the renovation work.
Some people may think that hiring a contractor is a frivolous expense. However, having this professional on your corner at this crucial time can make or break your project. This contractor can help you accurately measure your area. Measurements are vital because the wrong info will result in wasted money. You can end up buying materials, like tiles or a tub, that don't fit.
When you have the proper measurements, be sure to ask your contractor for the details. You can use this when you buy your other furniture or home appliances. If you buy a giant sofa set that doesn't work with your living room, it would be a waste. Of course, don't forget about tipping movers that help you out, etc.
If you want to sell your home quickly, quell the desire to be superman because you cannot possibly do all the home repairs by yourself. You must call the pros to help you get things done. You have to invest in quality service if you want to amplify the curbside appeal of your house for a quick sale.