Renovating a place is always a good idea, seeing as how it boosts the resale value and the quality of life, at the same time. However, this process has some downsides, as well. First of all, it's usually quite expensive, even if it brings a positive ROI. Second, it makes your home either unavailable or partially available during the works. Finally, it significantly reduces the safety of your household, even its security, during the works and shortly afterward. So, here are several tips you could use in order to prevent renovation-caused accidents from ever spawning.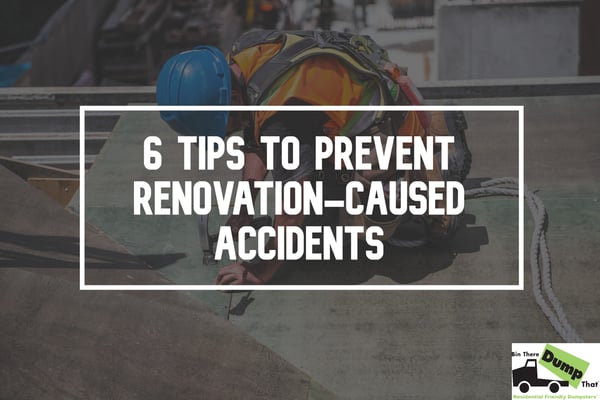 Keep the Area Blocked Off
The first thing you need to pay attention to are the people who are unaware of the dangers lurking in your "under construction" area. In order to save these people and prevent them from putting them in a dangerous situation, what you want to do is keep them away with the use of warning signs and natural barriers. Of course, you're not supposed to wall off the entire section but you can definitely erect a barrier in order to warn them against the danger. Remember, if they refuse to listen or heed your warnings, there's really nothing you can do.
Talk to the Construction Crew
Negotiating with the construction crew in question is another important matter for you to pay attention to. For starters, you need to find a way to help them keep all their tools and equipment safe. So, order a temporary shelter or shed for them to store all these items and keep them under lock. These items are the most dangerous while laying around, seeing as how someone might trip over them. There's also a chance that someone unaware of safe practices for handling this equipment will pick them up. Also, urge the team to clean up after they're finished for the day.
Hire Professionals
You should always, always hire the professionals, especially when it comes to highly specialized tasks like the plumbing and electrical works. The risk of electrocution from DIY attempts of installing a new power outlet is not that low and why bother thinking about this, to begin with. According to experts behind Sparkys NOW, a faulty installation may not manifest itself right away. Why wait for several weeks for one of your family members to get injured or for an expensive appliance to burn out. Simply hire someone with experience to do the task for you.
The Debris
The debris is always troublesome for a variety of reasons. First, parts of debris are sometimes toxic. If you're remodeling the place that was constructed in the 70s or earlier, you're probably removing lead, asbestos and mold. All three of these elements are toxic and not safe to be around. Even when dealing with non-toxic materials like old brick, wood or metal, the removed parts are usually uneven and, as such, sharp (potentially even rusty). This means that they are unsafe to be around. So, make sure that you rent a dumpster to move this debris from your property as soon as it's removed.
Personal Protective Equipment
The right personal protective equipment (PPE) can help people save their health and avoid some of the most common injuries. Helmets, for instance, can turn what could have been a serious injury in a mildly uncomfortable situation. For instance, if something were to fall from the scaffold and land on someone's head. Gloves, protective glasses and masks can create similar safeguards on some other tasks. All in all, wearing this equipment while traversing the work area is important and so is warning the construction workers to follow these rules, as well.
Temporary Security Measures
While replacing windows on your home, the natural barriers around your house will be weakened considerably. What point is there in locking the front door if your household is missing an entire window facing the backyard. The most important thing here is that you do the works as soon as possible, as well as that you introduce some temporary security measures. For instance, getting yourself a sensor light for the area with a gap may warn you of a potential intruder and help you keep your home safe. It may also act as a potential deterrent.
In Conclusion
At the end of the day, the single best piece of advice is that you should hire professionals and exercise a heightened state of alertness until the work is done. While this may sound simple enough, a lot of people underestimate potential hazards, thus behaving in a way that puts their lives and the safety of their family in danger. Some of them try to save money by doing it all on their own but the risk is not worth it and, in the end, they might end up causing more harm, thus resulting in expensive repairs. Playing it safe is always a smart course of action.