You know you're ready to sell your home, but you're not confident in the winter market. No worries, you're not alone. The winter months are commonly considered tough months for home sales in many cold-weather states. However, if you want to get a jump on a late winter or early spring listing, you can use the winter months to prep your home so it's one of the first ones on the market when the weather breaks.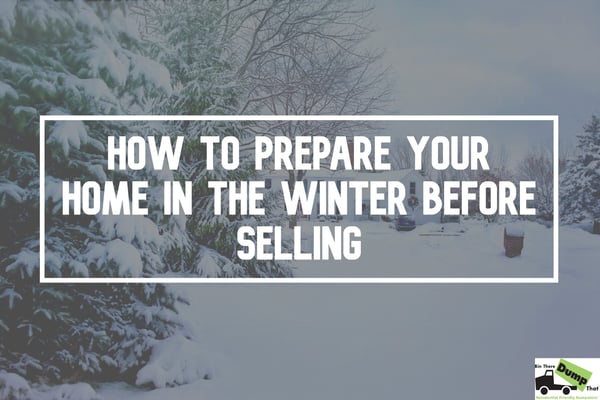 Winter Isn't The Worst Time
While you may have written-off a winter for listing your home, have you taken a look at your local market? In many areas of the country, winter home sales drop, but so does the available inventory on the market. Because of this, you can take advantage of limited inventory and showcase your home at a time when you have less competition. Still not convinced? Let's take a look at what you can do over the winter to get your home walk-through ready.
Take Advantage Of Great Prices
While many people wouldn't think about tackling home improvement throughout the winter months, it's actually a great time in terms of materials costs for some projects. Smart homeowners get a start on winter home improvement by taking advantage of lower materials and labor costs between October and March. See, the timing is perfect for you to take care of upgrades at lower costs to get your home ready for a spring list. But, where will you start?
Budget-Conscious Winter Projects
Perhaps you're not looking to sink a lot of money into a home you're planning on leaving in a few months -- this doesn't mean you can't do anything to update your home. When was the last time your home interior got a fresh coat of paint? Not only is this a cost-conscious way to give your house a fresh look, but paint manufacturers run some of the best deals over the winter months. If painting is too big a project for you to tackle, you'll be pleased to know that it's often less expensive to hire painting professionals in the winter months as they have fewer jobs.
Another relatively simple cold-month fix is weatherproofing. If your doors and windows have become drafty over the years, take the time to seal any errant cracks or add weatherstripping to problem doors. Not only will you be rewarded with lower energy bills, but you'll have completed an important project in preparation for your home sale.
One last fix, particularly for those who are still sporting 1980s or '90s metal, is to upgrade your hardware on cabinets and doors. Depending on your taste, this can get costly, but there are moderately priced door pulls and handles that will provide a fresh, modern look to your home. If you're replacing kitchen cabinet hardware, the project may take a bit of time and patience, especially if you're blessed with tons of cabinet storage, but is perfect for a snowy weekend.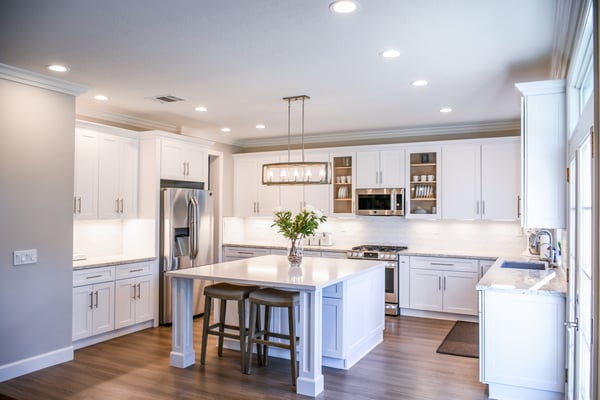 Organize and Declutter
With a home sale a few months away, start prepping your home for showings and packing by decluttering. Whether you've lived in your home for five years or fifteen, things add up over time. Use the winter months to go room to room, packing and storing non-essential items you wish to keep -- to get a leg up on your move -- and purging those items you've not looked at or used in a long time. Your decision to forego listing in the dead of winter has bought you time to carefully declutter and organize your home.
If you're making great progress, take advantage of online selling platforms to recoup some money from items you no longer need and roll it into home improvements or items for your new home. If donating is more your style, there are many charitable organizations that are in need of gently used home goods -- some will even pick up furniture donations. If all else fails, you can list items on Freecycle or free on Craigslist and Facebook Marketplace.
Listing in Late Winter
For those of you anxious to get your home the market, a late winter listing might be ideal. Take advantage of the winter chill to create cozy staging for prospective buyers. If you've got a working fireplace, now's the time to fire it up! Set the scene for tours and your open house by creating a warm and cozy atmosphere -- who doesn't love the idea of curling up in front of a fireplace? If you have a hearth that you don't use, add some birch logs to finish the scene.
Think about what makes you feel most at home in the winter months. Are you someone who enjoys throwing on a shawl and getting cozy on a sofa or overstuffed chair with a book? Create a warm and inviting feel to your sitting room by adding lots of throws, overstuffed pillows, and even a faux fur rug in your living area. Fairy lights can give a soft glow to a decorative fireplace or mantle, perfect for setting the scene for a relaxing and cozy home. Remember, you want to stage your home to make it look as comfortable as possible for prospective buyers during the winter months.
Whether you wait until the first buds start appearing, or decide to list with slush still on the ground, make use of those dormant winter months to prep your home for sale. You'll be surprised how quickly the time goes once you dive into projects -- happy selling!