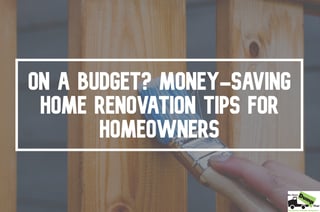 When you're planning a home renovation, every new idea comes with dollar signs attached. Lots of dollar signs.
"Let's do new kitchen counters and backsplash." Ka-ching.
"The bathroom tile is gross. What if we..." Ka-ching.
"So, I saw this idea in a magazine and..." Ka-ching
You get the idea.
But there are ways to trim the cost of your home renovations. You'll need a crow bar, some paint, some planning and creativity. Here's a look at five home renovation tips to take a bit of the ka-ching out of your renovation project.
Reuse, Re-Do, Recycle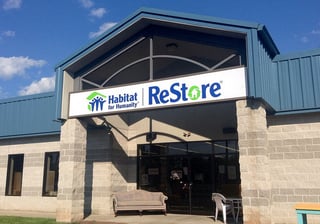 Don't scoff at used and salvaged materials — they can save you a ton of money, and even add some character to your remodel.
Home design magazines and sites like Pinterest are full of great examples of creative homeowners who paint or polish up cast-off chandeliers, repurpose antique sideboards into chic bathroom vanities and who discover the charm of salvaged wood flooring.
Turn a cast-off buffet into a unique kitchen island. Cover a wall with old barn wood. Consider gently used kitchen cupboards.
Find salvaged building materials for half the cost of home center prices at Habitat for Humanity's ReStores.
They sell new and gently used furniture, home accessories, building materials and appliances to the public at a fraction of the retail price.
Bonus: The money you spend there is used to build homes locally and around the world.
There are hundreds of Re-Stores across the country. Visit habitat.org to find the store closest to you.
Paint Cabinets Instead Of Replacing Them
New kitchen cabinets make up a big part of a kitchen remodel budget.
Even novice remodelers can remove, paint and re-install cabinet doors.
If the frames and doors are in good shape, your cupboards are great candidates for a paint job.
If you've been living with dark wood cabinets, you'll be amazed at how a bright coat of paint can lighten up your whole kitchen.
This transformation will cost a fraction of what new cabinets would cost you.
Don't Move Plumbing
Sometimes moving plumbing is a necessity, but if you can avoid it, it will save you a lot of money.
It can cost $500 to $1,000 just to move a toilet a few feet. Relocating the kitchen sink can cost as much as $2,000.
Put some real thought into your floor plan before assuming you should move plumbing.
Shop For Scratch And Dent Appliances
Most home centers and appliance stores have models on the floor that have some nicks and scratches, and they'll sell those at a discount.
Often, those imperfections will be hidden by cabinetry or walls. Nobody will know — except budget-savvy you.
Do Your Own Demo (With Care)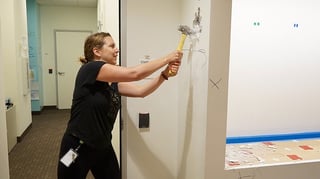 Who doesn't love the idea of taking a sledge hammer and crow bar to those stained, ugly old laminate counters?
Save some bucks by doing some of the demolition yourself.
But proceed with care. You don't want to take out a load-bearing wall or bash into live wiring. Mistakes can be costly and dangerous.
If you're tackling demo in the kitchen, you'll need to turn off the electricity, water and gas.
Leave anything structural to the pros, as well as plumbing and electrical.
Drywall, counters, carpet, trim and doors are areas novices can tackle.
If your windows, cabinets and appliances are in good shape, consider donating them to a Habitat for Humanity ReStore.
Next Up: Dumpster Rental
After your DIY demolition, you'll be the proud owner of piles of old cabinetry, worn-out tile and outdated carpet.
Bring on the dumpster rental.
A Bin There Dump That bin will make getting rid of your debris the easiest part of your whole remodeling project.
Carry those bulky, heavy items directly into your residential dumpster bin through the convenient rear doors, instead of hoisting them up over the sides.
When the tear-out begins, find a dumpster rental operator near you.
Images: Bare kitchen, Habitat ReStore, Hammer in wall