What sounds like a better idea – to live in a home filled with light and fresh air, or to live in a home that's dark and gloomy? A brighter living space is definitely something we could all stand to have, but while some people find it easy to let more light into their homes, others have to get creative and improvise for the best results. We're not all blessed with spacious homes that have large windows and plenty of sun; some of us have to deal with small apartments and tall buildings surrounding it. Here's how you can make your home brighter easily: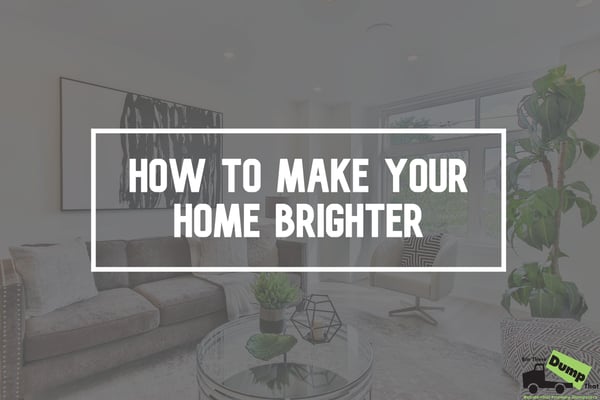 Paint Everything White
First things first – you need to use every trick available, and this happens to be the oldest one in the book. Paint everything white! Now, we don't mean that you should be living in a perfectly white and sterile home, but white walls will quite literally transform any room; they reflect light beautifully, and they can easily be upgraded with little details that immediately stand out on white surface. Painting a room a dark color will give it an overall dark feel and make it look much smaller than it actually is. Not just that, but floor-to-ceiling white walls make a room look much higher too.
Accentuate with Colours
While we would advise you to keep your walls painted white (or some other light or pale color), we still want you to add colors to your living space. If you're hoping to create a tranquil feeling in the room, you might want to add pastel tones. What is more, they are perfect for areas where you need to relax, such as bedroom or living room. A white background is perfect for splashes of color, and we don't just mean the pastels – block colors from a well-chosen palette of bright shades will draw everyone's attention to specific elements such as a vase, a throw pillow, or a fluffy rug.
Install the Right Windows
Small windows are not doing your home a justice – you want them to be big so that you can get plenty of natural light in during the day. Still, you might want to cover them with heavy drapes to keep the heat out during hot months. Luckily, there are many types of double glazed windows available on the market that will allow you to let the sunshine in while simultaneously keeping the heat and the noise outside. Your home will look warmer and more inviting, and if you use them in your home office too, you'll be able to enjoy the view while you're working without feeling like you're cooking at your desk.
Fewer Walls Will do the Trick
If you have the means and the ways to do it, try taking down some of the internal walls in your home. This way, you will be able to combine several rooms into one (think "dining-living room", or "kitchen-dining room"). A larger open-plan area will allow the light to enter every corner of the new room, making it not just larger, but much brighter in the process. You don't have to change the entire floor plan of your home, though, sometimes removing a single wall will do the trick and make a huge impact the amount of natural light in your home. Of course, make sure you talk to a professional before you make any decisions – you don't want accidents in renovation process.
Get Multi-Functional Furniture
If you have a lot of floor-to ceiling shelves and cabinets blocking the view in your home, no amount of white paint and light curtains will be able to make a difference. Decluttering will help you a lot, and the best way to do it is to invest into pieces of quality dual-function furniture. This is also the perfect solution for people who don't have enough space and live in small apartments. Storage benches are lifesavers, and using that space under the stairs will help you keep everyday things concealed while still having them close by if you need them. The rest of the room is going to be left tidy, clutter will be gone, and your home will look much more spacious.
Hang a lot of Mirrors
Another "ancient" trick that will help you make your home look and feel like a spacious palace is to hang mirrors on your walls. The bigger the mirror, the more light it will be able to reflect, and this means you will be able to get plenty of light even in corners that aren't easily accessible. Of course, this doesn't mean that you have to cover every free inch of your walls with mirrors, but several strategically placed ones will definitely do the trick. A small collection of smaller mirrors will do the trick too, and they will look stylish and elegant on the wall.
Remember, just because you can't get a lot of sunlight in your home doesn't mean there's nothing else you can do to brighten it up. Natural light isn't the only solution – artificial light is just as nice and useful as the natural one, and you can easily find a solution that works best for your living space. Work with what you have and improvise until you're happy with the end result. Letting the light in will do wonders for both your living space and your psyche.