You don't always have to get a bigger, wider home every time the family expands. There are smart yet stylish ways to convert unused areas of your home to make way for more rooms. This is the root of loft conversions. It is the method of turning your loft into a bedroom.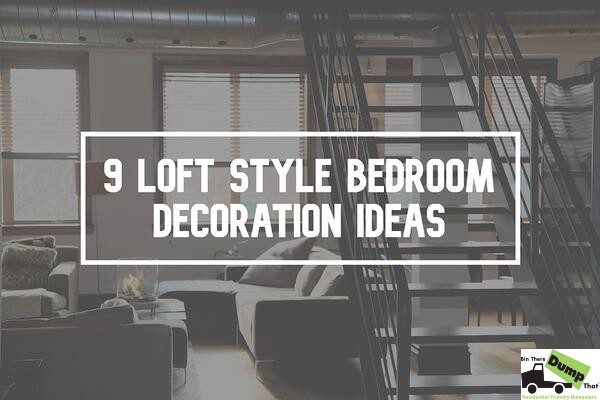 Fortunately for those who don't have lofts, you can still incorporate that distinct yet laid-back "loft-style" to your bedroom regardless of the type of residence that you're living in. How? Allow us to share with you some stylish tips through this article.
Wall Treatment
Just like any work of art, you need to decide on your background first. This will set the tone for your work surface. No one wants to look at an empty canvas all day, after all.
1. Colors and Textures
Let's think about colors and textures. Attics are usually cramped and stuffy spaces. Hence, there is no wonder why a lot of loft-converted bedrooms have light colors. White is a natural choice, but ash alabaster and monochromatic grays add a little bit of interest.
If you want to have a more textured surface, then wood and brick walls will lend an industrial and modern feel to your room. This leads us to our next tip.
2. The Combination of Industrial and Natural
Wood and red brick walls will benefit from thick black pipes and other metallic fixtures. Do so when installing racks, light fixtures, and curtain rods.
3. Wall Art
When it comes to dressing up your walls with wall art, we believe it best to stick to simple pieces, especially if you have textured walls already. Minimalist contemporary artworks look best as well as black and white photography.
Create the illusion of space by using bigger black frames with smaller visual art and surrounding it with wide white matting.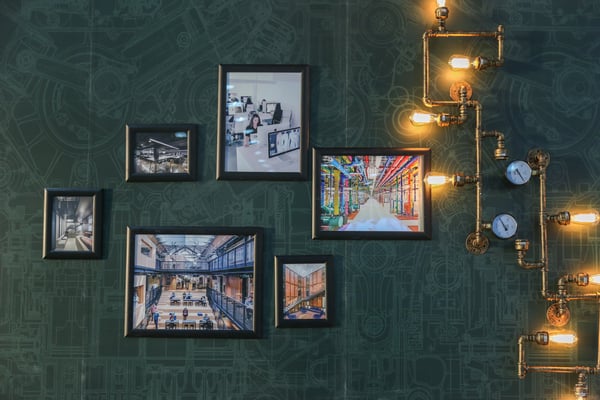 4. Wide Open Windows
However, the best way to open up more space is to have wider windows. Keep them open, allowing the natural light in during the mornings, and closed by using minimalist blinds at night (or whenever you need privacy).
For spaces with small windows, you can create the illusion of a bigger window by installing the curtain rod closer to the ceiling and using longer drapes. Finally, for spaces without any windows at all, conquer the claustrophobic vibe with more mirrors.
Small Yet Stylish Details
From the macro, let's zoom into the micro: the small details that will make your room a bedroom with personality. The charm of loft-style bedrooms is their inviting, "lived-in" feel.
1. Light Fixtures
Create that warmth of home by installing a lot of light fixtures. Taking the cue from our tips above, go for industrial-themed chandeliers and lamps. Since ceilings are too low, you can compensate by opting for wall-mounted pieces. Make use of the floor space as well with free-standing units.
2. Modern Home Accessories
Aside from lighting, you can also use other home interior accessories. Mirror and crystal accents look great since they don't occupy visual space a lot. However, you can also use this chance to add a pop of color, especially if your color of choice is white on white, or monochromatic neutrals. A pop of red here and there would look gorgeous in a black and white backdrop.
You can also utilize natural pieces like ceramic and clay vases, wooden or woven storage, and even indoor plants!
3. Curtains
One of the common problems with loft-style rooms is that they have very limited space, so you really need to make the most out of it. To segment the limited space you have into different areas, the perfect solution is to install ceiling to floor curtains to serve as dividers. Half walls, make-shift panels, and storage shelves can also serve as dividers.
4. Dreamy Floors
From the walls, let's move on to the floors. Don't leave them cold, bare, and unforgiving by using carpets and rugs. Opt for a plain-colored piece with a striking accent color. A graphic black-and-white graphic patterned rug will also work. And lastly, if you want more warmth and coziness, then fur and animal patterns or woven and chunky textures will provide that.

The Centerpiece
Finally, we have reached the star of the show. What's interesting about this interior design style is that it has its own loft-style bed. These are beds that maximize space by utilizing the design of bunk beds.
1. The Bed
However, aside from actually buying a loft-style bed, here are even more ideas:
Get a custom bed built that's tailor-made for the space.
Build-in your storage units with your bed.
Hide your bed under a platform that serves as additional storage and surface area.
To Sum Up
In the end, if you're going to take away two tips from our article, here they are:
Create the illusion of space with windows, mirrors, and other modern home accessories.
And make the most out of your storage with hidden drawers and dual-purpose furniture.
Stay stylish!
Leila Amber is a Design Trend Setter at CarpetCentre and a passionate writer, home decor and design enthusiast. She has a keen interest in the content that inspires her to dig deeper into the practice and create helpful design and decor guides.