You might think your local trash pickup and renting a dumpster are pretty similar.
It's true they are both used for disposing of trash and unwanted items, but there are some major differences that set them apart from each other.
Here's how trash pickup compares to renting a dumpster — plus when you should use each.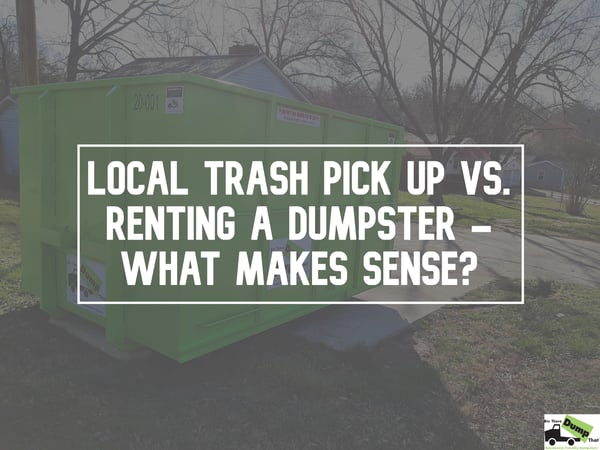 What Can I Throw Away?
A big determinant on which option to go with depends on how much and what stuff you're getting rid of.
Local trash services have a limit on what they'll accept. Your garbage man isn't going to pick up everything you put by the curb, as I'm sure many of you have found out the hard way. Visit your city's official website to see what items and how much they will accept.
For example, they probably won't take away furniture, appliances or other large household items unless you call ahead of time. In most places, the trash collection truck also won't pick up tree limbs.
On the other hand, you can put a wide range of items in your dumpster rental including construction or landscaping debris, furniture, home renovation materials and other unwanted items. There are also different size dumpsters to choose from, so you can get the right size for the project.
Something the two have in common is that you can't dispose of hazardous waste in either your trash or dumpster. Items like paint, batteries and fertilizers fall on this list. When in doubt, check with your local municipality or dumpster rental operator to see what items they will and won't accept.
Where Can I Put My Unwanted Household Items?
Once you've decided what you want to throw out, you can either put the items in a trashcan on the street or dump everything in your bin rental.
With a dumpster, you can put the bin in a convenient location like your yard or driveway. Cleaning out your home or doing a project takes enough effort: Make it easier by moving the bin closer to where you're working.
If you decide to use the trash pickup, you'll have to carry the bags and material to the street. The items also have to be in some sort of container — such as a bag, bin or box — for local pickup.
When Can I Get Rid Of Everything?
Whether you're cleaning out clutter, renovating your home or sprucing up your landscape, you want to do the projects on your schedule — not based on the trash pickup day.
When you wait on your local trash pickup, you'll be left with bags in your garage, on the street or somewhere else until it's your pickup day. And if you have too many bags, you might have to wait another week until your garbageman will take them.
With those extra bags cluttering your space, you also run the risk of items blowing away and littering your yard and street.
If you go with a dumpster rental, you can get rid of your materials immediately. Just choose the day and time you want the bin to arrive, and the operator will have it there.
When you're finished and ready for the dumpster operator to pick up the bin, just give them a call. You don't even need to be home when they come.
The Bottom Line
If you're throwing out more than a few trash bags, you'll need to rent a dumpster to hold everything.
No matter the project, Bin There Dump That has a dumpster rental that fits the bill. You can walk right in the bin with larger items, and there are also smaller sizes for weekend projects.
Find a franchise owner near you, and schedule a time for them to deliver your dumpster rental.
Images: Garbageman