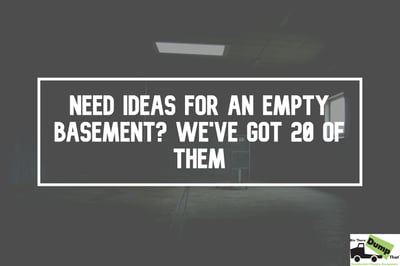 Let's cut the pretense and just call the basement by its real name: dumping ground.
Every piece of junk and clutter we think we might need someday but we're not quite sure what to do with ends up in the basement.
Cast-off kitchen appliances you keep in case of emergency. Those curtains that might be perfect for some window, someday. Old comic books. The dog sweater from Aunt Edna.
Clean. It. Out.
We know. We can sense your shudder from here. But it has to be done. Next up: The fun part. Once you have that nice open space, the possibilities are endless.
10 Basement Clutter Clearing Tips
Here are 10 tips for clearing out that basement and 10 ideas for great ways to use your happy new space.
Take a deep breath and dive in.
Spread Out Your Stuff

— Are you staring at lots of boxes of stuff? Empty each one out into the middle of the room. It will force you to go through everything and make a decision about it.

Pile, Pile, Pile

—

Create separate piles

and label them: KEEP.

DONATE

. RECYCLE. TRASH.

Deal With It

— As you clear out, touch every single item. No leaving anything for "later." Deal with each and every item as you pick it up — decide to keep it, donate it or toss it.

Everything In Its Place

— Separate the "keep" pile into new categories — craft supplies, toys, sports equipment. Assign each category a location: tuck craft supplies in clear plastic bins and stack them on a shelf. Send sports equipment to a sturdy bin in the garage. Label everything.

Work On It Every Day

— Even if it's just for 20 minutes. Every bit of time adds up, and it's less overwhelming than caging yourself down there for hours at a time.

Ditch The Cardboard Boxes

— Don't use cardboard boxes for storage in your basement. They crumple and dent and they don't protect items from dampness. Choose sturdy plastic containers instead.

A Dumpster Is Your Best Friend

— Have one ready in the

driveway

. Every item out of your basement and into the dumpster is a small victory.

Take Breaks

— When indecision sets in, you need to walk away for a bit. You'll come back with a fresh perspective and renewed energy.

Shelve It

— Shelves are important in a basement

declutter

, since you'll need to keep your valuables safe from flooding. Metal shelving is affordable and easy to assemble, and it withstands heat and humidity better than wood.

Hang It Up

— Use hooks and pegs to store items up off the floor, freeing more space.
Now The Fun Begins — 10 Empty Basement Ideas
Take a minute and soak in your new view: a clear, organized basement with space to spare. So, how to use this new-found living space?
There are so many options...
Yoga And Meditation Room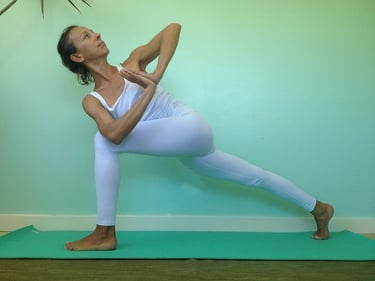 Yoga is hotter than ever, and you know you've been wanting to try it. Install hardwood floors and calm lighting, invest in a good mat and get ready for inner peace.
Music Room
If you're a musician, your basement can be a great practice space. Soundproof the walls so you can rock out or create a concerto without bugging the rest of the family or causing the dog to howl.
Guest Quarters
If you often entertain overnight guests, create a welcoming, comfortable guest suite downstairs that offers everyone a bit of privacy.
Or go one step further and register it as a rental with AirBnB. Suddenly, your once-cluttered basement is generating income.
Home Theater
Your basement can be a great place for a home theater. Turn out the lights and you have a pitch black room, any time of day.
Big screen TV, plush couches and chairs, nice sound system. Pass the popcorn.
Play Room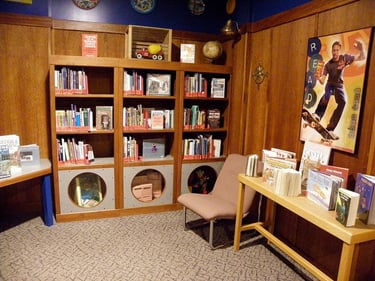 Kids? Grandkids?
Create a giant playroom. Blackboard paint on the walls, Patterned rugs that encourage play with toy trucks or hopscotch. A big table for crafts. A puppet theater. Easels for art. Shelves full of books.
Heck, you might hang out here yourself.
Party Space
You love to entertain, but the last time you had a party in your smallish living room, you may have violated a fire code.
That empty basement could be a great party room. Imagine a long bar festooned with twinkling lights. High-top tables for sipping and snacking.
Upstairs? Who needs an upstairs?
Game Room
Ping pong, anyone? Pool? Air hockey?
Show the kids your mad foosball skills. Challenge the neighbors to a tournament.
Your basement, once filled with boxes of junk, could be the hottest spot in the neighborhood.
Let the games begin.
Wine Cellar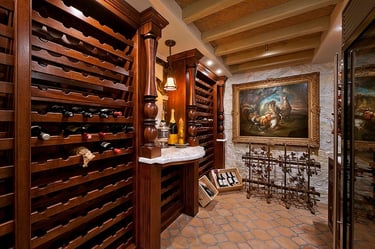 A true wine cellar requires more than installing shelves in your basement and stacking bottles of wine. There are light, temperature and humidity requirements.
But if you're a wine connoisseur and up for the challenge, that empty basement could be a great spot for your favorite Cabernet or Pinot Noir.
Exercise Room
Imagine tuning out the chaos of the day and retreating to a nice quiet home gym for your workout.
The space you have will help determine what you can accommodate.
According to the American Council on Exercise, free weights require 20 to 50 square feet of space to use properly, treadmills need about 30 square feet, and a multi-station gym needs 50 to 200 square feet.
Or, toss down a mat, do 20 sit-ups and call it good.
Man Cave
This can be the ideal new space for you to showcase those football and wrestling trophies you collected when you were in high school that your partner won't let you feature anywhere upstairs within her eyesight.
Those framed jerseys of Walter Payton and Wayne Gretzky? Yeah, they'll look good hanging on the walls as you walk down the stairs to your man cave.
Income Property/In-Law Suite
If your basement is big enough, install a kitchen and plumbing to create an in-law suite that can provide you another stream of income. Of course, in-law suite is only in the name --- rent it out to a friend or even a stranger --- anyone but your in-laws.
Your Ideal Basement Starts With A Dumpster Rental
Better get to work. Don't forget to reserve a Bin There Dump That dumpster.
We specialize in residential friendly dumpsters that tuck right into your driveway. We offer 4-yard, 10-yard, 14-yard and 20-yard dumpster sizes, so there's a size for every job.
If you have a really huge job — we haven't seen your basement, but we can imagine — we can pair larger dumpsters together to accommodate 30 or 40 yards of material.
Not sure what size you need? Our friendly operators are happy to help you figure it out.
Find a dumpster operator near you, and let your basement dreams begin.
Images: Empty basement, Yoga, Play room, Wine cellar