When it's time to sell a house, complete a home remodeling project, work on landscaping, or clean out your garage, you'll probably be left with piles of garbage and large, unwieldy trash. It's tempting to simply drag it all to the curb, but alternative removal options may be more cost-efficient and thorough, depending on the project. Here, we'll compare four of the most common ways to dispose of bulk garbage.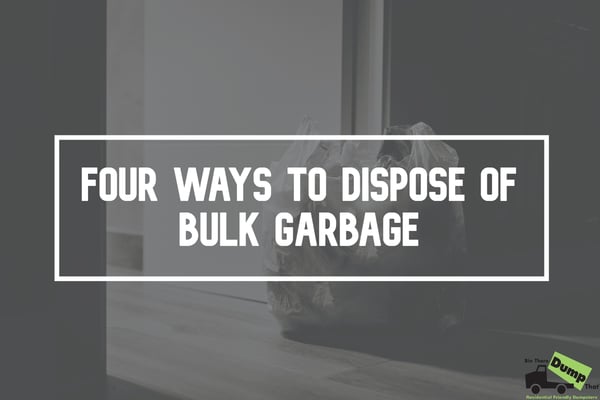 Photo by Juan Pablo Serrano Arenas from Pexels
Leave It to Municipal Collection Services
Depending on the amount of bulk garbage you have, the easiest and most efficient removal option would be leaving it by the side of the road for municipal collection services to handle. However, this won't always work because many collection services will not accept bulky trash items and materials that are difficult to dispose of. Plus, infrequent pickup schedules could mean that piles of garbage end up sitting on the premises for days, causing an eyesore that might lead to tension with the neighbors. If the home has a long driveway, you should also be prepared to take several long trips to haul the trash from the structure.
Deliver It Directly to a Local Transfer Station
Once a municipal garbage truck completes a pickup route, its next destination is a local waste transfer station. These processing sites sort through bulk garbage and determine where various materials will end up, whether in a landfill, incinerator, hazardous waste facility, or recycling center. After a large home improvement project, you can haul bulk garbage directly to a local transfer station if you have the tools to do so. Though this takes a considerable amount of time, energy, and resources, it's often quicker than waiting for trash to be collected at the premises.
Hire a Junk Removal Company
Projects that yield piles of bulk garbage and unwieldy trash like old furniture, mattresses, metal debris, and large tree branches may require professional removal services. Junk removal companies will visit the home at a scheduled time, gather up trash and debris, and haul it away. This can be a convenient, labor-free option for clearing out bulky garbage after a renovation or landscaping work. However, compared to dumpster rentals, junk removal services are often more expensive and require the homeowner or contractors to be present during trash pickup.
Book a Garbage Bin Rental
A garbage bin rental can provide the efficiency of a junk removal service but with fewer expenses and more convenience. Rather than paying for labor expenses on top of container rental fees, renting a dumpster only has one cost. And instead of having to prepare for the scheduled junk removal on a certain day, a garbage bin rental gives homeowners and contractors the chance to discard waste as it builds up over the course of the project.
Garbage Bin Rental Options
Garbage bin rentals are available in several sizes to suit any project, from yard work and simple spring cleanings to major renovations and home repair projects. Small, versatile 4- and 6-yard dumpsters are perfect for light loads and small driveways. More spacious 20-yard dumpsters are equipped to handle large amounts of bulk garbage and hefty items. Additionally, delivery teams will take precautions to protect the part of the property where the dumpster will sit, and removal teams will clean up the areas surrounding the dumpster during its retrieval.
Although homeowners and contractors have several options for removing bulky garbage, a dumpster rental is the most flexible, convenient, and affordable choice. Bin There Dump That offers multiple dumpster sizes, as well as comprehensive delivery and pickup services across the United States. Find a location near you to book a garbage bin rental for your next project.