OK… We know…
Renting a dumpster isn't rocket science. That said, to those who haven't rented a dumpster before, there are some nuances that need to be understood; if you don't understand those nuances, you could be in line for a real unpleasant dumpster rental experience.
After you finish a home improvement or de-cluttering project, the last task is to get rid of the construction debris, junk and clutter.
How do I get rid of this junk? Rent a dumpster? Make frequent trips to the landfill? Throw it down the ravine? (You know we're kidding on the last one right?)
While there are some alternative methods to choose (not the ravine though), let's examine, this simple step-by-step process to answer... how do you rent a dumpster?
Below you will discover which dumpster service companies to call first, which ones will provide you excellent customer service and what you should expect from the customer service from the time the dumpster is placed on your driveway to the time it's picked up and dumped at your local landfill.
6 Steps You Will Follow To Rent a Dumpster
Centralize all your construction debris and/or clutter to help determine the scope of your waste removal project

Research dumpster companies in your community

Call and speak to a Dumpster Consultant

Collaborate with the Dumpster Consultant to agree upon the best dumpster size and rental period for your project

Fill up your dumpster with your construction waste and/or junk

Call the Dumpster Consultant back to schedule a pickup of your bin.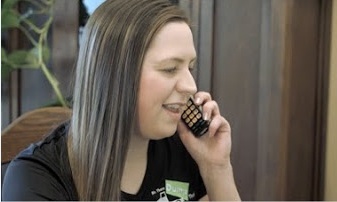 Collect Your Construction Waste and/or Clutter in One Area
Besides being asked, "how much does a dumpster cost to rent?", "
what size dumpster do I need
?" is the next most asked question to our Dumpster Consultants across North America. It's recommended that all waste is collected in one area (the garage is good a location as any), this way you can appropriately estimate
what size
is needed for your waste removal.
Research Possible Dumpster Service Companies

Do a quick Google search for "dumpster rental" and you'll find dozens of local companies that provide this service. One way to help you separate your options is to read online reviews. NOTE*** If you choose to not rent from Bin There Dump That or there is not a Bin There Dump That Franchise in your area, you need to recognize many of these outfits that look to be locally owned and operated dumpster companies are in fact just a broker who sells jobs to a local supplier, marking up the price of the rental. This is a question all customers should ask.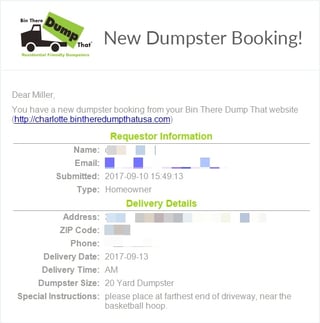 Customer Service Expectations You Should Have With Dumpster Service Companies
When you call or submit a dumpster request to your local dumpster rental providers, note the following:
Did they answer the phone or did the call go to voicemail? If it's the latter and you're not called back in any shorter time than an hour, it may be an indication that may not have the capacity to service you

Who is answering the phone? Are they able to pay attention to your needs, asking you questions about your project to provide you the best solution or are they operating their dumpster truck?

If you submitted a request on a dumpster order, was the request followed up immediately or did you receive follow up hours or days later?
Your local company is the expert in this field, they should confidently provide the best solution for your project. Once you've booked your dumpster, ask for a confirmation email to assure your delivery is scheduled.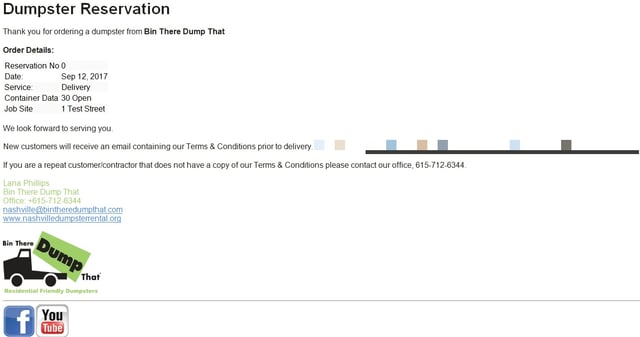 The Dumpster Delivery Expert is now ready to deliver your bin. If you have small children or there are young children in your neighborhood, gather them around; they love to watch roll-off dumpster trucks in operation! After the Delivery Expert has dropped off your container, fill 'er up with your unwanted items; you're nearly at the end of your project! You've made it!


You're All Done, Get That Dumpster Off Your Driveway
You're all finished with the dumpster! Call back your provider to arrange a pick up of your bin. To avoid potential damage to your driveway or car tires from nails, ask your dumpster provider to sweep up the remaining debris left on your driveway. Bin There Dump That Dumpster Delivery Experts never leave a driveway unswept. Finally, after the provider has tipped your dumpster at the local landfill or transfer station, you should be invoiced. If you're satisfied with the service provided, do them a solid and leave them a review on Google, Yelp or Facebook.

It's that easy! A pretty simple 6-step process on how you will rent a dumpster. If by chance, all your questions were not answered, we invite you to read our thorough consumer guide on Everything You Need To Know About Renting a Dumpster Bin.