Health is the greatest treasure that we have. This is why it's important to keep it safe from anything that would harm it. Your home should be a safe place where you can relax and not have to worry about any harmful factors. However, you have to keep it that way. Here are some of the best ways to make our home into a comfortable and safe haven.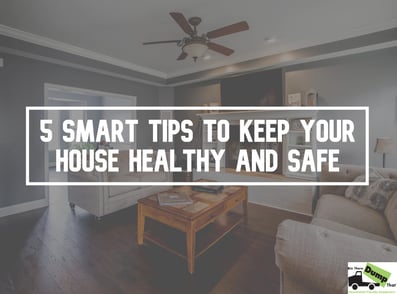 Keep It Dry
There's nothing more detrimental to a home environment than excess moisture. It can cause all kinds of problems and wreak havoc when left unchecked. Damp environments leave your home vulnerable to harmful growths such as mold and mildew. Different kinds of mold can cause different health problems, but they're all harmful. Not to mention, they also tend to damage your walls and wooden items, which does not bode well for your home's aesthetic.
The amount of moisture necessary to facilitate mold and mildew probably won't come from the air alone, unless you live in a tropical environment. Instead, in most cases, the result is a leak from a faulty pipe. Solving this should be your number one priority. Make sure you soak up any moisture left over to prevent additional issues.
Keep It Clean
Keeping your home clean is the single best way to keep it free of contaminants and pests. It makes sense, after all. Just about every problem that you can arise in your home is usually caused by some form of uncleanliness.
A thorough wipe down and sweep can prevent a large percentage of health problems in a home. You don't have to worry about allergies due to dust and grime, and moisture becomes less likely to accumulate.
Keep It Well-Ventilated
The air in your home should never be allowed to go stale. If you feel like your rooms are stuffy and cluttered, you have to take precautions to remedy this. A stuffy room will lead to the accumulation of dust and the spread of allergens. Plus, there's less air to go around, which will make you feel uncomfortable.
Keep those windows open and allow some fresh air inside. It's going to make cleaning and vacuuming a lot easier and you'll feel like a brand-new person.
A range hood will also keep your kitchen and home air clean and fresh. For more information on installing your range hood, click on this article.
Keep It Pest-Free
There's nothing that gets under homeowners' skins like a pest problem. They can be a huge health hazard for everyone in your home, and they leave your home looking like a mess. Because of this, you must do your best to take care of them.
However, pest problems tend to go beyond the capabilities of the average homeowner. This is why people often employ a pest control company to take care of things instead. It's the safer option for getting rid of pests because an unfinished job will very quickly lead to the re-population of the pests.
Keep It Free Of Hazards
It's no secret that every home is full of hazardous materials. Substances dedicated to cleaning are very good examples. These materials are absolutely necessary, but they're still hazardous all the same. You should strive to keep them safe and locked away as well as possible.
The most important thing to look out for is that they're kept safe from children and pets. Make sure you keep cleaning supplies on high shelves and locked away. Children are pretty crafty when they go around exploring, so keep that in mind when securing dangerous chemicals.
Conclusion
Making your home a safe environment is the most important thing you should focus your efforts on. Luckily, it's not that difficult of a task. The most common dangerous elements in a home are easily taken care of as long as you know what they are. Consider the items on this list as a handy guide and your home will; become a bastion of safety for you and your family.
Bio: Patrick Adams is a freelance writer and rock-blues fan. When he is not writing about home improvement, he loves to play chess, watch basketball, and play his guitar. More than anything, he loves to spend his time in his garage, repairing appliances and creating stuff from wood.