Home design trends change from year to year and from season to season. While the way you design your home and function within it should depend on your personal style and preferences, there's nothing wrong with checking out the trends that come into play each year for a bit of inspiration.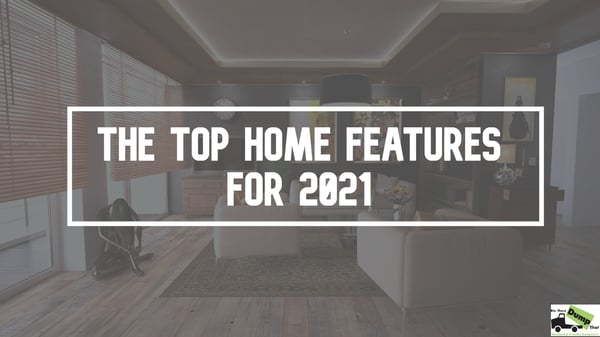 2020 has been quite the year for home design and DIY projects. With most of the year spent stuck at home in a pandemic, plenty of people got their hands on DIY projects all around the house and spent more time inside than ever before, which can offer quite a lot of perspective on which features should be top priority.
In 2021, it seems that people are getting a bit cozier in their homes, and for good reason. With the pandemic teaching everyone what it means to feel truly at home right where you are, people are valuing their at-home space more than ever before. And that means diving into the projects that make a home comfortable, warm, inviting, and functional.
If you're curious about some of 2021's top home features and ideas, look no further. Here are 10 of 2021's top home features.
Sustainability
Taking steps to make a home more sustainable can be brilliant for so many reasons. If you value your contribution to the environment, making your home a more eco-friendly place can help shrink your carbon footprint.
In addition, sustainable home practices can reduce all kinds of bills around the house. Features like solar paneling for power, low-flow faucets, and smart temperature controls can bring sustainability into your home.
Smart Home Technology
Smart technology is the way of the future. And who wouldn't want to bring their home into the next decade by setting up features like smart lighting, smart temperature controls, and customized entertainment systems?
You can customize anything you want in your home with smart controls, like garage door apps for your smartphone that allow operation from anywhere, and home security systems with cloud connectivity and intelligent motion and identity detection. Smart technology can make any home easier and smoother to exist in.
Smart Shelving
Storage solutions have gotten better over the years, from bins to shelves, and organization has been all the rage — especially recently. It's no wonder why people have begun to miss the convenience of built-in shelving for easy access. 2021 may just see a spike in smart storage solutions built right into the anatomy of the home.
Mixing Materials
With 2020's safety and hominess, there are still a few places people might be taking some extra design risks this year. And one of those risks might just be a mix of materials.
Furniture and room combinations that mix wood and metal bring both industrial coolness and natural warmth to any space, and layering patterns and materials can offer a complex visual texture that feels lived in.
Rainfall Shower Heads
Talk about comfort and luxury in your own home! If you want to feel like every day is a spa vacation, a rainfall shower head might deserve a place on your list.
While you can install an overhead rain shower, there are also rain showerheads that can attach to a standard bathroom setup if you'd rather not deal with piping. Rain showers are a great way to relax and feel fully submerged in the water around you. This might be especially helpful if your place doesn't have a bathtub.
Vintage Pieces
Vintage has been on the up and up for a while now, but 2021 might be the year vintage becomes more of a genre than a niche style.
Vintage style isn't just affordable and accessible — it's also warm, homey, and nostalgic. And if there's ever been a year in need of that, it's this one. Recently, vintage has blossomed into a variety of styles, from cottagecore to mid-century modern.
Not only is vintage taking on a new life, but you can also easily find vintage pieces specific to you and your home's personality.
Outdoor Functionality
Especially with the pandemic confining everybody to their homes, using the outdoor space you have has never been so important. 2021 could be the year of backyards, front porches, and deluxe deck spaces.
Features like lush vegetable gardens, outdoor kitchens, and tire swings have seldom been so loved and appreciated. 2021 might be the year to get on top of the outdoor oasis that's available to you.
Heated Floors
When it comes to the comfy and cozy, not much can beat heated flooring. Heated floors are an investment, without a doubt, but if you live in a climate that tends to get cold, or if you just love the feeling of something warm beneath your feet, heated floors can be a total game-changer.
Bathrooms and kitchens are typically the best places to host heated floors. That way, no matter what you're doing, you can feel warm and comfortable all the way down to your toes.
Home Offices
You probably saw this one coming, but it's worth a mention either way.
The pandemic has created a large demographic of remote workers — larger than ever. While many were already armed with home office spaces perfect for office-like productivity, plenty found themselves unprepared.
Home offices have not just become nice to have, but also necessary in the past year, and people are beginning to prioritize their use.
Reading Nooks
Speaking of quiet places to expand the mind, coziness and quiet workspaces aren't just about desks and computers to take Zoom calls. For those who prefer to cozy up with a good book or tuck themselves away for their studies, reading nooks have become all the rage.
One of the beauties of a reading nook is that you can put it anywhere you have space, so there's no need to clear out an entire room for one — even a corner will do!
Best Home Features for 2021
2021 is a year of hominess, coziness, and making the most of the space you have and love. While some of the best new features are about taking things into the future with smart technology, others are about throwing it back in time with vintage or timeless styles.
Really, you can have the best of both worlds this year. All you need to do is find the inspiration and roll with it. What feature are you looking forward to adding to your place this year?