The beginning of a new year is a fresh start. Resolutions are made to eat healthier, exercise more, quit smoking, read more books, etc. But what about cleaning? The start of 2021 is a perfect opportunity to create a spring cleaning routine that you'll actually stick to.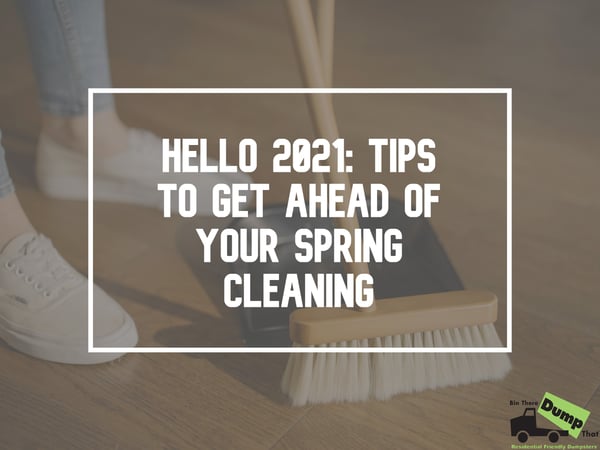 Photo by cottonbro from Pexels
Spring cleaning, while very important, isn't most people's favorite annual tradition. It's both time consuming and overwhelming, and isn't really fun. Yet, the process of deep cleaning is important for your health as it rids your home of dust and other allergens. Not to mention, it helps maintain a neat and tidy household.
With people spending more time than usual at home, make it a goal to set up the perfect cleaning routine this year. Here are some ideas for you to get a head start on your spring cleaning schedule, so that you can be as efficient and organized as possible.
Idea #1: Have the Essentials
No spring cleaning could be done without the help of various cleaning supplies. These essentials make the difficult job easier and more efficient. Before you begin any cleaning binge, be sure to take stock of what you have, so that you can replace anything that's missing. A good starting point is to have an all-purpose cleaner, disinfectant wipes, paper towels or sponges, window cleaner, and a trusty vacuum. These handful of products are all you need to make any room shine. Here's a pro tip: if you find yourself out of any of these key items mid-clean, you can easily have home essentials and other cleaning products delivered to you in minutes. Instead of having to drop everything and go to the store, you can stay focused on the job at hand. Having these essentials ready will ensure that the process is smoother, and you'll be able to finish the job in no time.
Idea #2: Have a Method
Oftentimes, spring cleaning takes more than just a day. Make the process easier on yourself by working in zones. Create a list of each room in your home as well as a checklist of everything that needs to be done. Writing down a list of steps for your cleaning schedule helps you stay organized, and it will hold you accountable so that you truly deep clean everything. Plus, the satisfaction of completing each task will help you stay motivated as you work through your home.
Also, be meticulous in your method of how you work your way through each room. Most importantly, as you clean, go from top to bottom. For example, you'll want to start with dusting light fixtures or the ceiling fan before moving to the bookshelves. This prevents dust falling from higher up onto surfaces you have already cleaned. Sweeping, mopping, and vacuuming will come last.

Idea #3: Have a Decluttering Day
The beginning of the year is the perfect time to reduce the clutter that's been accumulating in your home. Picking up clutter throughout the house can also do wonders for your cleaning productivity. Take some time to reevaluate your belongings in each room while you clean. Getting rid of unused or unneeded items will only improve your organization, and in turn, can help your mood and concentration. Decluttering will create a cleaner home, and a clearer mind. You can begin the process by simply filling a box or two of things you no longer need. If you have a hard time throwing items out, look into donating them to charity, so that they can be used elsewhere. There are many ways you can go about decluttering, so do what you can to start the process and reach your goal.
Idea #4: Dedicate Time to Work Outside
Spring cleaning is bigger than the inside of your home. As the weather begins to warm and the sun starts to shine, put some time aside to look after the exterior of your home. Clean out the gutters, wash the windows, prep the garden, tend to the yard, and get the outside furniture ready for warmer days. Determine all that needs to be done, and follow a guide to best prep the outside of your home for spring. Freshening up the outside of your home can help create a new, much needed energy for the springtime.
Spring cleaning is a marathon, not a race. Staying organized in your process will only improve your timeliness and overall outlook of the job. Most important of all is to get into a routine and stick with it. This will make the entire deep cleaning process more manageable and less intimidating. Use these tasks to keep your home the cleanest it can be throughout 2021.