Because they're often primarily used for storage, garages, attics, sheds, and basements tend to accumulate lots of junk over time. Periodically cleaning out these rooms is a good way to declutter, create more space, and repurpose them for practical use. Basements can be especially useful as recreation rooms, home offices, or even spare bedrooms. Here are five tips to make a basement renovation simple and efficient.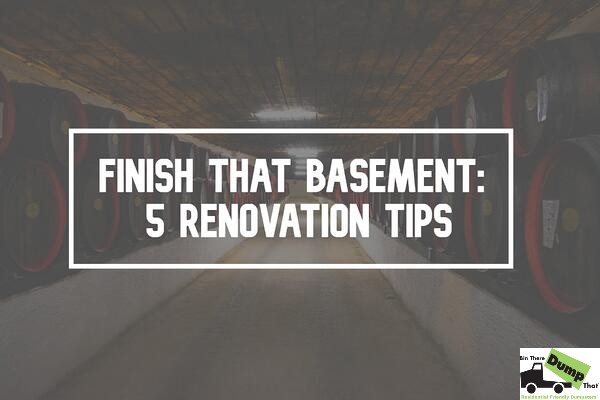 Start With a Detailed Plan
No matter how much work needs to be done, it's always best to approach a basement renovation with a detailed plan of attack. First, set a specific date (or dates) on which the renovation will take place—getting the work done will be much easier when there has been plenty of time to prepare. It's also a good idea to begin thinking about which items will stay and which ones will go as early in the planning period as possible.
Additionally, decide what the end goal of the renovation will be. Will the new basement be simply a cleaner and more organized place to store things? Or will it be converted into a room that will see frequent practical use? Knowing ahead of time what the room will be used for will help guide the rest of the renovation project.
Sort Belongings Into Three Categories
During a basement renovation, some things will stay while others will be sold, donated, or thrown away. The challenge is sorting all of this out without going crazy. A good starting place is removing items that will certainly be thrown away—garbage, broken appliances and tools, unusable furniture—and putting it all into a pile outside for the dumpster. With less clutter, sorting through the remaining stuff will be easier, and all of the "keep" items can begin to find a permanent place.
Schedule a Roll-Off Dumpster Rental
There will inevitably be a lot of unwanted belongings, garbage, and even construction debris to get rid of as the renovation process unfolds. A simple and quick way to dispose of it all is to rent a roll-off dumpster. Bin There Dump That offers dumpsters in several sizes to handle the needs of both large and small basement renovations, and our dumpster rental process is simple. Homeowners only have to pick the best dumpster size for the job, schedule a delivery date, load it up with stuff, and call for a pickup once the basement renovation is complete. Our delivery team will ensure that the customer's driveway is protected and will sweep up any leftover debris once the dumpster has been removed from the property.
Dumpster rentals make decluttering and renovating a snap, but there are a few things homeowners can do to make using them even easier. For example, consolidate everything to be thrown away before the dumpster even arrives; this will make loading it up much more time-efficient. It's also important to avoid blocking the dumpster's walk-in doors so that furniture and other large items can be easily loaded rather than hoisted over the side.
Plan to Sell or Donate Usable Items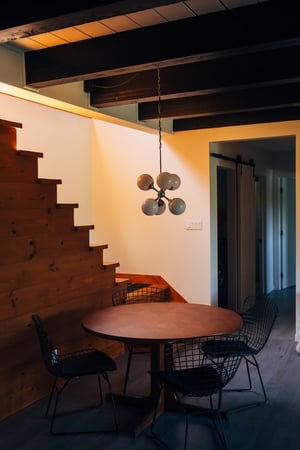 There are several ways to get rid of belongings that can't stay in the house but are too good to be thrown in the dumpster. One option is to sell, which can either be done through a garage or yard sale or by posting advertisements on social media platforms, community message boards, and other online selling tools. These items can also be donated to one of many places that would be happy to accept them, including charity stores, nonprofit organizations, shelters, schools, and community centers. Call around to see where your unwanted furniture, toys, clothes, decor, and other belongings can find a new home.
Rethink Use of Space in the Basement
After all the work of cleaning out and updating the basement is finished, it would be a shame to let the room fall back into disrepair and clutter. One way to avoid this is to rethink how space is used in the basement. For example, it's good to consider a variety of different ways to place existing and new furniture to make the room more spacious. You can also explore new storage options, including shelving installations, places to hang items, or vertical storage tools like pegboards.
Your Roll-Off Dumpster Rental Service
Planning a basement renovation can initially seem daunting, especially if the room is filled to the brim with too much clutter. Bin There Dump That can help with that—we offer 4-, 6-, 10-, 15-, and 20-yard dumpsters and a variety of additional services, including dumpster delivery, removal, waste disposal, driveway protection, and complimentary cleanups. Our dumpsters are available in many locations throughout the United States and can help you finish your basement renovation project quickly, efficiently, and safely. Get in touch with the Bin There Dump That branch in your area today to schedule your dumpster rental.