We know how good it feels to get rid of unwanted junk around the house. But some items are a little trickier to dispose of than you may think. And that's the case when it comes to old tires.
Tires can help take you from one place to the next. But when they've seen their last days on the road, you'll be left with several bulky wheels and questions about where to take them. Do you know what to do with old tires?
Before you think about chucking them, here are five things you should know about disposing of tires.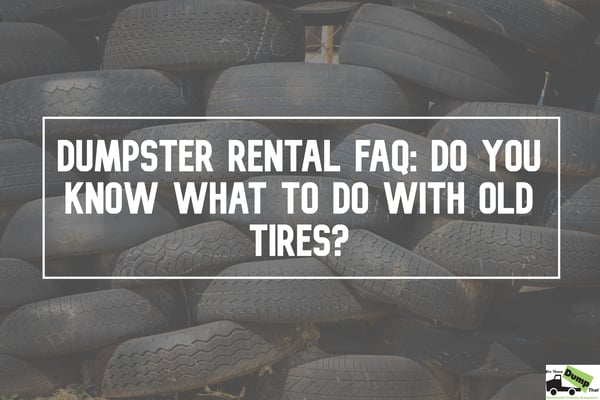 Using A Dumpster Rental? Keep Them Separate
Tires, like several other household items, require extra care when it comes time to throw them out. You can put them in your dumpster rental, but they can't be recycled with other items.
Residential customers should give their local dumpster franchise operators fair warning ahead of time if they have tires they want to recycle. They'll arrange an agreement with the customer to put the tires in the dumpster last for a small recycling fee.
Where To Dispose Of Old Tires
More than half of states do not allow people to leave tires at landfills. They take up a lot of space, don't break down easily and contain components that pose ecological problems. Tires can also trap methane gases, which can damage landfill liners meant to prevent the area from polluting local water sources.
If you decide not to put the tires in a dumpster rental, there are a few other options.
Most car service shops will recycle your tires for you if you buy new ones from them. You can also check with your local recycling facility to see if they accept tires. Some cities even have periodical events where residents can drop off their tires for free. Contact your solid waste management agency for more information.
What Happens To Old Tires?
It's also important to recycle tires simply because there are so many of them around the country — and that number continues to grow each year.
Americans wear out about 290 million tires a year, and they recycle 233 million of them, according to the U.S. Environmental Protection Agency (EPA). But what can your recycled tires become?
There are at least 110 products that are composed of scrap tires. They can be used in sound barriers, playgrounds, alternative fuel, mulch, athletic fields, railroad tires, decks and building materials, to name a few.
Fun Ways To Use Old Tires
If you decide to keep them, there are several creative ways to extend the life of your tires — instead of just leaving them piled up around your yard or taking up precious parking space in your garage.
Beyond your typical tire swing, you can also use spares in your garden. Clean the tires with soapy water, place them in your yard, fill them with soil and add plants. But stick with non-edible plants, as plants can absorb chemicals from the tire that you wouldn't want to ingest.
You can also cut the tire and make a plant bed border out of it, which is sure to attract attention. If you're feeling crafty, you can even make tables, chairs, non-skid steps, an obstacle course or an array of other décor pieces out of the tires.
Think Before You Get Rid Of Old Tires
If you're not sure what to do with old tire, do a little research. When it comes time to dispose of old tires, whether you decide to put them in your dumpster rental, find a local recycler who will take them or transform them into something useful at your home — we all need to be responsible recyclers.
If in doubt about what you can and can't put in your dumpster rental, contact your local Bin There Dump That franchise operator.
Images: Two old tires, Tire chairs