Everybody loves summer because it allows them to spend more time outside. Most homeowners tend to enjoy outdoor activities in your backyard. Spending time drinking lemonade with your friends, or barbecuing with your family- all options are enjoyable. Having a place to perform all these activities can enhance the experience. Sitting outside on your deck during hot summer days can drastically improve your mood.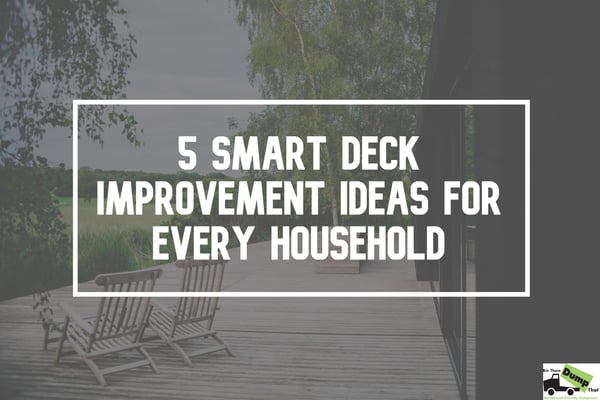 However, to be able to spend as much time as you want on your deck, you have to ensure you maintain it properly. That includes giving it a makeover every once in a while to ensure all building material is in good shape. Once you notice your deck needs improvement, don't hesitate to start a new project. This is the best moment to invest your money and time on a house improvement project.
1. Declutter it
Before you begin with your deck renovations, you need to ensure your deck is clean. It can become dirty during fall and winter, and you need to clean it thoroughly. Gather the leaves and wipe the dust. Clean the wooden fence and ensure all furniture is clean too. Don't forget that the area around your deck needs to be washed.
If you notice any dry plants, remove them from this area. Cleaning deck is vital for various reasons. It can help you determine whether there is something you need to fix immediately. Dust and dirt can often manage to hide small cracks in the wood. Cleaning it at least once a month will ensure you'll notice any improvement needs.
2. Refresh the wooden finish
Nothing can improve the way your deck looks like a fresh wooden finish. Surface finishes will not only change the appearance. They will also create a protective layer of coating. Protecting your flooring is a vital part of your deck maintenance. You have a variety of options to choose from. The matte finish will give you a classy, modern look.
Gloss finishes are the best option for lighter decks. You can also choose between lacquer or varnish. Whatever you decide to apply, know that both options are a reasonable investment. However, it's advisable to educate yourself on the pros and cons of a variety of finishing products. That way, you'll ensure you'll get the coating solution that fits your design the best.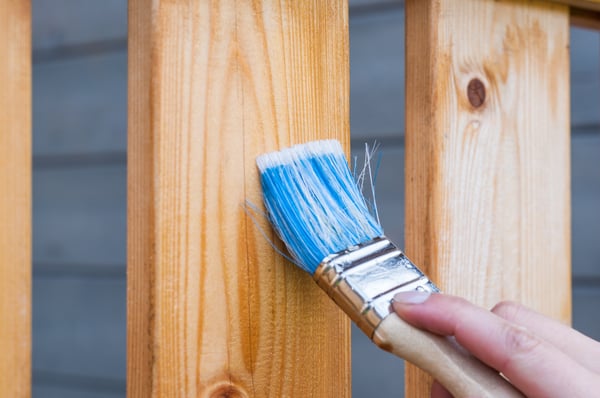 3. Add built-in benches
If you need to rearrange the space on your deck, consider installing benches. They're an ideal solution for decks that are not as spacious as you want them to be. Build benches around the deck, and you will save lots of space. Add a table in the middle, and you'll have a lovely spot to rest or hang out with your friends.
This can be your DIY project, but if you want to ensure everything looks neat, you can hire a carpenter. They can give you the exact design you want. Now that you have nothing better to do but wait for the pandemic to be over, a DIY project is not a bad idea. You can elevate your skills and learn something new along the way.
4. Invest in a new design
Leaving your deck empty is not a good practice. Find a design you like the most, and invest in new things that can fill up space. Empty decks are functional, but they lack style.
Adding new details is fun, and you have endless options that you can combine and arrange. One of the easiest ways to enhance the space is to add a few artificial plants. They will make the area feel crowded and alive. A few plants will add a lot of style to your deck. They're affordable and easy to maintain. You don't have to invest in expensive decoration. Small changes can drastically enhance the way your place looks.
5. Construct a bench border
If you don't have a fence around your deck, you have more options to try out. Instead of building a fence, consider installing small benches. That way, you will provide enough seating area for everyone to rest and enjoy the summer.
That is another interesting DIY project you can complete in only a few days. The best part is you don't have to visit the store to get the supplies. Order everything you need for your project. All supplies will be delivered to your doorstep.
Conclusion
House improvements will increase the value of your home. Keeping the house in good condition will minimize the need for repairs in the future. Neglecting your deck can cost you a fortune if you want it to remain functional.
There are numerous ways to start a home improvement project. Ensure you find the right design before you start making any changes. If you use glossy wooden finish and later change the layout, these two might not fit well together. Once you make a plan and order your supplies, you can start your improvement project.
Bio: Patrick Adams is a freelance writer and rock-blues fan. When he is not writing about home improvement, he loves to play chess, watch basketball, and play his guitar. More than anything, he loves to spend his time in his garage, repairing appliances and creating stuff from wood.