While Spring is traditionally accepted as the best time to purge your home of unwanted items, it's always good to give your house a refresh before the holiday season begins as well. As you retire your sandals and dig out your decorations, it's important to have a plan of action in place for staying organized. Consider all of your options when cleaning out your home this season by using the tips below as your guide.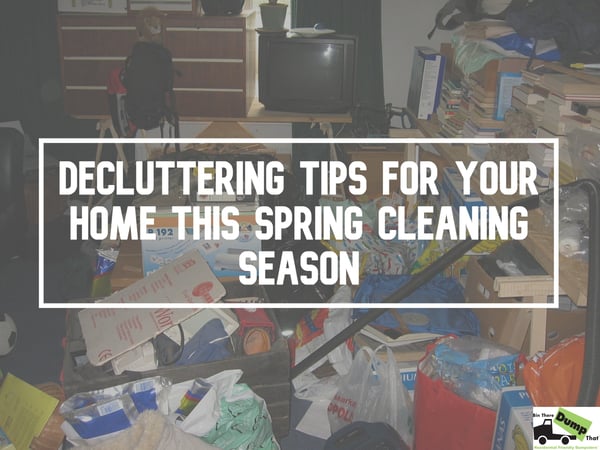 Donate
From old beach chairs to outdated clothes you no longer wear, there are plenty of places to donate what you don't use or want. The next time you find yourself looking through your crawl space for holiday decor, consider re-organizing the space altogether by figuring out what you can give away. Donating such items to a good cause or a local Salvation Army will help you to feel as though you've done your part, and it will clear up extra room in your storage spaces!
Sell
Looking to clean out your house for the season and make a little extra cash as well? Try your hand at selling the things you're hoping to get rid of. Whether you hop on Facebook Marketplace and share the items with local friends, or you opt for other online ways of getting the word out, there are endless digital resources you can utilize as you clean to make some money. If you know you're ready to purge your closet of your summer styles to make room for cozy sweaters, turn to an online closet clean out resource for all of your clothing selling needs. Make the most of your higher quality items the next time you're ready to clean out your closets by profiting from them!
Rent a Dumpster
If you're hoping to plan a day to clean out everything all at once, it might be in your best interest to simply rent a dumpster. Pick a weekend you know you'll be free to really purge your home of all the things you need to get rid of, and dispose of it quicker by bringing the dump right to your house. You can easily book a dumpster online from the comfort of your own home. Dumpsters come in a variety of sizes to fit your cleaning needs, so don't shy away from renting one just because you think you might not be able to fill it. This will likely save you both time and money in the long run if you're able to plan your cleaning day accordingly.
Upcycle
On the rare occasion that you want to clean out your home but don't feel as though you have much to get rid of, try turning your older items into something new. Upcycling is a great way to get in your DIY fix while still consolidating the things you aren't using. From turning picture frames into serving trays to using an old trunk as a coffee table, the possibilities are endless. The more clutter you take the time to re-purpose, the more clean your home will feel this holiday season.
Swap
When all else fails, a great way to get rid of unwanted items this season is by swapping with friends or family members for something that might be more useful to you. Whether you host a swap at your home or you simply get the word out to your social circle that you're looking to trade for something specific, swapping can be a great way to get rid of what you don't want for an item you need. Stay practical about the items you're ready to give away in return for something useful and you're sure to have both a cleaner and cleared home.
Redesign
Last but not least, you can always look to redesign the rooms of your home in subtle ways to help every space feel more organized and open. Try to assess each area of your house that you feel needs a true touch up, and look for ways to adopt a more minimalist take on the room. This could mean anything from limiting the amount of furniture you have to putting less artwork on your walls. However you choose to redesign your space, be sure to do so with an open mind. Opt to freshen up your home in a way that leaves you feeling at peace as you prep for the business of the holiday season.