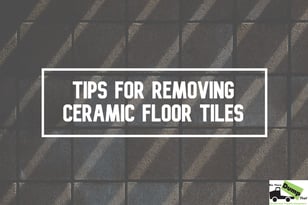 Interested in removing your ceramic floor tiles, whether you want to install new ones or revamp your floor entirely. It's a tough job, but you can do it yourself. A few tools coupled with physical power go a long way.
If you are considering removing ceramic floor tiles for your next home improvement project, here are a few tips to help.
Plan Ahead
When planning a ceramic-floor tile removal project, it is essential that you make preparations ahead of time. It is a great idea to set aside at least one day to finish up the project. You should also determine how to dispose of the materials that may cause potential risks and hazards. There is also need to consult a professional on how to go about the entire project. In the event that there is no expert around, seeking information via online means may similarly be helpful.
Get the Right Equipment
Tools needed to remove the ceramic floor tiles include:
A putty knife with a stiff blade
A small hammer
A flat garden spade and an iron pry bar
Goggles/ wrap around safety glasses are a good way to protect eyes from loose material or other flying particles that may cause damage.
Protect hands with quality medium to heavy gloves to prevent cuts or scratches from sharp edges.
You will also need to put on a sweatshirt or a shirt with long sleeve.
Removing the Tiles
The first step in the removal of ceramic floor tiles is to take out the trim covering the edges of the tiles and scrape out the grout which is found on the perimeter of the tiles. You should also ensure that caulking on the vertical bends is properly scraped out. Once the tiles are free of caulk and grout, tap on the tiles so as to check whether any of the tiles has loosened. If you detect a loose tile, then the rest of the tiles should come off easily.
To protect yourself, you should also use special blade holders. For those parts that prove to be very tough, a heat gun can come in handy. However, this solution should be a last resort when grout proves too difficult to scrape.
Removing the Adhesive
Once the ceramic tiles are removed, the next task is the cleaning of cement remains or adhesive. Using products that will be helpful for the cleaning is also a good idea. Methylene chloride products are some of the most helpful in the market during the cleaning process. Trying them will make your work very easy.
Nevertheless, while using products with methylene chloride, you need to proceed with caution as it can interfere with your health and cause damage. To be more specific, the fumes can harm your body. Therefore, ensure that you have enough ventilation. Furthermore, make sure that your contact to the by-products is marginal.
Finally, if you need to dispose of your ceramic floor tiles, a dumpster from Bin There Dump That is an excellent choice. Find out how to order one in your area.