Over the years, Bin There Dump That has been a proud sponsor of Therapeutic Paws of Canada. We support and love dogs just as much as the next person.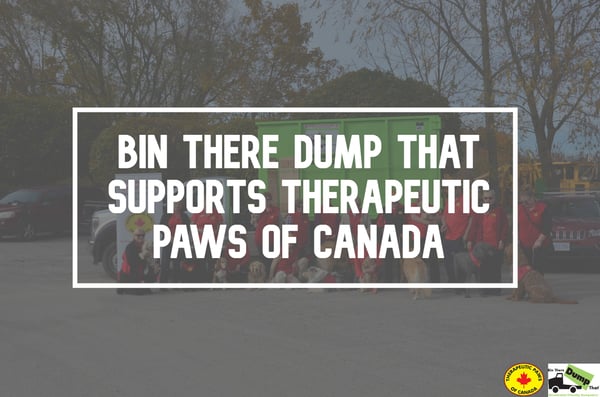 What is Therapeutic Paws of Canada?
Therapeutic Paws of Canada (TPOC) is a non-profit organization of volunteers providing animal resources for human needs. These needs include physical, mental, educational, motivational, and social. TPOC regularly visits schools, residences, hospitals, and more…
TPOC has been registered since August 2002 and was recognized as a charitable entity in May 2003. They have been running strong for 18 years and counting!
You're The Chosen Dog
In order to volunteer your pet for TPOC's programs, you and your dog are required to successfully complete the Therapy Evaluation. On top of that, the dog must have visiting experience with seniors before participating in the Therapy Dog Evaluation. TPOC keeps the standard high and makes sure that each pet is suitable for the specific program.
These pets must display temperament that shows confidence, good manners and sociability with other dogs, cats, and people.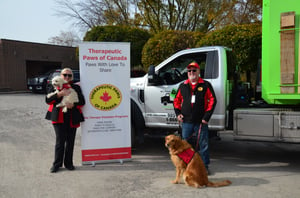 What's Up Dog?
TPOC has 3 main programs: Senior Program, Children's Program and Paws Room Program.
Senior Program
TPOC offers volunteer based therapy dog and car visitation programs for senior facilities, like retirement and nursing homes. The medical establishment has recognized the significance of a therapy dog and cat program. Petting and stroking pets actually help calm the most agitated resident and stimulates conversation about the previous pets.
Children's Program
TPOC offers several different Children's Programs that Child Certified Teams participate in. These programs only use the most dependable of pets because of the unpredictable and excitable nature of children. These programs aim to achieve goals in a fun and safe environment.
Paws to Read
Paws Room
Paws-Abilities
Paws for Comfort
Support Pets with VWAP (Victim Witness Assistance Program)
Paws Room Program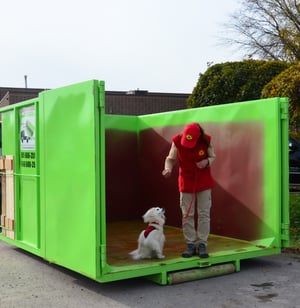 TPOC partners up with local universities and colleges to provide emotional support and stress relief for students during exam week. Students are always welcome to interact with the therapy teams and put the pressure of studying aside for a moment and pet and stroke the animals. This gives the student a moment to refocus on something other than the stresses of exams and school.
Dogs Go to Court
TPOC offers a unique program that includes our dogs having to go to court. TPOC partners with organizations in the judicial system to bring in the Support Pet and the handler to help share the love to the victim or witness. The Support Pet and their handler appears in courts in different Ontario communities.
The Support Pets participating in this new program are Child Certified and they will support vulnerable people during their testimony and court appearances. Due to the difficult subject matter, not every TPOC volunteer will be able to be a part of this program.
Animals provide support and comfort to humans where other humans aren't able to. Whether it's a lick from a furry friend or a fuzzy ear to scratch they have the ability to calm down any situation and provide a safe space for open communication. Therapeutic Paws of Canada provide heroes to many.