Welcoming your little one into the world and their first home is a pretty exciting occasion. And while standard advice is to buy a bigger house, you may feel like it is not the step you could take at this time. Tiny living with a new family addition is indeed no easy feat, but if you are smart and creative with the space you have, the limited square footage may become just enough. For this reason, we are sharing the best space-saving hacks for new parents to make raising their new baby in a tiny apartment more than manageable.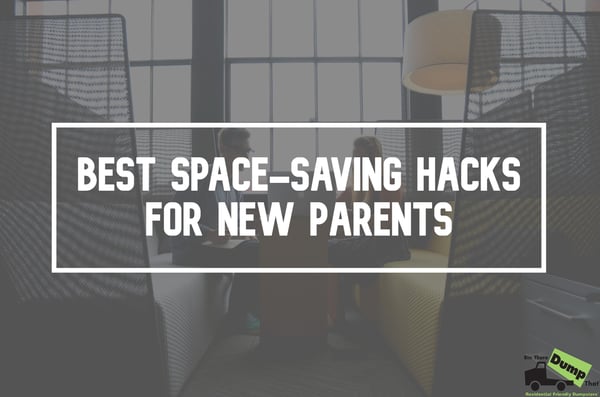 Control the chaos
Before doing anything else, you must learn how to control the chaos. It is normal for the clutter to accumulate over the years, but imagine how hectic your living space will be once you start bringing in everything baby-related. This is why, before considering any installations, pretty organizer purchases, and other space-saving hacks, expert organizers believe that new parents should go the extra mile and free up some of that much-needed space.
Embrace the minimalist lifestyle
The idea of owning less has become a growing attraction. While at first, this may seem like you should throw out everything you own and live like a monk, embracing a minimalist lifestyle merely implies becoming mindful of what is necessary and what is not. Therefore, it doesn't need to be so extreme.
Decluttering your living space is pretty much the chief guiding principle of minimalist living. To make more space available for the baby's stuff, sort through your belongings, and decide what's staying and what's going. Everything you will not need, you should consider selling, donating, or giving away to someone you know. This way, you'll be able to free some shelves for baby clothing, empty the drawers for grooming essentials or health products, etc.
Maximize the storage space
Now that you've minimized the clutter, it will be easier to evaluate the space you have to work with. It is only then that you'll be able to improve it. Furthermore, completely clearing the space will help you evaluate every item you own and sort it into a particular category. After that, you can assign a new home to each or decide to keep it and shop for more storage solutions accordingly.
Reorganize
It's time for reorganizing! One of the best organizing hacks is dividing larger spaces, like a closet, drawer, or cabinet, into smaller units. For example, use drawer organizers to keep diapering essentials organized in a drawer, or baskets, crates, and clear storage bins to corral onesies, socks, burp cloths, and other necessities inside a closet.
Utilize those spots that are often overlooked
Even in the smallest of homes, you can see certain spots that are so frequently forgotten or overlooked, but they still present one of the excellent space-saving hacks for new parents.
For instance, the doors are perfect for anyone short on space to get creative with. Therefore, why not purchase an over-the-door organizer which you can use to store anything from play essentials in the bedroom to baby toiletries in the bathroom? Similarly, the bathroom curtain rod can hold a simple hanging fruit basket for you to place all of your baby's favorite toys while they're taking a bath.
Next, the place under the bed is an excellent way for new parents to save space. You can use this to store a folded baby stroller, slings, travel bags, etc., or tuck in some baskets/bins to serve as drawers for baby necessities. If your bed isn't high enough for you to place anything, consider getting those bed risers. That is a great trick to give it a boost.
The headboard (behind your bed or couch) can be turned into storage as well, while not taking up any significant space from the room.
Lastly, the vertical space. Take a look around, and see how many of your corners are free. Then, think about installing some corner floating shelves. The same goes for the space above and around your doors or any blank walls
Upcycle your furniture
If your limited space does not allow you to fit an entire changing station, consider instead using what you already have and eliminate the need for any extra furniture pieces.
Armoires or low, sturdy dressers can easily be converted into a changing station; use the flat surface like a table and the drawers below for storing clothes, diapers, wipes, creams, and other supplies. If you don't want to risk injuries while heavy lifting, it might be best to turn to local movers for help, as Oakville-based professionals know how to handle this task and have the equipment to do it safely.
If you own a walk-in closet, you can turn it into a tiny baby nook by taking the doors off and placing the crib inside. The upper half can still serve for storing baby necessities if you add some shelving.
Consider installations
There are so many great ideas that could save you some space when it comes to built-ins. For example, if you insist on having a spot specifically designed for changing diapers, consider installing a fold-down changing table. Secondly, if you do not have space to fit a crib, consider installing a hanging mini crib that barely takes up any room. Hanging cribs continue to grow more and more popular.
Cost-effective purchases
If you have at least some space to squeeze in a new baby gadget, there are some great investments you should consider. A foldable changing table, for example, is a practical solution because it can be easily folded to save you some space. Besides, these units are typically equipped with storage organizers for you to place towels, diapers, and any other accessories conveniently. Secondly, think about getting a mini crib and a changer combo (preferably with some convertibility options), the compact size of which makes it ideal for tiny spaces. Lastly, co-sleeping cribs that attach to your bed not only work as a space-saver but are also valuable for moms with C-sections or breastfeeding mothers.
The takeaway
As you can see, there are lots of ways you can make the most of the limited space you have in your home, such as utilizing overlooked areas, upcycling your furniture, or considering some practical upgrades and cost-effective purchases. Still, these work best if you make an extra effort and declutter first. Hopefully, at least some of these space-saving hacks for new parents can help you make the most of your tiny living and go back to enjoying your growing family.