Changing jobs can be one of the most stressful events in anyone's life. Add a job relocation, and you're just piling on the challenges. But like most difficult activities, planning makes everything a little bit easier.
Here are 10 tips to make your relocation process simpler and less stressful.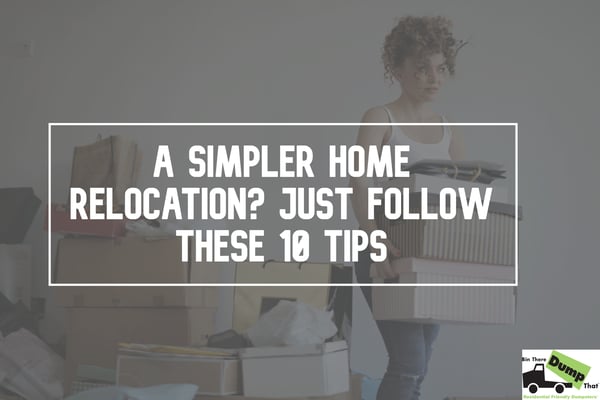 Stay Organized From The Start
The devil is in the details, and with a move of any kind has a seeming endless stream of details. You only have one opportunity to keep things organized. Once a situation starts resembling a soccer game featuring 8-year-olds, there's no opportunity to regain control.
Find a method that works for you — spreadsheet, whiteboard, series of Post-It notes — to keep track of the details, including dates, materials and important contacts.
Clear the Clutter
No matter how far you're moving the more you take with you the more expensive and time consuming it will be.
Have a garage sale, give stuff to relatives, or donate it, and the stuff nobody wants or needs can be tossed in a Bin There Dump That dumpster where it will be hauled away never to be seen again.
Use Quality Materials
When it's time to start packing, it seems most people wander down the street to the local grocery store and beg for used boxes. Besides leaving your possessions smelling vaguely like cantaloupe, used boxes often don't have the structural integrity to protect your valuables.
Visit a store that specializes in packing material. Invest in quality boxes, packing tape and the right cushioning material (polystyrene peanuts, bubble wrap) to keep everything from shifting and breaking during the move.
Spending a few dollars on quality packing materials is better than the alternative: replacing that Doonesbury-wrapped crystal vase that broke through the bottom of the grocery store cantaloupe container.
Choose A Reputable Moving Company
Paying a bunch of friends in pizza and beer to cart your stuff from old house to van to new house just doesn't work after a certain point in life. Time to find a better solution!
If the company making the new hire is handling the move then you've got little to worry about. Chances are they've handled this many times before and will arrange your move with an experienced and trustworthy business.
If you're on your own, be sure to do your research and check references on the movers you choose. After all, everything you own will be in their hands.
Tune Up Your Car
If you're heading across town, you probably don't need to completely overhaul your vehicle. If you're headed across state lines it might be a good idea.
Keep The Essentials Close At Hand
Anyone who has ever had an airline lose a bag knows to put vital items in a carry-on. With a move the same rules apply, but even more so. Any medicines, vital papers, heirlooms, jewelry and anything irreplaceable shouldn't be left to the moving company.
No matter how reputable the company is, mistakes happen. Accidents happen.
If there's something you will need the day you arrive, keep it close. You can survive without a bed for a night or two. It's a little more difficult or dangerous not to have medication.
Compile Your Contacts
Leaving friends (and sometimes family) behind can be difficult. You'll definitely want to keep in contact. Social media sites can help, but don't forget to ask for addresses and phone numbers, too — you never know when you'll want to send a postcard from vacation or a family Christmas card.
Of even more immediate importance is having the contact information for any people or places you'll need in your new home.
Ask the Locals
One of the most difficult things about your new surroundings is knowing where to eat, go shopping, which doctors to visit and more. An HR professional at your new company can point you in the right direction, but it's always good to get second, third and even fourth options.
Your new coworkers and neighbors will likely have some advice, too, and don't forget all those Internet sources for reviews!
Maintain A Sunny Disposition
Moves are a lot like weddings. There can be months of planning, but when the big day comes, there's a pretty good shot something will go wrong.
How your respond to the situation can make all the difference. Remember, good stuff is happening.
Whether it's a new job or a new spouse, focus on the endgame, not the moment.
Bonus Tip: Seek Out A Tax Deduction
Depending on your situation (and who's paying for the move), the expenses associated with the transition might be partially deductible.
Check with a tax professional to see it any of the costs of your move reduce your tax bill.
Good luck with your next move. Before you head to your new life, you should think about clearing the clutter from your old one. Visit the Bin There Dump That website
to learn how we can help, including finding the franchise operator nearest you.
Image credit: Clutter