Moves often rank among life's more traumatic events. But a little planning can smooth the process immeasurably. Some of the things you need are fairly obvious — like a skilled moving crew.
But there might be a few things you haven't considered. Here's a look at eight indispensable tools to get you through your relocation.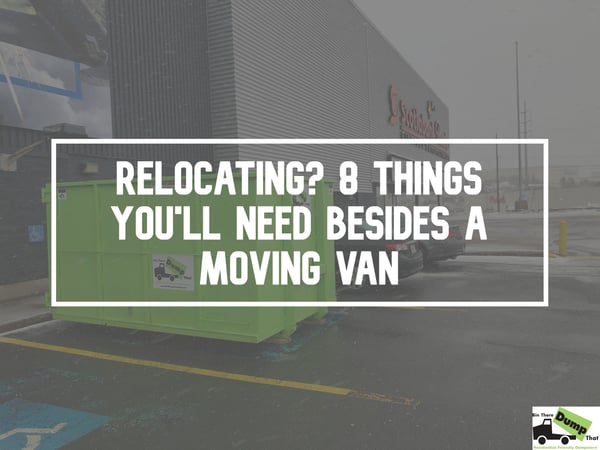 Moving Van And Supplies
OK. Let's get the obvious out of the way. Boxes, packing tape, bubble wrap (including an few extra sheets to pop, just for fun) are critical. If hiring a moving company, they'll certainly be able to provide the materials.

If you're doing it on your own, any number of companies can help.
The moving van and packing supplies are key, but they're far from the only services you'll need to complete a move.
Storage Pods
You can't take it with you. All right, if you're moving you can take it with you. That's the point, after all. But sometimes you can't take it with you, at least not all of it.
Maybe your new home isn't ready yet and the temporary place doesn't have enough room. Besides, why would you put everything in a temporary spot only to move it again? Storage pods are the perfect solution.
Keep your non-essential stuff secure until it's final resting place is ready.
Pet Boarding Services
Most people treat their dogs and cats like members of the family. But packing, moving, and unpacking can be traumatic for these family members.
A new home is going to be enough of a challenge for a pet. Consider boarding your animal until your new space is ready and really feels like a home.
A Good Babysitter
We're not suggesting you ship your children off during the move (though it is a good time to visit Grandma and Grandpa). But it's worth considering hiring someone to mind young children (and keep them occupied) during the packing and loading phase of the move.
It will keep them safe and allow you to focus on the move.
Rental Dumpster Bin
Whether it's across country or across town, a move is the perfect time clear out things you no longer want or need. Maybe you're downsizing and there simply won't be room for everything you currently own.
Pre-move garage sales are a cliché, but they're effective. Of course, not everything should go for 50 cents or three for a dollar. For more expensive items, you might consider working with an auction house. It saves you the time and trouble of selling it yourself.
And for everything else, a Bin There Dump That dumpster bin is an elegant solution.
Protection Plan
If you are hiring a moving company to handle your relocation, you should consider some sort of protection plan.
Even the most reputable company has accidents or makes mistakes — find out what they are. This takes some investigative effort, but it worth the time.
Find out what your moving company's protection plan covers and, perhaps more importantly, what it doesn't. Then supplement it with your own insurance or independent protection plan.
Referral Service
Unless your move is local, you'll need to find a litany of service providers: doctors, schools, veterinarians, landscapers, snow removal services, mechanics…the list goes on.
Many moving companies offers services to help you find the people and services you'll need to replace once you're settled.
Don't forget to ask the school to send transcripts and your doctor and vet to send the appropriate medical records to their new counterparts.
Cleaning Service
As a kid you always wondered why mom made you rinse the dishes before you put them in the dishwasher or why you had to pick up your room before a cleaning service came in that week.
It's probably the same mentality that suggests you should make sure the place you're leaving is left clean after your stuff is packed up. The old scouting adage to leave a site cleaner than when you arrived definitely applies here!
Getting Started
A quick Internet search will net you a number of moving checklists. While they're tremendously helpful in helping you plan your move, they don't usually include information about renting a dumpster bin.
To do that, visit Bin There Dump That's website to find the franchise operator nearest you and start the process of renting a dumpster for your move — or whatever your other needs may be.