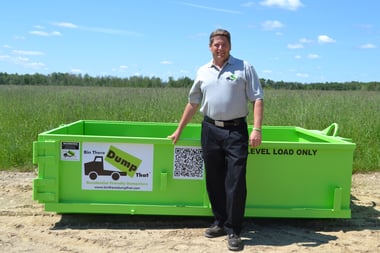 If you are like so many others that have grown tired of the corporate world and working for someone else, what to do next is usually the most daunting step. You know you want to be your own boss and be in charge of your future, but where do you begin?
Jumping headfirst into a new business venture without any real world experience could be a recipe for disaster. The journey from "great idea" to successful, sustainable business is always littered with obstacles, and if you don't have a sound plan and a little luck on your side, you may end up as just another small business statistic.
Luckily, there is one option that helps to eliminate a lot of the guesswork; and that is owning a franchise. Specifically, a dumpster-bin rental franchise.
Here are 5 reasons why this business model could be your ticket out of that stuffy cubicle and into the world of successful business ownership.
1 – Be Your Own Boss
This one goes without saying, but it still deserves the number one spot on the list. The independence and autonomy that go along with business ownership is a great feeling. And having your own bin rental franchise will give you the freedom you want, with the financial stability you need to make it work over the long-term.
2 – A Proven Business Model
Along with being your own boss, you'll also have the peace of mind that comes with being set up with a proven business model. One of the big benefits of owning a franchise is tapping into a successful, streamlined process and a recognizable, trustworthy name. The hard work of establishing the business name and gaining leverage in the industry is well underway with Bin There Dump That, so you will be years ahead of anyone starting their own business from the ground up.
3 – A Wide Range of Customers
With a dumpster rental franchise, you can count on having a range of different residential and commercial customers. From homeowners doing private renovations and home cleanups and clear outs, to general contractors, roofers and movers, property managers, homeowners associations and real estate brokers; there will be no shortage of new potential customers. And many of your commercial customers will be renting bins on an on-going basis, with each new job they do.
4 – Hands-On Training
Any high-quality franchise will include training as part of your new franchise opportunity. A comprehensive training program will consist of specific operational, management, administrative and marketing guidelines that increase your chances of success. When your training is complete, you will have acquired the skills, knowledge and best practices that have enabled Bin There Dump That to become successful and will be able to apply them to your own franchise.
5 – On-Going Support
One of the benefits of owning a franchise that most business owners love is the on-going support as you continue to grow. Having a support team available to keep you on track and answer questions eliminates a lot of the guesswork that tends to waste money and resources.
As a first-time franchise owner, you'll be able to recognize your dream of being your own boss much sooner, and your chances of long-term success will be higher than if you started from scratch. At Bin There Dump That, you can own a bin rental franchise with an established name, and repeat customers that will continue to grow in number. We also have financing options available to help ease you into your new life of franchise ownership.
If you'd like more information about this exciting business opportunity, download our new franchise kit today.