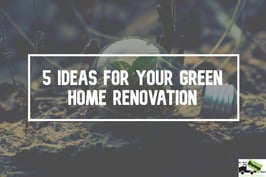 Do you want to go green?
Making green home improvements is a great way to reduce your impact on the environment for the long-term. Let's take a look at five green home renovations that you can do to make your home a lot greener:
1. Invest in solar panel
Going solar should be on the top of your list of green home renovations. That's because solar panels have the potential to transform sunlight into an unlimited source of energy for your home without causing any harm to the environment whatsoever; right now is the best time ever to invest in solar. That's because one of the biggest drawbacks of getting solar panels for your home, cost, has been heavily mitigated, if not eliminated completely
Solar panels cost less than ever
Both the popularity for solar panels has grown significantly in recent years. Because of this, manufacturers are able to mass-produce more solar panels, which leads to greater cost efficiency; these savings are passed onto consumers.
Also, solar technology has improved greatly. Current solar technology allows them to be produced at a historically low cost.
There are many programs to help you pay for solar panels
Even if you don't have the cash to pay for solar panels upfront, you may still be able to get them. For instance, you can take advantage of a solar lease or financing program. Much like car leases and loans, the aforementioned programs allow you to obtain solar panels without incurring the heavy upfront costs.
As an added bonus, many solar lease and financing programs are designed to ensure that your monthly payment is less than your current energy bill.
2. Insulate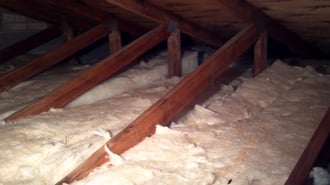 How well your home is insulated is a huge determinant for how effective your HVAC can be. Poor insulation will allow much of the cooled or heated air in your home to escape, forcing your heating and cooling system to use more energy to keep your home comfortable. That's why insulating your home should be on your list of green home renovations. This is a great renovation to help you prepare for winter.
3. Upgrade your appliances
From your washing machine to your HVAC, your home's appliances use a lot of energy. You can significantly reduce this energy use by upgrading them to energy efficient alternatives. If you aren't sure where to start, keep an eye out for the ENERGY STAR label. These appliances have met international standards for high energy efficiency.
4. Upgrade or fix your windows
Unlike your home's walls, a window isn't a thick layer of brick, siding, (possibly) insulation, metal and/or wood. In its simplest form, a window is just a thin layer of glass. This enables energy to pass through at will, which forces your HVAC to work harder – and use more energy – to maintain a constant indoor temperature.
You can upgrade to energy efficient windows, which are carefully sealed and include insulating layers of gas to prevent wasteful energy transfers.
5. Switch out your lightbulbs
Even if you can't access or afford any of the above green home renovations, you can still renovate your home for more energy efficiency by taking one simple and inexpensive step. All you need to do is switch out your lightbulbs. Upgrade your lightbulbs to CFL or LED lights, and you will see a significant reduction in energy use. In fact, according to the U.S. Department of Energy, this simple step can reduce your light-related energy use by up to 80%!
Are you ready for a greener home?
Making any of the green home renovations that are listed above will greatly reduce your home's impact on the environment. And remember, when you need to get rid of all the leftover material, nothing is better than a dumpster from Bin There Dump That.