A whole bunch of Bin There Dump That franchise operators, our leadership team and some dynamic speakers got together recently in Orlando for the 2018 Bin There Dump That Franchise Conference.
What does that have to do with you?
Plenty, if you're a homeowner or contractor who might ever need to rent a dumpster bin.
While these conferences are designed for Bin There Dump That franchise operators to help them run an even better business, there are a few interesting takeaways for our customers, too.
We've Added More Cities And A LOT MORE Dumpsters!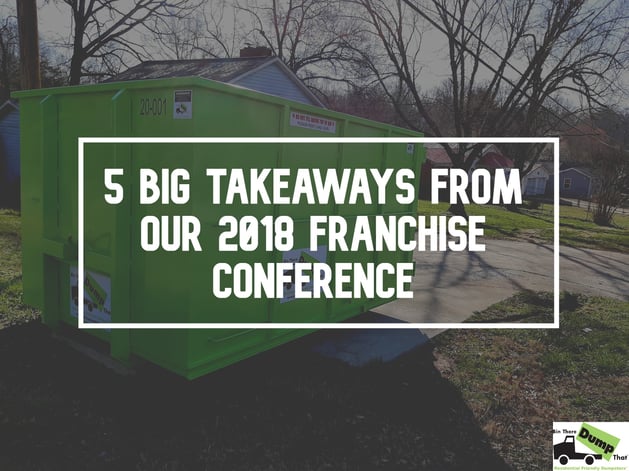 In the past year since our 2017 conference, our network has really grown.
We've added operators in Atlanta, Georgia; Orlando, Florida; Ann Arbor, Michigan; Portland, Maine; Memphis, Tennessee; Findlay, Ohio; South Bend, Indiana, Dallas; Texas; Shreveport, Louisiana and Fort Collins; Colorado.
That's a lot more dumpsters available to a lot more customers. It's easier than ever to find a Bin There Dump That operator near you.
Our Dumpster Delivery Experts Will Be Exceptionally Trained
Bin There Dump That unveiled 6 sparkling-new training videos to assist franchise locations with the training of their Dumpster Delivery Experts. This assures that the customer service level provided to each and every customer throughout North America will be to the Bin There Dump That standard.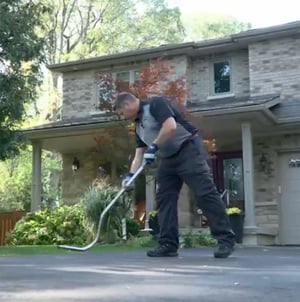 These training videos guided our Delivery Experts through daily truck safety checklists, nesting bins in one another for more efficient scheduling (meaning we'll be able to service more customers every day), placing boards under the dumpster to make sure the bin never touches a customer's driveway and complete tarping of the dumpster for safe transportation to the landfill or transfer station.
Call Us — We'll Answer; It's Our Commitment to Customer Service
Our Franchise Locations are more committed than ever to answer the phone in person when you call. Sure, voicemail is a great invention, but everybody prefers a live, friendly voice on the other end of the phone.
No matter what franchise location you call, you should immediately speak to a Dumpster Consultant who will guide you through a serious of questions about your waste disposal project. That way, you get immediate answers to your questions, from what size bin you should order to what materials are allowed for disposal to when a bin can arrive in your driveway. (The answer to that last one: soon!).
Can't decide if you should get rid of that monkey lamp you got as a wedding gift 30 years ago? Sorry, you're on your own for that one.
Contractors, We're Here For You When You Need A Dumpster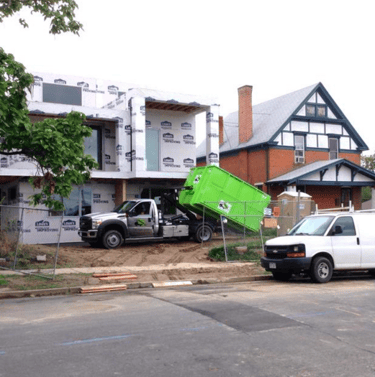 We're building stronger than ever connections with our friends in the disaster recovery and home remodeling industries. We know the success of your business depends on a reliable, efficient disposal option that's ready when you are.
We've built stronger connections with such contractors as DKI, PuroClean, ServPro, Service Master and Alair Homes. Don't see your business listed here? We'd love to include you in our growing network of connections.
Spring Is On The Way — And We're Ready For Your Waste Disposal Projects
Ah, spring — the season when you finally clean out the garage. Or tear out that rotting deck. Or tackle the landscaping. You get the idea.
Spring means lots of projects around the house. It's the Season of The Dumpster. We're ready for you. We're adding more trucks and bins throughout our growing network.
And our franchise operators learned more about Bin Tracker, our operating system that helps operators manage bins and drivers with impressive efficiency.
Why should you care? That efficiency means we can sometimes provide same-day delivery. Or, in some cases, delivery within the hour.
We're Ready To Provide You A Dumpster — Are You?
Industry conferences always leave attendees energized and excited about the months and year ahead. (Plus, they love getting free stuff.)
Our franchise operators headed back home brimming with specific, detailed information on how to make their Bin There Dump That businesses even better.
What does that mean for you? We'd love to show you.
When it's time to rent a dumpster, contact the franchise operator nearest you.
Images:
Map pins
,
On the phone
,
Cherry blossoms
,
BTDT Denver West