The warmer weather can leave you itching to get outside to work on your landscape.
But there's a lot you can — and should — do inside your home, too. There's a reason it's called spring cleaning: it's the perfect time to complete all of your projects and make your home look its best.
Here are four indoor home renovation projects you should tackle this spring.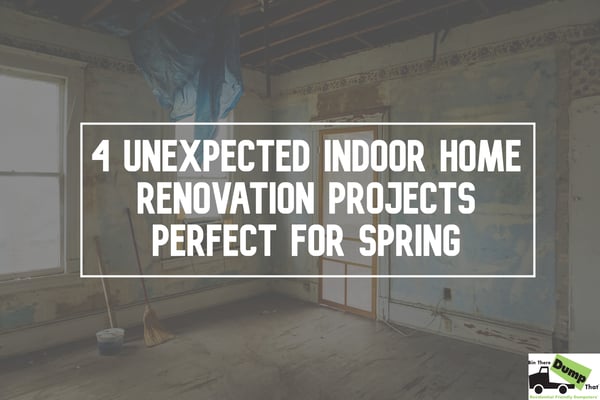 Add Some Color
Whether you need to touch up a few walls or brighten an entire room, adding some fresh paint can really update and improve your home.
Painting is ideal for spring because you can comfortably leave the windows open for ventilation while you work. Pick a time that has a low chance of rain, and keep the windows wide open for about two to three days after you finish to help get rid of the paint vapors.
You can also use window-mounted box fans to air out the room. But make sure the box won't fall out of the window. And avoid the freshly painted room while it's drying, as much as possible.
Seal Doors and Windows
After the long winter we've all experienced, your doors and windows might need a little TLC. The caulk can crack and shrink during the colder months, so check and repair the seals as needed.
It will help keep the hot air out during summer, saving you money on air conditioning.
Hang Walls
Another good project for warmer weather is installing drywall.
Maybe you've wanted to finish your basement or replace a damaged wall. No matter what it is, spring is the perfect time to complete this project because you can open the windows and doors to help the walls dry.
You'll need a dusk mask or respirator for this project. Plus, make sure to wear safety goggles, gloves, closed-toe shoes and long-sleeved clothing. To prevent back injuries, lift the walls by bending your knees, and have someone help you when needed.
Clean Out Debris
For all of your indoor spring renovation projects, you'll need a reliable dumpster rental to hold the materials and trash.
You can put most of your home construction debris — like walls, bricks and concrete — in the bin. But don't put hazardous materials like leftover paint or paint cans in the dumpster. If you have questions about whether something can go in the bin, just ask your Bin There Dump That operator.
The 14- and 20-yard bins handle medium to large home cleanout jobs, and the 30- and 40-yard sizes are ideal for large renovation jobs. The franchise owner can also help you figure out which size will work best for your job.
Smooth Floors
Sanding can stir up a lot of dust, so spring is the perfect time to work on your floors. Before getting started, open all of your windows to get the air flowing. You'll need fresh air because sanding can stir up pounds of dust.
To keep the dust from moving to other rooms, cover and mask any doors in the room. Also, use fans and a shop vacuum to clear all of the dust out when you're finished sanding.
You'll need to wear protective clothing, including knee pads, ear protection and a respiratory mask.
Have A Project In Mind? Schedule A Dumpster Rental Today
No matter what type of spring project you decide on, you can put all of your discarded materials in a dumpster rental. So go ahead and take down that wall or put up and paint a new one. You're the king and queen of your castle.
When you've decided on what indoor home renovation projects you want to make to your home this spring, schedule a time for Bin There Dump That to deliver a dumpster. Find a franchise operator near you.